Without big stars, Italy under national coach Mancini is an offensive collective
After every Italy victory, a photo of national coach Roberto Mancini pops up on social media. He wears olive green swimming shorts, mirrored sunglasses and the graying full head of hair is combed back. Particularly striking is the bronzed, fully toned upper body that you would expect from a 21-year-old California lifeguard rather than a 56-year-old man.
It is more than the vanity of the coach from the coastal town of Jese who once designed Sampdoria's kit, it is also to set an example for his team. In fact, Mancini not only demands of himself but also of his assistants that they are in top shape. 'We are the trainers, we are the examples.'
The renaissance of the Italian national team, which was missing from the 2018 World Cup, but manifests itself this European Championship as the most attractive team, is largely the work of Mancini, champion maker at Internazionale (2006, 2007, 2008) and Manchester City (2012), but afterwards which has fallen off the international radar. He became national coach in May 2018 with zero expectations, because great talents did not present themselves. The start was difficult with a draw against Poland and a loss against Portugal, but since then there has been no loss. Due to the 3-0 victories over Turkey and Switzerland in the group, that series was extended to 29 matches.
The Mancini System

In addition to being energetic, the style is remarkably offensive, certainly by Italian standards. The Mancini system is 4-3-3 on paper, but in practice it goes even further. In Italy they speak of 3.5-3-3.5, because left back Spinazzola can freely go on an adventure. Others solve his defensive duties, coordinated by veteran captain Chiellini. But usually the AS Roma marathon man himself is back in time.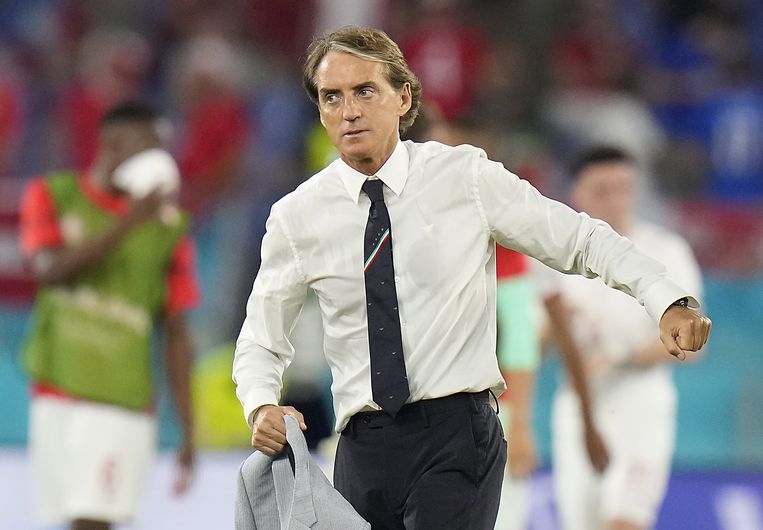 Italy has never played that way. At the 2006 World Cup, national coach Lippi sometimes switched to 4-3-3, but the basis was 4-4-2. At the European Championship 2012, Italy also played cheerful football, but Mancini's team also excels in attacking by chasing the opponent, in which even the experienced goal-getter Immobile participates tirelessly.
It was born partly out of necessity. Italy lacks a big star to build the team around. Mancini was inspired by smaller Italian clubs that perform successfully under progressive thinking coaches. He talked a lot with Roberto De Zerbi of Sassuolo, stunt team from an Italian town with 41,000 inhabitants that steamed up in the Serie A with attacking football. The Zerbi is again inspired by Marcelo Bielsa of Leeds United who is widely regarded as one of the greatest innovators.
If you want to win, you have to attack

Mancini also contacted Gian Piero Gasperini, coach of Atalanta, which impresses not only in Italy but also on the international stage with extremely energetic football. Gasperini likes to quote an old Chinese saying: 'to defend makes you invincible, but if you want to win you have to attack'.
In addition, there is the legacy of another revolutionary thinker Maurizio Sarri, many players trained under him at Empoli, Napoli, Chelsea or Juventus.
But especially Sassuolo, who plays with wingers, serves as a blueprint. Mancini selected three Sassuolo players: right winger Berardi, the young striker Raspadori (for now on the bench) and midfielder Manuel Locatelli, the new hero since his two goals against Switzerland. Centre-back Acerbi, now of Lazio, thrived at Sassuolo, as Spinazzola revitalized his stalled career at Atalanta as did some of the other rosters.
Mancini wants modern, super fit, versatile, creative players, even the older centre-backs Bonucci and Chiellini are urged to dribble in and play quick, risky passes down the middle.
'This Italy comes very close to Mancini,' says Italian football expert David Endt. Mancini did a two-week internship at Ajax at the beginning of the century, Endt accompanied him daily and then kept in touch.
Freebooter and control freak

As a player, Mancini was an attacking freebooter, a quirky stylist, who never compromised. For example, he missed the World Cup '86 because he stayed one night during a trip through America and refused to apologize. 'But he's also a warm, engaging personality, smart and a bit cunning,' Endt outlines.
Not a type who was initially known as a coach as a control freak with extreme attention to the defensive organization. Even the warm-up his players had to do according to the system, with backs and midfielders at the right distance from each other. The zero was sacred.
Especially at Manchester City he struggled with the stress, with the pressure. He looked suspicious and defensive. Nigel de Jong said about him at beIN Sports: 'He was passionate about football, himself and winning. We had a love-hate relationship, we were both big egos with big mouths, there were clashes, but he kept the team together and I have always respected him.'
Almost zen-like approach

In recent years Mancini has taken an almost zen-like approach. The Catholic often visits the popular pilgrimage town of Medjugorje in Bosnia and is a devoted fan of the Virgin Mary.
Endt: 'I know him as a collector of experiences. At the end of his playing career, he looked around at Leicester City. He is not one of those former football players who thinks that he will 'briefly' become a top trainer based on his reputation and knowledge of the dressing room. He is very disciplined. During his internship he was punctual, but he is not a boring guy. He especially has a lot of fun with his old teammate and permanent assistant Fausto Salsano. His players have had a tough season. It's important to keep it light sometimes.'
Mancini has newcomers on his staff, as well as many former players from Sampdoria, the club he served the longest as a player, winning the championship and reaching the European Cup 1 final. Lombardo, Evani, Vialli and goalkeeper coach Battara are also now around the former striker. With not an ounce of fat on their bodies.
Look like an expert

What should you pay attention to this EK? In Look like an expert football journalist Sam Planting turns every viewer into an expert. Discover the 11 players who define their nation's tactics – and how modern football is played.