With a psychologist by her side, Swiatek (19) wins Roland Garros on her slippers
Iga Swiatek graduated from high school a few months ago. She "would see" where tennis took her, she thought. If it didn't work out, she would go to college. But on Saturday, the 19-year-old Polish girl suddenly won a grand slam title on the clay court in Paris, as the first Polish tennis player and youngest winner since Monica Seles in 1992.
On Saturday, Swiatek defeated Sofia Kenin in straight sets in the final 6-4, 6-1. She beat this year's Australian Open champion by force majeure, in much the same way she'd gone through the rest of the tournament, without losing a set in singles. The number 54 of the world rankings once lost a match in Paris: the semi-finals of the doubles. There, too, things went better than ever.
How strange things can turn out in women's tennis, is clear from the preparation tournament at Roland Garros. On the gravel from Rome, in mid-September, Swiatek lost in the first round to the Dutch Arantxa Rus, who has been struggling to maintain itself in the top hundred for years.
Smart game
The Polish, who won the Wimbledon junior tournament two years ago, initially had difficulty with the switch from hard court to clay. She recently reached the third round at the US Open. In it, she was knocked out by the losing finalist Victoria Azarenka, who was very impressed by the Polish's smart play and her attitude on the court.
Once arrived in Paris, everything suddenly fell into place. Swiatek, who reached the fourth round at Roland Garros last year, gave up only 28 games in seven matches on the clay. She caused a sensation with her attacking game, her good service and her vicious topspin that did its job despite the slow tracks.
But most impressive of all was the way she kept her head together. Swiatek (1.76 meters) played her first grand slam final as if it were a normal match. Completely uninhibited, without any visible nervousness, she did what she had already been doing for two weeks: winning cold-blooded.
In the first set she immediately took a 3-0 lead. Kenin came back to 3-3, but it was Swiatek who was able to serve for the set at 5-3. It was not possible to win the set in her own service game, but a game later the Polish placed her third break, taking the first hurdle.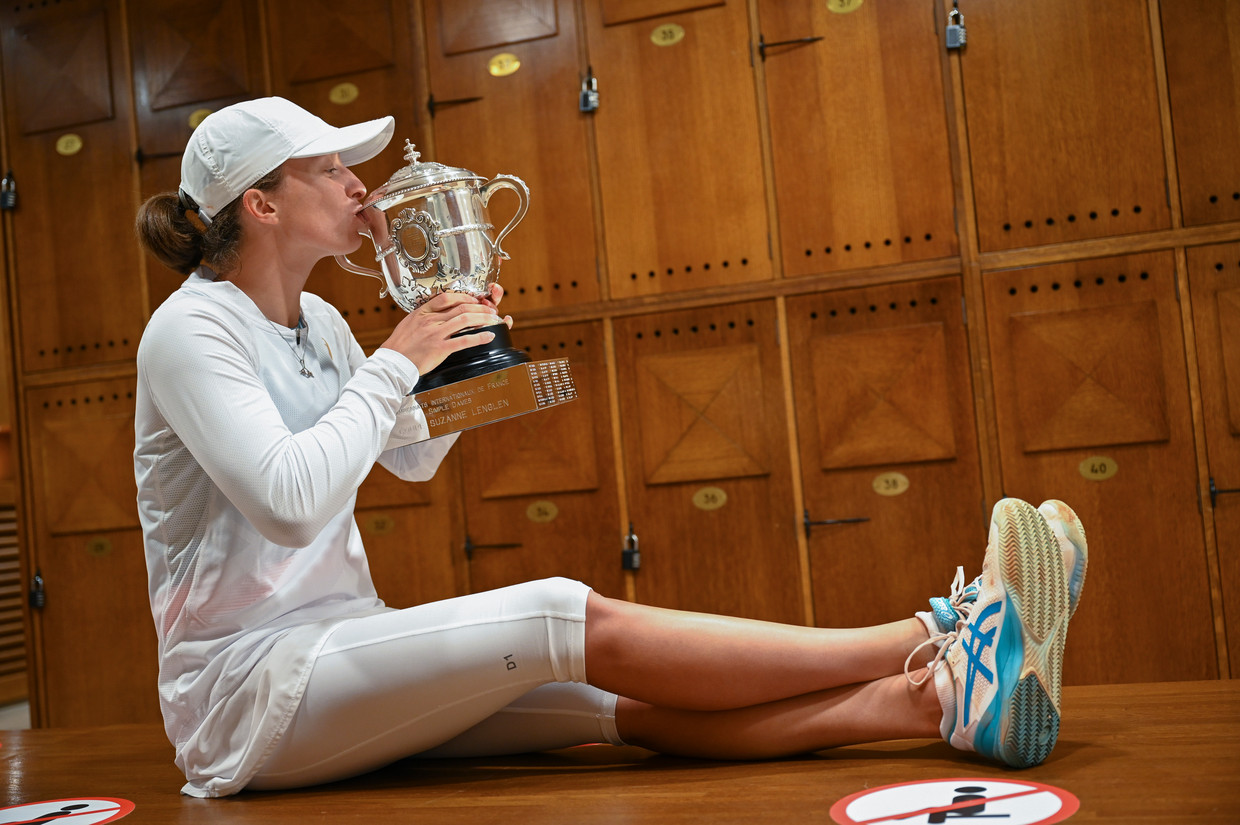 Left thigh injury
In the second set Kenin suffered from an injury to her left thigh. The 21-year-old American had already taped her leg and wanted to have it looked at 2-1 by the physiotherapist. She left the job for injury treatment. In the meantime, Swiatek looked around at the tufts of people in the stands. The Court Philippe Chatrier was far from full, because of the corona measures only a thousand visitors were welcome a day.
Swiatek heard a fan utter a long howl with her name, and the audience began to applaud. She smiled and clapped back. It was then that I remembered to relax and just have a good time. I enjoyed it. It helped me. '
After that, she wouldn't let Kenin play any more games. After the win, she dropped to her knees. In her victory speech, she was overcome with emotion as she thanked her father, a former Olympic rower. "He taught me to act like a pro on the track."
Daria Abramowicz, in particular, was widely praised. The sports psychologist has been working with Swiatek for two years. The player firmly believes in the support of a mental coach. She also uses visualization techniques and meditates regularly. Before the final Daria told me to do the same thing I had done in all the other matches. It didn't matter whether I would win or lose. I tried that and it worked. '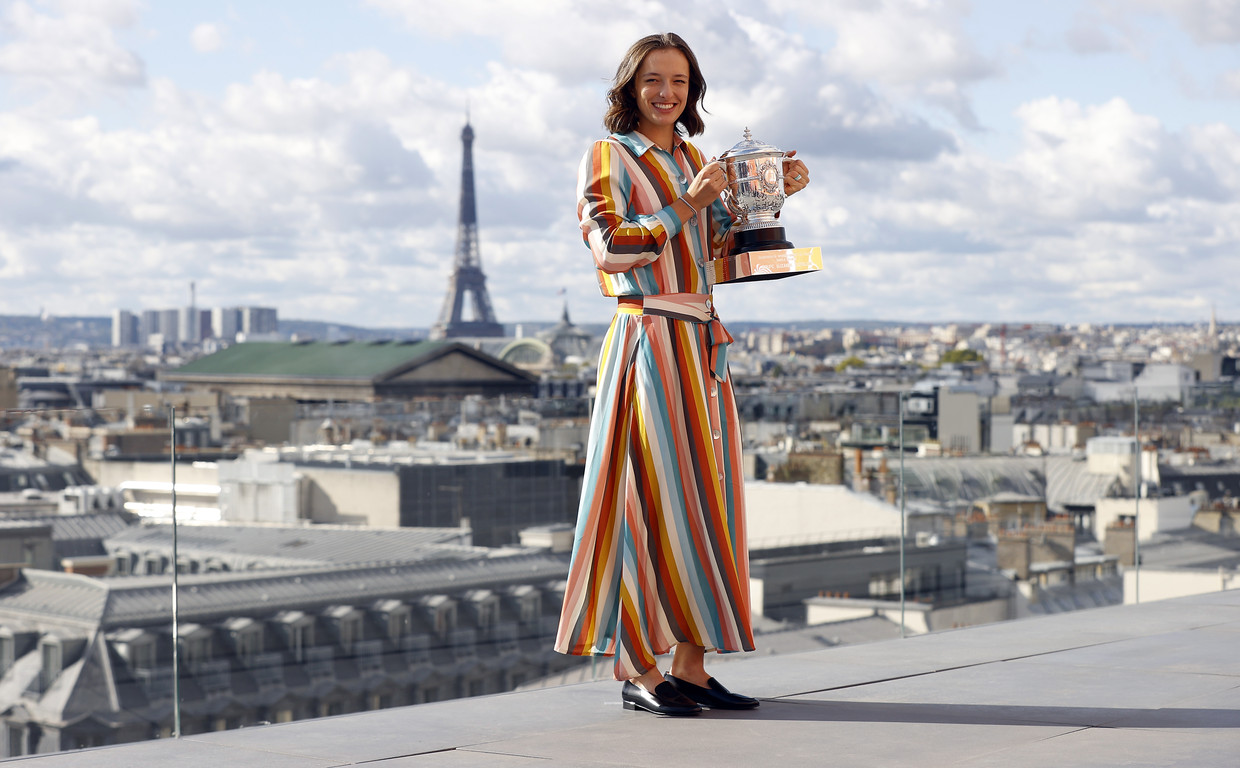 Mental coach
Her psychologist is a 33-year-old former sailor who has also worked with other athletes and now travels with Swiatek to tournaments. That is exceptional, few players choose to bring a mental coach as standard. 'She made me smarter. I understand my own feelings better and can put my emotions into words better. '
Her win shows that anyone can win in women's tennis, where the last 15 grand slam tournaments have produced no fewer than 12 different winners. This includes nine women who conquered a major title for the first time. Since the seizure of power by Serena Williams weakened, there are no clear top women on the court. Former champions were also eliminated early in Paris.
With her ranking of 54 in the world ranking, Swiatek is the lowest placed player to ever win a grand slam tournament and the first from Poland. Only her compatriot Agnieska Radwanska came close once with the final place at Wimbledon in 2012. Swiatek now rises to 17th place in the world rankings. And will not want to study for the time being.