Volleyball player Robin de Kruijf (29) has to choose her peak moments: 'My body needs a rest'
It is quite a useful feature for a top volleyball player like Robin de Kruijf. She only thinks in the present. The past falls away from her, like silver sand in a sieve. 'Missed the World Cup due to a knee injury. I'm thinking. For real? Then what was that other tournament in Japan? ' The future then, that's not something she's going to worry about. 'You can't control it. I really hate looking into the future. '
The present is the Champions League final in Verona, with Imoco Conegliano, her current club, against the Turkish Vakifbank, where De Kruijf partly filled a Dutch super trio between 2014 and 2016: Anne Buijs and Lonneke Slöetjes were her partners in Istanbul. De Kruijf had already left when Vakifbank won the Champions League. In 2016, her peak year, Vakif lost the grand final.
Lost super final

Two years ago, De Kruijf lost the Champions League Superfinal in Berlin to Novara with the same Conegliano, which at the time still had Paola Egonu, the world's best volleyball player, in its ranks.
Egonu then switched to Conegliano. With that transfer, the victory in Verona seems a certainty for De Kruijf and de haar. 'Hoho. I would think that would be a very dangerous statement, 'she countered, driving to afternoon training, while calling hands-free.
'Novara won in Berlin, with Paola and then Celeste Plak, but we could have won there too. In the competition we did beat them that year and we became champions. So you see, when it comes to one match, such a Superfinal, it can go in all directions. '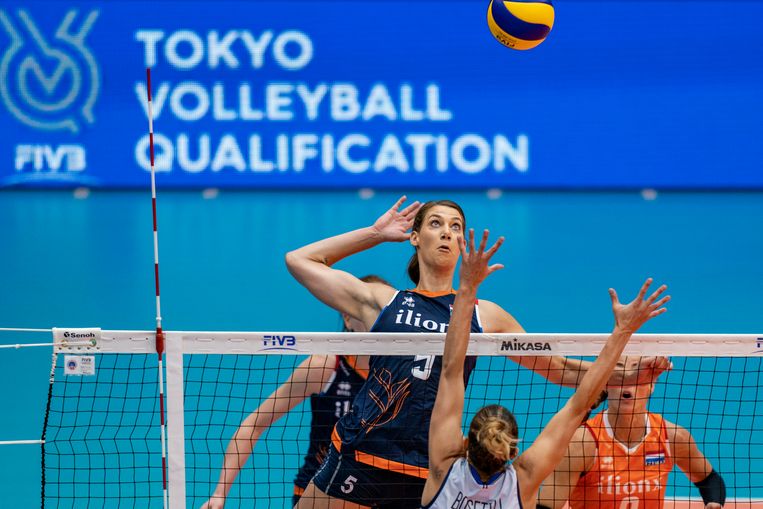 Whether we just remember that for Saturday. "I lost bad memories very quickly," she says when we ask her about the Olympic qualifying tournament (OKT) last January, in which the Netherlands, the favorite, lost to Germany in the semi-finals. There were many tears. 'I remember matches we have won or lost. Not what balls I got. Or that the playmaker has been unable to find me enough. That's up to her, huh. Each player has their own motivation for doing things.
'I'm not going to say: if only I had gotten more balls, I would have made points. Well, maybe I wouldn't have done anything with it either. A bad experience, that defeat at that OCT? Well, bad, well, I can handle winning and losing well. The strongest has won. I can grieve about that forever. But there is always another game. Usually within a week. '
30 was always old

The middle player prefers not to look into the future. The perspective of the coming period will never materialize. The explanation: "I'll be 30 next week. The joke is that when I was young, I always said, I'll stop playing volleyball when I'm 30. Because 30 years, that really felt like a great age at the time. Then you were old and everything was just about done. Now that I reach that age, it feels completely different. I still feel okay, I am still playing at top level and I am having a great time. I still enjoy playing volleyball. At the moment I think: we will continue for a while, Robin. '
But De Kruijf does not look beyond the next contract. 'Really, I hate looking into the future. Just one thing needs to be done and it's done. However?'
The conclusion comes when she is asked whether she wants to put her 193 centimeters into position at the World Cup in the Netherlands next year, in 2022. It seems like a perfect end to a great international career. She once spoke with the new, old national coach Avital Selinger, but no more for the time being. She knows him through and through. About her possible World Cup performance: 'It could be. But I'm not going to answer this. Because I don't know. '
Short-term bubble

Then the question is whether she will play for the Volleyball Nations League next month, a bubble with sixteen national teams in the Italian resort of Rimini. That is short term and De Kruijf can also be firm. "Not that one anyway."
Because? 'If I want to keep doing those big tournaments, then I have to choose my moments. My body needs a rest. Since I was 16, I have been doing a club season every winter and a national team season every summer. There is not a moment in such a year when I can determine my own life. I've been on the road for fourteen seasons, except for the summers I was struggling with knee problems. '
She has the example at hand that too much can be asked of a volleyball international. Lonneke Slöetjes, generation colleague, has stopped. It was 'on' with her, the indispensable cannon. 'Volleyball is a team sport. In which I play a serving role as mid. We all do so much for the national team, year after year. We ignore ourselves. Just not to let the team down. Lonneke did that very much too. It has continued on her gums. In order not to drop the team. I am happy for her that she made this decision. She has stood up for herself. Because that is the most important thing, that Lon himself is happy. "
Then just close with the present, the Champions League Superfinal against Vakifbank. 'I hope it will be a nice final. There is a lot of attention for it. Interviews? I'm so good at getting out of that. I received requests for an interview five times. I kept forgetting, because I can immerse myself in my own bubble so much. '