Verstappen wins in treacherous Imola and approaches Hamilton in World Cup position to one point
The GP was a confirmation of what emerged after the opening race: the title fight will be one between Verstappen and Hamilton, most likely over the full 23 races. The two are already fifteen World Cup points ahead of the rest after two GPs. Their cars and steering skills are hardly inferior to each other. So mistakes will be decisive and in Imola both Verstappen and Hamilton turned out not to be infallible.
On Sunday, Verstappen immediately knew what kind of game was waiting for him when he looked out the window of his hotel. He saw typical Italian spring weather. In other words, sun, alternated with a downpour. A shower like that had rained the asphalt on Sunday shortly before the start, so that all cars started on rain tires.
Raceplan

It changed little in Verstappen's race plan. He started from third place and had to start well in the race for the Hamilton, which is on pole position was difficult to make. Traditionally it is difficult to overtake on the narrow Imola and Verstappen had wasted a better starting place with a messy qualifying. "It can't always be right, I'm not a robot," he said on Saturday, angry with his mistakes.
In addition, Verstappen still had something to make up for after the opening race in Bahrain. He had the fastest car there, but ended up second behind Hamilton due to a more aggressive strategy from Mercedes.
Three weeks later it was still in his head. He shot away viciously in Imola, immediately overtook teammate Pérez and was already next to Hamilton at the start of the first corner. Verstappen was on the better side, holding his position and pushing the Mercedes hard over the curbstones (racing curbs) in the first corner. Hamilton damaged his front wing, lost the lead and complained about the on-board radio. The competition management saw nothing wrong with Verstappen's action.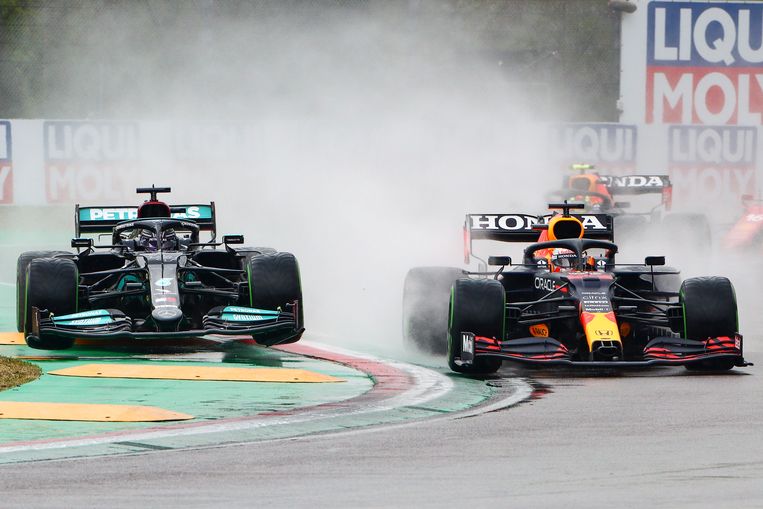 Insidious

The laps after that were especially treacherous; the wet asphalt dried up slowly, leaving the cars with little grip. It was important for Verstappen and Hamilton to stay out of trouble and wait until the track was dry enough to switch to the profiled, faster dry weather tires.
Verstappen did that first. Hamilton stopped one lap later, gained extra time and seemed to be back on the circuit for Verstappen. His mechanics only struggled with changing the tires. Compared to Verstappen, Hamilton's pit stop was more than two seconds slower. It turned out to be just enough for Verstappen to return to the lead, after which Hamilton could once again hunt the Dutchman.
In the meantime, they slalomed past stragglers, or drivers who had been put on a lap. At one of those laggards, things went wrong for Hamilton. While overtaking with his slippery dry-weather tires, he landed on a wet piece of asphalt, suddenly lost all grip and hit a pile of tires via the gravel bin. It was a rare mistake on the part of the seven-time champion. With difficulty Hamilton got his car moving again and backed up through the gravel pit back onto the track.
Megacrash

He was ninth when the race was halted due to a mega crash; Williams driver Russell hit the Mercedes of Bottas during an overtaking action. The drivers flew at over 300 kilometers per hour in the tire stack. It was damaged in the process and had to be repaired. The interruption of more than half an hour seized Hamilton to recover.
After getting out of the car, he squatted next to his car with his hands in front of his face, realizing that he had narrowly avoided a failure. He cooled down in the Mercedes garage. After the restart, he fought back to second place as reborn.
He couldn't fix his mistake better, because Verstappen had already secured the victory by then. Although it almost went wrong for him too. Shortly before the restart, he lost control of his car when entering a corner on cold tires. With clever steering he kept his Red Bull on the track and in the lead.
"That was a secret tactic to warm up the tires," said Verstappen jolly after the race in front of Ziggo Sport's camera. At the same time, he recognized that the moment could end his race. "It was not easy to stay on track today, but we did win," he said of his eleventh F1 victory.
Never has Verstappen won a race so early in the Formula 1 season. It once again underlined how strong his car is. In Imola, Verstappen and Hamilton were only reminded early in the title fight that every miss can have huge consequences.