Vaccination of staff in acute care almost completed: Friday the last shots | NOW
The vaccination of hospital staff in acute care is nearing completion. The number of vaccinated employees was 39,000 on Thursday evening, the National Network Acute Care (LNAZ) reported. That is five hundred more than the day before. According to a spokesman, "the last bunch of employees" will be vaccinated on Friday.
At present, some 6,000 more people have been vaccinated than initially anticipated. The Ministry of Health reserved 33,000 vaccines for acute COVID-19 care personnel, such as ICU nurses and ambulance personnel.
Because hospitals obtained six instead of five doses from one vial and, moreover, were economical with the load, the number of people vaccinated turned out to be much higher.
Last Monday, the last load of vaccines was sent to hospitals from the national distribution point in Oss. Thawed vaccine can be kept for a maximum of five days and cannot be used after Friday.
The vaccination of the acute care sector started last Wednesday. It was also the nationwide start of the vaccination campaign. Since then, nursing home employees have also received an injection. From Monday, January 18, it will be the turn of the vulnerable residents of nursing homes and institutions for people with an intellectual disability.
The health inspectorate said it was previously pleased with how the hospitals vaccinated their acute care workers against COVID-19. "After several visits, the inspection concludes that these vaccinations were carried out carefully and safely," said the Healthcare and Youth Inspectorate (IGJ).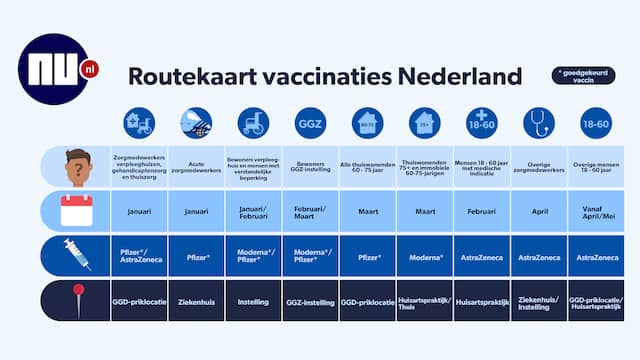 Click on the image in the app for the large version.
.