Supermarkets encounter problems with delivery due to farmer blockades | NOW
Thousands of customers of Albert Heijn and Jumbo cannot receive their groceries at home on Saturday due to farmers' blockages at various distribution centers. Albert Heijn has about 4,500 customers and Jumbo about 1,700. A spokesperson for Albert Heijn reports that all affected customers have been personally informed.
"It is very annoying. We hoped that the farmers would see that they would harm people," said the spokesperson for the supermarket chain on Saturday.
Albert Heijn said in a statement earlier in the day that it would like to talk to farmers before Christmas, on the condition that the protests are ended. This commitment is insufficient for farmers. They want to see this promise in black and white and will continue to block access roads to distribution centers until then.
Due to the blockades of several hundred farmers in Zwolle and Oosterhout, trucks from suppliers can no longer reach the distribution centers. As a result, some supermarkets of the chain in the east of the country have difficulty with their supply.
A distribution center in Raalte (Overijssel) has been blocked from the Jumbo since Friday evening. A spokesperson says that a number of online orders have been canceled, but that there are as yet no problems with the supply of the supermarkets.
The municipality of Raalte reported on Saturday around 10 p.m. that the conversation between the farmers and the Jumbo has been concluded and that the demonstrating farmers will leave.
CBL: Blockages irresponsible in corona time
The Central Bureau for Food (CBL), the sector association for supermarkets, told NU.nl on Saturday that it finds the farmers' blockades unacceptable and irresponsible in corona time. According to a spokesperson, many people have their groceries delivered to their home to avoid having to go outside. This home delivery is endangered due to the blockages.
Empty shelves can also arise, forcing people to come back later. This can create extra crowds. "That goes against the message to spread out shopping as much as possible", according to the CBL. According to the trade association, it is still too early to make any statements about damage. The CBL is in contact with the authorities to ensure that the food supply is not further disrupted.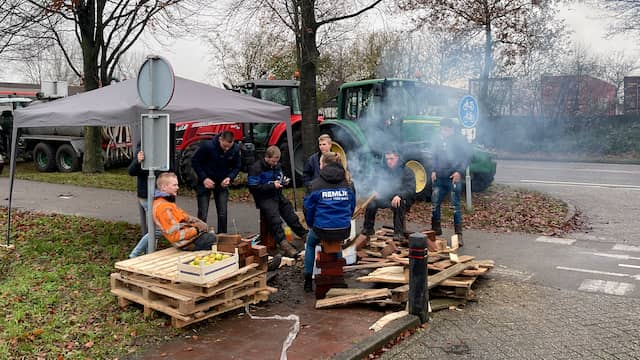 In Geldermalsen too, the entrances and exits of a distribution center will be blocked with trucks on Saturday. (Gelderland)
'This involves spontaneous actions by individual farmers'
The farmers demand better prices for their products. They also want supermarkets to stop importing cheaper products from abroad, when those products are also made in the Netherlands. Farmers Defense Force (FDF) action group said on Friday that it concerns spontaneous actions by individual farmers.
Mayor Peter Snijders of Zwolle talked to representatives of the protest on Saturday afternoon to lift the blockades in his city. "We understand the position, but want the blockade to stop," said Snijders Twitter.
.