Ski holidays or not? Winter sports countries struggle with corona policy | NOW
Popular winter sports countries in the Alpine region are struggling with the coming winter sports season. The number of positive corona tests is still rising, leading some countries to argue for a joint closure of winter sports areas. Other countries see no point in this and have just reopened the ski slopes. An overview.
Prime Minister Italy advises against skiing while on holiday and wants European policy
Italian Prime Minister Giuseppe Conte has called on residents not to go on winter sports during the Christmas holidays in order to curb the second corona wave in the country.
The ski areas in Italy are closed for the time being. The organizations are, however, working on measures that allow the areas to be opened up, such as limiting the number of winter sports enthusiasts in the ski lifts or the number of ski passes to be sold per day. Whether the measures are sufficient for the government to permit the opening of the areas remains to be seen.
Conte is already arguing for a European policy with regard to the opening of winter sports areas. He says he has spoken with German Chancellor Angela Merkel and French President Emmanuel Macron about what he says "European problem". "If Italy closes all ski lifts without any support from France, Austria and other countries, Italian tourists risk traveling abroad and taking home an infection," he told the Italian channel on Tuesday. LA7.
France: Ski areas are unlikely to be open this year
Macron has also said it wants to coordinate the start dates of the winter sports season with other countries in the Alpine region.
In France, the ski areas remain closed until at least the end of the year. Macron deems it "impossible" to get winter sports to resume quickly due to the risks of the virus and says an opening in January is more likely if conditions are right.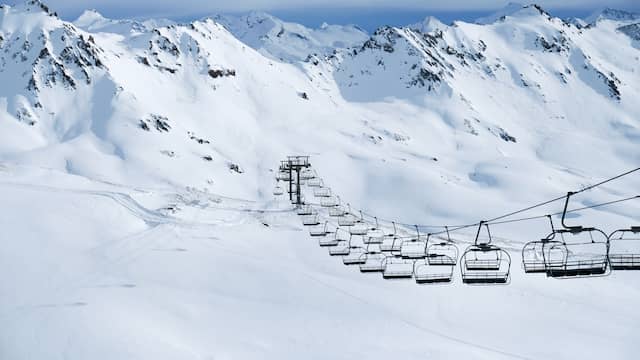 French slopes are likely to remain empty for the rest of the year. (Photo: ANP)
Austrian winter sports areas hope to open after lockdown
However, a joint closure of the winter sports areas cannot count on much support from Austria. "If the EU wants to oblige ski areas to remain closed, it will cost up to 2 billion euros," said Finance Minister Gernot Blümel. "If that is really what the EU wants, then they should pay for it."
According to Blümel, winter sports holidays in Austria are safe, subject to a number of measures. There is no après-ski, people have to keep their distance from one another and mouth masks are mandatory in public areas.
A lockdown was introduced in Austria on 3 November, which will last until at least 6 December. Health officials insist that measures can only be relaxed gradually if the numbers remain favorable.
Winter sports areas in the country set their sights on an opening almost immediately after lifting the lockdown. Some popular destinations have already announced their opening dates: Mayrhofen is betting on December 6 and Ischgl hopes to open on December 17.
Winter sports areas in Switzerland are open as usual
Despite an increasing number of positive tests, the ski slopes in Switzerland have been opened. Although a winter sports holiday is possible in the country, the tourists must adhere to a number of measures. In this way, the Swiss authorities hope to prevent infections during winter sports.
Snow enthusiasts should wear a mouth mask in the queue for the ski lift and in the lift itself, among other things. They must also keep as much distance as possible.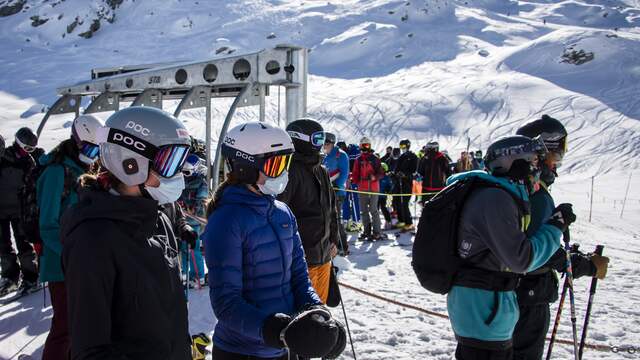 Swiss winter sports enthusiasts wear a mouth mask while they wait for the ski lift. (Photo: ANP)
Germany will discuss extending partial lockdown on Wednesday
In Germany, Chancellor Merkel announced on Wednesday that the partial lockdown will be extended until at least 20 December. Until then, the winter sports areas will be closed in any case. Whether it is still possible to ski and snowboard in the last days of the year is very much the question.
The Prime Minister of Bavaria Markus Söder has previously spoken out openly against any relaxation (which part of the country was hoping for) and argued for the start of the winter sports season on January 19.
The German State Secretary and Parliamentarian Thomas Bareiss does not consider a general ski ban necessary and even wrong. According to him, for example, you can allow a maximum number of people on ski slopes by limiting the number of access passes.
.