Seven years after the skiing accident: what do we know about Michael Schumacher? | NOW
It is exactly seven years ago on Tuesday that Michael Schumacher suffered a serious brain injury in a skiing accident in the French Alps. Since then his health has been a great mystery. What is known about him? All facts at a glance.
On the morning of December 29, 2013, 44-year-old Schumacher is skiing in the French Alps with his son Mick when things go wrong. The German crashes just outside the piste and lands his head on a stone. Schumacher's helmet shatters on impact, but prevents the accident from being immediately fatal for him.
Schumacher is transported by air ambulance to a hospital in Grenoble. There he is kept in an artificial coma so that the pressure on his brain is relieved. The Formula 1 legend is in a critical condition and requires several surgery in the days that follow.
There are hardly any details about Schumacher's exact health status. His spokesperson Sabine Kehm is sporadic with information and calls on journalists and fans to respect the privacy of the Schumacher family. On New Year's Day 2014, Schumacher's condition is still critical, according to Kehm, but stable. "And that's a good sign for now."
Schumacher's recovery will enter a new phase in late January when his treating doctors begin the process of awakening him from his coma. According to Kehm, this treatment can take a "very long", without mentioning months or years.
Honors Michael Schumacher
308 Grands Prix

155 podiums

68 pole positions

91 wins

7 world titles
'Michael is moving forward'
In April, the family will release an encouraging update. For the first time there is talk of progress. "Michael is moving forward. He shows moments of awareness and awakening. The family is with him in Grenoble and continues to trust," Kehm said in a statement.
The fact that Schumacher is actually making progress becomes clear when he woke up from his coma two months later and was allowed to leave the hospital in Grenoble. He is transferred to a clinic in Lausanne, Switzerland, about 50 kilometers from his home on Lake Geneva. The Formula 1 world is happy to respond to the news.
On September 9, Schumacher is released from the hospital in Lausanne to finally return home, which has been completely converted so that he can recover in his own environment. Kehm thanks everyone for the encouraging responses and congratulations, but also emphasizes that the process towards recovery is far from over. According to Jean-François Payen, one of Schumacher's doctors, the process will take between one and three years.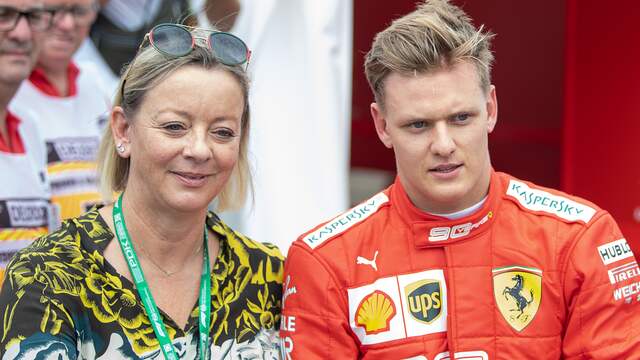 Spokesman Sabine Kehm and Mick Schumacher, last year at the German Grand Prix. (Photo: Pro Shots)
Schumacher wanted to live a secluded life
Schumacher's accident occurred a year after he had definitively retired as a Formula 1 driver. The former driver of Ferrari and Mercedes, among others, wanted to live a life outside the spotlight.
The summary reporting therefore mainly stems from Schumacher's own will, who, according to Kehm, sometimes dreamed aloud about disappearing. "Moreover, there is no other option," Kehm told the March 2016 Süddeutsche Zeitung.
"Everything we say would only lead to more questions. Every word screams for more explanation and information. It will become restless, while his family needs rest. His health is very personal. It is also not easy to answer. when asked how he is doing. That process is constantly changing. "
A long radio silence follows at home
Once home at Lake Geneva, a long radio silence follows. The summary news that comes out about Schumacher comes from anonymous sources and is often just as harshly debunked by manager Kehm or even answered with a lawsuit.
So reports Die Bunte at the end of 2015 that Schumacher can stand and walk short distances. The news turns out to be untrue and the magazine is expensive. A judge ruled that the medium must pay a fine of 55,000 euros and bear the legal costs.
Journalists also try to fish for information through his son Mick, who is working his way up to Formula 1 through the junior classes. At the age of sixteen, he makes his debut in 2015 with the Formula 4 team of the Dutch Van Amersfoort Racing.
"At that time it was not so much about Mick, but about Michael", team boss Frits van Amersfoort told NU.nl last month. "The German media fell over us en masse. Because nothing was known about Michael's medical condition, everyone tried to get information from Mick and also from us. But we didn't know either."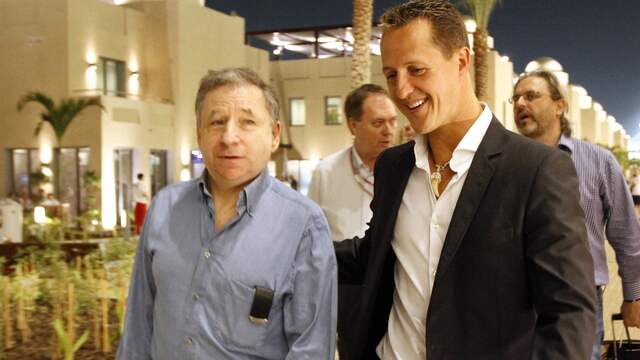 Jean Todt and Michael Schumacher at the Abu Dhabi Grand Prix in 2009. (Photo: ANP)
'Schumacher in the best possible hands'
Mick Schumacher, who will make his Formula 1 debut at Haas next year, has never given details of the accident he witnessed, nor has he said anything about his father's rehabilitation process.
The news that does come out remains brief: in January 2019, a few days before his fiftieth birthday, the Schumacher family reports that he is "in the best possible hands." It is the last official statement published by the family
Unofficially, something comes out every now and then. For example, via family friend Jean Todt, the former team boss with whom Schumacher celebrated his greatest successes at Ferrari. Todt, who is currently chairman of the FIA ​​motorsport association, still visits him regularly.
Todt also remains on the flat about his former driver, but in the summer of 2019 he reveals that he has seen the Grand Prix of Germany on television with Schumacher. Except that Schumacher is still "fighting hard", Todt gives no further details about his visit.
They are small details that are nowhere near the best kept secret in the sports world to reveal. As long as the family does not disclose matters themselves, the mystery surrounding Schumacher's health will continue to simmer for years to come.
.