Segers (CU) and Heerma (CDA): 'Everything that is complicated and shit comes to us' | NOW
Two coalition members who contributed to the coalition agreement remain in the Lower House: ChristenUnie leader Gert-Jan Segers and CDA party leader Pieter Heerma were both at the negotiating table with D66 and VVD. A look back at government participation with "a lot of hassle", but also proud of "the tough, tough compromises".
Party leaders Alexander Pechtold (D66) and Sybrand Buma (CDA) left The Hague during the ride. VVD party chairman Klaas Dijkhoff has announced that he will leave after this term of office. Is party leader of a coalition party such a difficult job?
Heerma: "It keeps you off the street."

What is the biggest difference with a 'normal' parliamentary membership?
Heerma: "The amount of rubbish. The nice thing about being a 'normal' MP is that you can deposit into your own portfolio. As a group chairman you are responsible for everything, but especially if it is not resolved."
"We are in a heavily politicized landscape and in a coalition with four parties that are very different from each other. Then you just need a lot of consultation and a lot of understanding for each other to solve the problems."
Segers: "Everything that is complicated and shit ends up with us. That could be from the cabinet or from the faction. They look at us when they explode app groups of MPs. Like: fix it."
Heerma: "In cycling, a telephoned breakaway has a better chance of success than if you start alone. That also applies to politics. You can differ with each other, but really be overwhelmed, really totally surprised, that will give you problems."
Segers: "Then things go wrong."
Heerma: "You must continue to consult carefully."
From left to right: Pieter Heerma (CDA), Halbe Zijlstra (VVD), Gert-Jan Segers and Carola Schouten (both ChristenUnie) walk out after a negotiation round in 2017.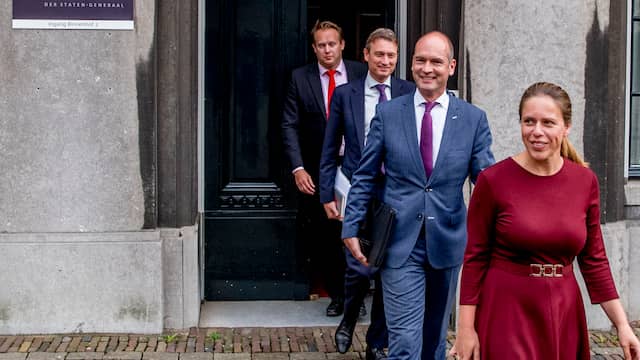 Segers: "Everything up to the corona crisis and everything beyond it lies with the coalition meeting. The climate agreement, nitrogen. However complicated it may be. It's also great that you are going to find a solution while stegling and negotiating."
Heerma: "Sometimes you have to ask for attention to get something on the agenda, but if you want to reach a solution with several parties, you also have to be able to make compromises. If one wants A and the other B, then you come usually not on A or B out. "
"There has been a lot of hassle in this coalition, but we have also managed to reach tough, tough compromises."
Segers: "During the formation we always had Balkenende IV (CDA, PvdA and ChristenUnie 2007-2010, ed.) As a point of reference. There was the feeling: if I am not allowed to do this, then you are not allowed to. That ended in a hold. which resulted in very little more. "
Heerma: "If you look at such a formation, you always have disappointments. For us, that is the loan system. But I am also proud that we have really changed something on the labor market. That was such a polarized debate. The employers and employees couldn't figure it out either. "
You had to break open the agreements about migration due to current events. That does not seem to me to be a subject to compromise on for the ChristenUnie.
Segers: "There is a right-wing majority in the House of Representatives. People can hold me to a compromise. But I am also responsible for what happens if I do not participate."
"At the beginning of this cabinet period I had a conversation with former minister Jeroen Dijsselbloem. The PvdA was terribly punished for governing with the VVD. That was also a point of reference for the CDA, D66 and us."
"The image that has stuck with Diederik Samsom (PvdA party leader in the previous cabinet, ed.) Is that on the evening of the election results he received a phone call from Mark Rutte who said: 'Come and celebrate with us.' With the CDA and D66 we jokingly said to each other: 'We don't want to be Samsom.' "
"When I asked Dijsselbloem what his lessons were, he said that they have worked too much behind the scenes for their positions. Sometimes you have to do that publicly. Differences must be visible. That was not a policy, but sometimes it happens, like with the children's pardon. "
"I really had to get people out of the chandeliers at the group."
Gert-Jan Segers, ChristenUnie
What kind of character traits does it require to be in this coalition?
Heerma: "If you are only concerned with: what's in it for me? Then you cannot agree on anything. What I learned in the formation is to listen carefully. "
Segers: "Our relationship with D66 on medical-ethical issues is the most complicated. I had an unpleasant encounter with Pechtold at an earlier stage. We had a few miserable sessions where things went awry, there was suspicion."
"Carola (Schouten, Segers' co-negotiator in the formation, ed.) And I even walked away during the conversations at one point, although nobody saw that at the time. I only had to say something or Pechtold came up with a sneer, that was the other way round. "
Halbe Zijlstra (VVD party chairman and fellow negotiator of Rutte, ed.) Said at one point: 'Do you trust each other?' Then the four of us sat together in the garden of a D66 employee. We hadn't decided yet, but the harnesses were out, the bit was gone. "
That harsh was between you and Pechtold?
Segers: "Yes. Carola and Wouter (Koolmees, Pechtold's co-negotiator, ed.) Have known each other longer and are more compromised."
Heerma: "You are not in politics to win debate competitions. So when the opportunity comes along to make the Netherlands better, there are few politicians who say: give my portion to Fikkie. Trust is important. AD held confidential documents during formation… "
Segers: "That was a disaster."
Heerma: "People wondered: how safe can we negotiate here? Sometimes you have to go through a deep valley."
From left to right: Gert-Jan Segers (ChristenUnie), Pieter Heerma (CDA), Jesse Klaver (GroenLinks), Rob Jetten (D66), Klaas Dijkhoff (VVD) and Kees van der Staaij (SGP) before the start of a corona debate .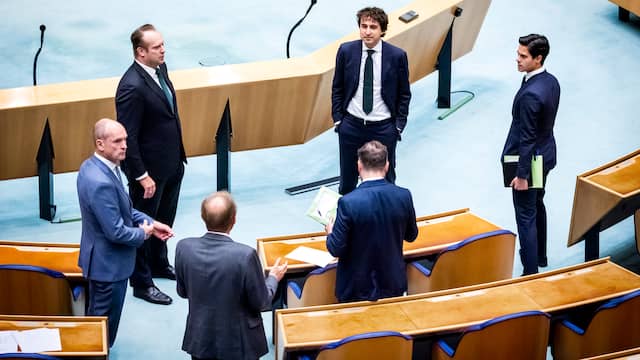 Informator Gerrit Zalm described this as an industrial accident at the time. Information would have been accidentally left somewhere.
Segers: "We still don't know. At one point, an email was sent to the negotiators of Rutte I (VVD, CDA and PVV, ed.). So it also ended up with Geert Wilders and Maxime Verhagen. I know. not if it was or if it was someone's master plan. "
"But trust was very young. In one go the plaster was taken off and the wound was open again. I thought: damn it, they are screwing us anyway!"
"I really had to get people out of the chandeliers at the group. That was a very eventful day."
You have lashed out at Rutte and the VVD in recent months. Mr Heerma, you said, for example: "Rutte is not the man for the future."
Heerma: "That was about having no vision, as Rutte often says. Look at the report on the childcare allowance affair. You then need a vision of where you want to go with this country. You can't manage that a little bit. of my criticism of liberalism. I have had that for much longer. "
Segers: "We have to make a change in the coming period. Klaas Dijkhoff was somewhat critical of some aspects of liberalism, but it remains a moral appeal along the lines of: employer, be nice. That is not enough. Our system. creates gaps. There is no fair distribution of wealth. "
"Liberal parties only want to tackle the edges of the excesses."
Pieter Heerma, CDA
Heerma: "The liberal parties only want to tackle the edges of the excesses, while it really involves a different image of humanity."
"Fundamental wrong choices have been made since the late 1990s, when market thinking became more popular. They have an effect on almost everything. A government that sees citizens as potential fraudsters is part of that."
What is the campaign about as far as you are concerned?
Segers: "About what the Netherlands will look like after corona. In our opinion, that will not be the same as before. Take the labor market. The self-employed people were the first to pay the price, they are insecure and vulnerable. The government must protect them more. . "
Heerma: "Corona makes it clearer what is wrong. If a teacher or policeman cannot buy a house in Amsterdam, a city and a society will fall apart. The difference between winners and losers has become too great."
.