Saudi-sponsored golf tournament receives warm welcome from Donald Trump
The former president triumphantly reported on the first hole of his course on Thursday, the characteristic red cap on his head. The avid golf enthusiast, who, according to The Washington Post as president was on the track for no less than 261 days, a demonstration round was played with the American top players Bryson Dechambeau and Dustin Johnson.
'Good shot!' it sounded after his turn, very rarely caught up close by camera crews. "Well, we've had that," Trump said to his daughter Ivanka and son-in-law Jared Kushner in the audience. Son Eric played along.
In the run-up to the tournament, Trump praised the new LIV Golf, which is being paid for from the government investment fund of Saudi Crown Prince Mohammed bin Salman. It is a textbook example of 'sportswashing', polishing up a brutal regime with sport, human rights organizations say about the latest toy from the Saudis, which invest in Formula 1 and Newcastle United football club, among other things.
Discord in sports

The competition, in which 54 (hence the Roman LIV) instead of 72 holes are played, managed to lure countless top golfers with petrodollars away from organizers such as the American PGA Tour, which suspended the renegade golfers.
The arrival of LIV Golf caused a rift in the sport that will not disappear for the foreseeable future. The playing calendar will be expanded from eight to fourteen games next year, the organization announced last week. The prize pool is also increasing, from 255 to 405 million dollars.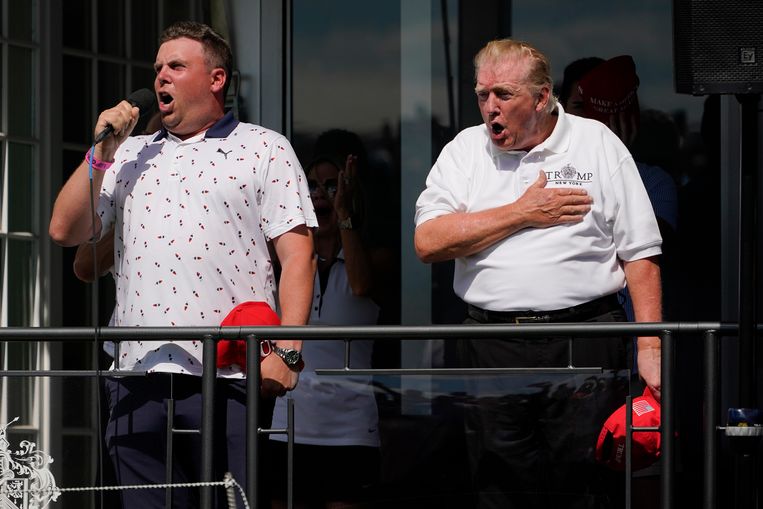 Later this season, a second time will be played on a Trump court, then near Miami. It is not known how much he will receive as a host, but according to Trump, it would not be about the money for him. "They're very generous," he told ESPN, "but I'm doing it because I think it's really good for the sport."
Some say Trump is motivated by resentment. Last year, PGA of America (unaffiliated with the PGA Tour) stripped him of the prestigious PGA Championship for his role in the storming of the US Capitol on January 6 of last year, which is currently under investigation by law enforcement.
Interest in Khashoggi murder has 'completed'

His ties to Saudi Arabia were forged years ago. "They buy apartments from me, why shouldn't I like them?" Trump said in 2015. "I've known these people for a long time, they're my friends," he said in an interview with me last week. The Wall Street Journal. "LIV is great for Saudi Arabia's image."
His first foreign trip as president was to Riyadh, and his son-in-law Kushner's company receives, according to The New York Times billions from the Saudi government investment fund.
In 2018, during the Trump presidency, Saudi journalist Jamal Khashoggi was murdered while visiting the Saudi embassy in Turkey. According to US intelligence services, Bin Salman ordered the assassination, but Trump believed the crown prince when he said he was innocent. In The Wall Street Journal Trump defended himself by saying that interest in the case has now "completed."
As a presidential candidate, Trump has at times been critical of the Saudi regime, particularly its alleged involvement in the September 11, 2001 attacks. Fifteen of the 19 terrorists came from Saudi Arabia, and although the country has always denied it, there are persistent suspicions about financing the attacks.
'Slap us in the face'

At the golf course in Bedminster, an hour's drive from where the Twin Towers were brought down, relatives demonstrated in recent days against the arrival of the golf tournament and Trump's involvement. "It's a slap in the face," it sounded in a TV commercial of 9/11 Justice, which is committed to relatives of victims. 'For how much money do you turn your back on your own country?'
Trump declined to comment on the criticism. "I don't know much about the 9/11 families," he said The Wall Street Journal. "I can't say anything about it because I don't know exactly what they're saying and what it has to do with this."
Warmer was Thursday the welcome of the golfers with whom Trump walked his round. "He's actually a really good golfer, it was an honor to play with him," said DeChambeau, who revealed Trump kept talking along the way. "He said no president could hit like him." It was not known what score Trump ended up with. On the first hole, he scored a bogey, one stroke over par.