Sanna Elkadiri receives first corona pepper in the Netherlands: 'Feels really good' | NOW
On Wednesday, the Netherlands will also start vaccinating against the corona virus. The first person in our country to receive the injection is 39-year-old Sanna Elkadiri, who works in a nursing home in Boxtel.
"I have some nerves," admitted the care worker on Tuesday evening. "But it feels really good. At last the vaccination will start now. We can return to normal soon."
As an employee in a nursing home for elderly people with dementia, Elkadiri has experienced the corona crisis very intensely and from close by in recent months.
"Of the 124 residents, 22 unfortunately died at the time," she says. "Especially when the nursing homes were closed, your eyes and ears were off the family. I myself often held the hand of people who died, because the family was not allowed or could not be there. It was a very emotional experience."
In her personal life she also had a hard time from the virus, especially during the first wave. "I was very afraid of getting infected and taking it to the nursing home. I tried as little as possible to come into contact with others."
"It was very hard work during that first wave, there was also a lot of ignorance at the time, everything required a huge organization. The testing capacity was scarce. Now it is different. We know a lot more, wear masks, we are testing."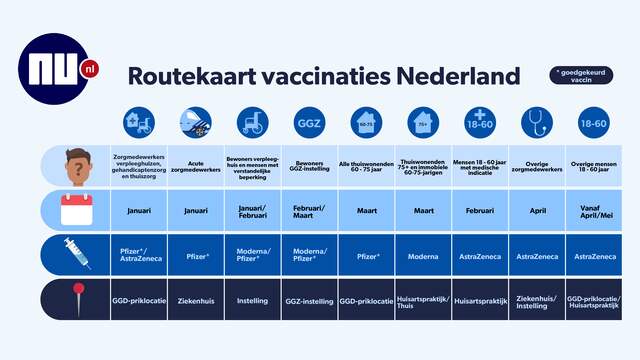 'Read me in and talked to colleagues about vaccine'
Elkadiri admits that she initially had some doubts about the vaccine. "Just like a lot of my colleagues. I was the best of luck, had a lot of questions. What's in the vaccine, what does it do to you, what are the side effects?"
After researching it, she decided to get vaccinated anyway and didn't have to think twice when the director of her care group called to ask if she wanted to be vaccinated first.
"I started reading up, followed the news and talked about it with colleagues. Now I have decided to get vaccinated anyway, because it feels good."
On Sunday she had a conversation with Minister Hugo de Jonge of Public Health. "It was a reassuring conversation," said Elkadiri. "Very spontaneous, very nice. He asked: do you want this?"
First vaccines en route to injection site in Veghel
The first bottles with Pfizer's corona vaccine left on Tuesday evening from the storage in Oss towards Veghel. In addition to Elkadiri, three other nursing home employees will be vaccinated in Veghel on Wednesday.
Hospitals will start vaccinating their employees in acute care on Wednesday. Ambulance personnel can also be vaccinated from Wednesday.
Umbrella organization GGD GHOR Nederland reported on Monday evening that more than 24,000 healthcare workers have already made an appointment for a vaccination.
Follow the latest developments regarding the corona virus in our live blog.
.