Ronaldo scores, Suarez tumbles. Two illustrious toppers on their last round
Cristiano Ronaldo rises no less than two heads above the 1 meter 91 tall, 23-year-old Ghanaian defender Mohammed Salisu. The 37-year-old Portuguese heads just wide. But, wow, what a jump still. What a unique player, not only physically, but also in terms of training discipline.
It is the most impressive moment of more than 180 minutes of Thursday afternoon football for those who have turned the spotlight on two illustrious sharpshooters, Ronaldo and Uruguayan Luis Suárez.
Ronaldo is active, gets a kind of oeuvre penalty after an hour after an obvious trick dive and uses it himself. A new record: he is the first to score in five World Cups. But actually Bruno Fernandes is the big man in Portugal with two assists in the 3-2 win over Ghana.
Suárez does not come into scoring position at all against South Korea earlier in the day, actually only stands out once with a crazy tumble. Teammates Godin and Valverde are still ravaging the post, but otherwise Uruguay-South Korea (0-0) is not affected.
Ambitious and controversial

In addition to many other things, the 2022 World Cup is also the tournament of farewell to the highest podium of an entire regiment of big names, including Ronaldo and Suárez, group mates in this tournament. They have many similarities. True goal scorers, successful in several top competitions, winner of the Nations Cup on their continent, spirited, ambitious, controversial, outspoken, loved and hated. Eternal child. Their joy after a goal is still ocean-wide. Their whole body pouts when they think they are being deprived of an advantage.
Another similarity: they both currently have no club. Manchester United released Ronaldo's contract after an explosive interview, Suárez signed a short-term deal with childhood sweetheart Nacional to get fit for the World Cup. They will certainly find a new employer, maybe they will meet again in America as they did in Spain for years.
But first one, presumably, last dance in front of the world's spotlight. The two years younger Suárez still looks a lot more rickety than Ronaldo.
Yet there was much less discussion in Uruguay about Suárez playing than in Portugal about Ronaldo. "Don't line it up and you'll have two guns to your head," a friend of Suárez's describes his popularity in his own country.
In addition to scoring a record number of goals for Uruguay, he literally defended tooth and nail the honor of the three million inhabitants at the last World Cups. The handball with which he prevented a goal from Ghana in 2010 was ultimately crucial for reaching the semi-finals.
Winning drive

In 2014 he also sank his teeth into the neck of the Italian Chiellini. He was suspended for months and spit out by the international football community, but for Uruguay he is the epitome of what they call 'Garra Charrúa' – fighting to the bitter end and when you're out, fight some more.
Suarez runs emphatically against South Korea with his chest out, as if his heart still wants, but the rest no longer. After a fruitless hour he has to make way for that other old warrior, Edinson Cavani who still knows how to become dangerous. Suárez sympathizes passionately on the couch with his mouth half open.
His current physical state is the toll of his winning streak. The comeback in his own country at Nacional resulted in a power-consuming, eventually won title fight in which he played much more than planned.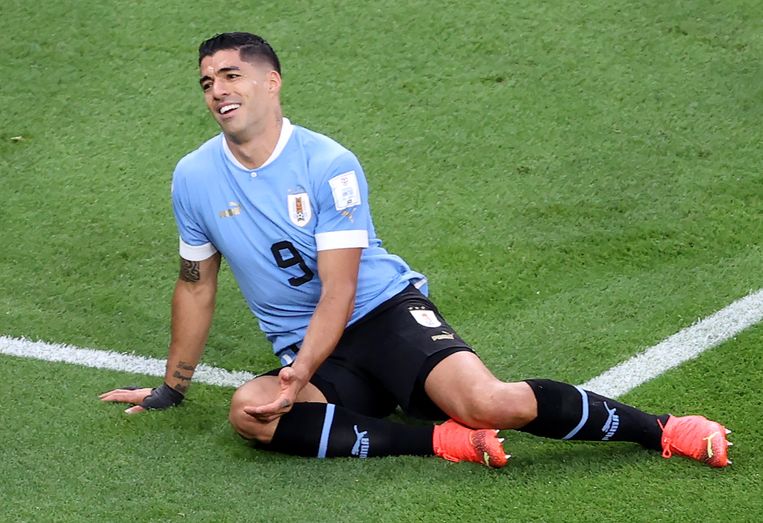 The body squeaks and creaks. Suárez always played football on (will) power in an angular style, he is not an athlete like Ronaldo.
Ronaldo also had a far from ideal preparation, but because he played too little. He wanted to leave United in the summer, so he joined later, but did not become a regular basic player and was removed from the selection by coach Ten Hag.
He filleted his club, former teammates and his coach in an interview that was full of self-aggrandizement. A deluge of criticism was his share, plus the termination of his royal contract.
Even the best Portuguese player by far, some say the best European player of all time, has something to prove. He does that against Ghana in fits and starts. Ronaldo still appears to be in top shape, as he proves in a sprint-a-deux deep into the second half with another much younger opponent, but many of his assumptions show a lack of sharpness.
The pirouette jump with which he celebrates his goal, made after an hour, is sky-high and is later copied by the Ghanaian Bukari who makes 3-2 shortly before the end. Ronaldo, substituted, dies a thousand in stoppage time and screams after the final whistle. Monday is Portugal v Uruguay.