Riots in Paris during demonstration against security law, 42 arrests | NOW
In Paris, a demonstration against a controversial security law and police brutality has turned into riots. Protesters clashed with police, destroyed shops, cars and barricades. In some cases a bank branch has been looted. The police intervened with tear gas. At least 42 people have been arrested. Several officers and firefighters were said to have been injured in the riots, police said via Twitter, how much is not known.
Saturday started with a peaceful demonstration, but according to police, 500 rioters 'infiltrated' the demonstration. These rioters sought confrontation with the police. Most of these protesters were dressed in black. Some also carried hammers to break pavement tiles into pieces.
By 6:00 PM the official demonstration was over and the police started demanding people to go home. The riots were still going on at the time, however, and at least 42 people had been arrested at 8 p.m.
It is the second weekend in a row where it is restless in the French capital. France has seen a wave of protest since a proposal for a security law was announced. Not only in Paris, but also in Marseille, Lyon, Lille and other French cities, people have taken to the streets to express their dissatisfaction.
With the controversial law, authorities prohibit the distribution of images showing agents whose identities can be traced. A violation is punishable by a maximum of one year in prison or a fine of up to 45,000 euros. According to the government, the law is intended to protect agents.
Macron has the law amended, critics still dissatisfied
President Emmanuel Macron's party changed its position a few days ago. After fierce criticism, the party said it would amend the passage on the images of police officers, but critics say that is not enough.
Trade unions, journalist associations and human rights organizations therefore called on French this weekend to demonstrate again. They want this passage to be completely removed from the law. They believe it limits freedom of speech. The law would also make it more difficult to register abuse of power by agents.
Not only the passage about police images is controversial. The bill also states that the police can apply more video surveillance, such as by using drones during demonstrations.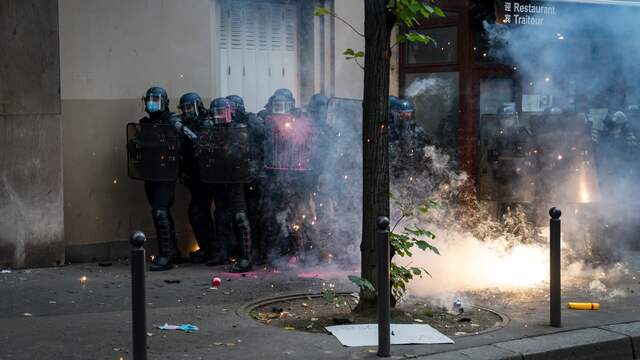 Cops in Paris are pelted with fireworks. (Photo: ANP)
Anger at police racist violence
The protests are not only about the bill, but also about racist police violence. Last Friday, agents were found to have assaulted a black music producer in his own studio. Among other things, a tear gas canister was thrown into space. Images of the incident appeared online.
This brought renewed attention to police violence in France, particularly against minorities. Macron wants to set up a platform so that people can report discrimination by police officers. Police unions are critical of this plan.
.