Police pleaded with the cabinet to also ban children's fireworks this year | NOW
The police wanted the cabinet to also ban children's fireworks, such as sparklers and certain types of fountains, at the turn of the year. This is what Ruud Verkuijlen, coordinator of the turn of the year at the police, says in conversation with NU.nl. By also banning children's fireworks, so-called category F1 fireworks, the police would be able to enforce the temporary fireworks ban more easily.
"For the overview of the enforcement, we would have preferred that no fireworks were set off at all. Because now there are children's fireworks," explains Verkuijlen.
If all fireworks had been banned, "we would have had a quieter street scene," said the coordinator. When fireworks were set off somewhere "we could have assumed that it was illegal fireworks".
Minister Ferd Grapperhaus (Justice and Security) wrote earlier in a letter to the House of Representatives that F1 fireworks "cannot be contained by EU member states because of the low security risk".
The police also acknowledge that a ban on children's fireworks by those European regulations "would have been difficult".
Fountains and ground flowers also have F1 fireworks
The F1 fireworks category includes sparklers and pull ropes, as well as Bengal fires, various types of fountains and ground flowers.
Fireworks from the F2 category are consumer fireworks such as heavier ground flowers and fountains and flash tablets. The cabinet has imposed a ban on the sale and setting off of such fireworks before the turn of the year.
Fireworks from the F3 category could still be set off by consumers until last New Year, such as flares. Lighting F4 fireworks has always been allowed only by professionals.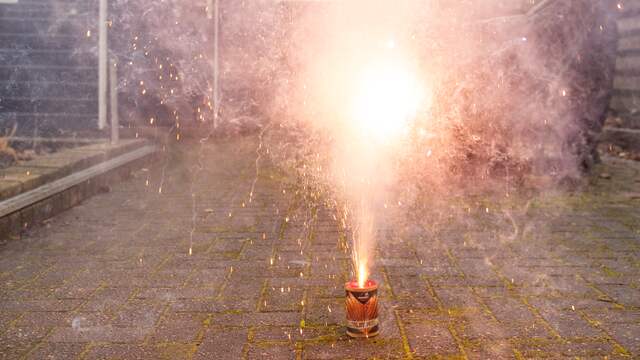 Also different types of fountains belong to F1 fireworks. (Photo: ANP)
Inspection also rejected F1 fireworks
The Human Environment and Transport Inspectorate (ILT) published the results of an initial investigation into the safety of F1 fireworks at the end of October. 61 percent of the investigated fireworks were rejected. There were mainly falling fountains among them.
Slightly more than a fifth of the investigated fireworks were of insufficient quality because, for example, mandatory information on labels was lacking. 17 percent of the F1 fireworks, mostly stars, were fine.
The ILT is conducting further research into F1 fireworks and expects to complete this early next year.
'It helps us, but it is all about care'
The police have been calling for a ban on flares and fireworks for much longer, and they were therefore pleased with the cabinet's decision earlier this year to ban F3 fireworks. The fact that this year's ban also includes F2 fireworks, is "by-catch" for the police.
Verkuijlen: "Of course it helps us that the annual 70 million euros worth of fireworks is not there, but it is about the pressure on healthcare, which will hopefully be less high due to the fireworks ban."
.