Pérez surprisingly wins in Bahrain due to chaos at Mercedes, Verstappen drops out | NOW
The Sakhir Grand Prix was surprisingly won by Sergio Pérez on Sunday. The Racing Point driver took advantage of chaos at Mercedes and shared the podium with Esteban Ocon (Renault) and teammate Lance Stroll. For Max Verstappen, the race was already over in the first lap after a crash.
George Russell, who replaced world champion Lewis Hamilton at Mercedes, has long held the best record for victory in the penultimate Formula 1 race of the season. The 22-year-old Briton drove very well, but got a flat tire when he chased leader Pérez in the final phase.
Russell had just fought back at the time after chaos in the pit lane at Mercedes, which also suffered teammate Valtteri Bottas. Both drivers had to wait a long time due to the team's bumbling.
Pérez, who is not yet sure of a Formula 1 seat for next year and is mentioned as a potential teammate of Verstappen at Red Bull Racing, was involved in the crash of Verstappen in the first lap of the race.
The Mexican collided with Ferrari's Charles Leclerc, who retired together with Verstappen. Pérez fell back to the backfield, but quickly fought his way back up, resulting in his first ever Grand Prix win.
Top 10 GP Sakhir
1. Sergio Pérez (Racing Point)

2. Esteban Ocon (Renault)

3. Lance Stroll (Racing Point)

4. Carlos Sainz (McLaren)

5. Daniel Ricciardo (Renault)

6. Alexander Albon (Red Bull)

7. Daniil Kvyat (AlphaTauri)

8. Valtteri Bottas (Mercedes)

9. George Russell (Mercedes)

10. Lando Norris (McLaren)
Russell starts strong on the short circuit
Mercedes debutant Russell started the race on Sunday very strongly on the short circuit with few corners in Bahrain. The talented Briton had already caught his experienced teammate Bottas at the start and was in the lead for a long time.
Verstappen also had a good start and was shortly behind the Mercedes duo. In turn four, however, things went wrong in the jeopardy: Leclerc made an attack and touched Pérez, after which Verstappen had to swerve and ended up in the tire stack. He had to stop the fight together with Leclerc.
Despite his slide, Pérez was able to continue. After a visit to the pit lane, the Mexican advanced rapidly from the rear field. Halfway through the race, he was already back in the top three.
Given the short circuit – a lap was only 3.5 kilometers – problems with laggards were expected for the top drivers, but they stayed away from the incident with Verstappen after a long time.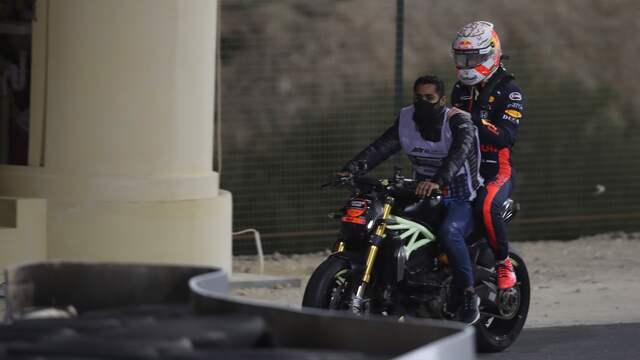 The race was quickly over for Max Verstappen. (Photo: ANP)
Chaos in pit lane at Mercedes
With 26 laps to go, however, it mainly went wrong for Mercedes. Russell and Bottas entered together in a safety car situation (Williams driver James Aitken had lost his front wing), but had to wait a long time due to the team's bumbling. Bottas' stop lasted no less than 27 seconds.
Leader Russell gave up a number of places and then had to go into the pits again when it turned out that he had gotten the wrong tires, but showed that he had talent. With some nice overtaking actions – he passed Bottas, among others – he worked his way up again.
With a number of laps to go, the Brit, who had never driven in points, also quickly caught up with leader Pérez and seemed to have his first ever victory in the making. To his dismay and frustration, a flat tire put an end to a dreamed debut and played into Pérez's hand.
Behind the Mexican, Ocon also had a memorable day, as the Frenchman took the podium for the first time in his Formula 1 career. Stroll was just ahead of Carlos Sainz. Russell had to settle for ninth place, still behind Bottas.
The last Grand Prix of this Formula 1 season is scheduled for next week at the Abu Dhabi circuit. Russell may get a new chance of victory there if Hamilton does not recover from his corona infection in time.
.