People in their eighties can also participate in world-class sports
They run records and win medals at European and World Championships. And only if they exercise too fanatically do they run an extra risk of injury. Intensive athletics activities keep these people in their seventies and eighties fit.
My father has had one dream all his life: to participate in a major international athletics tournament. He has not been able to do that so far. He was at the top of his game at the age of 27, when he set a personal best on his favorite athletics event, the 400 meters. His best athletic achievement was reaching the semifinal at that distance at the Dutch Championship. And then the dream died.
Temporarily, because now that he is 54 years old, he can once again dream of a world championship in athletics. My father belongs to the 'masters', elderly athletes. And at this age there are new opportunities for him.
Every year the Athletics Union organizes Dutch championships for these so-called 'masters'; athletes over 35 years of age who compete with each other in age groups of five years. In principle, any master athlete can participate in these competitions. But there are medal limits: only if you run below a certain time, or jump or throw a certain distance, you will receive a medal. There are also European and world championships.
My father is classified in the 50-55 category. He is on the athletics track twice a week, if he gets a plaque at the Dutch Championship, that's a bonus. If he moves into the 55+ category next year, there are serious medal chances for my dad. Then as the youngest of the group he has an advantage over the older athletes.
Records are kept per age group. As a top master athlete, you therefore have a new chance to break records every five years. In the 'younger' age categories, the times are still close to the world record for seniors. For example, in the 100 meters, the world record is 10.49 seconds in the women seniors, 10.74 seconds in the 35+ category and 10.99 seconds in the 40+ category. But as the sprinters get older, the times get faster. For example, the world record for women of 80+ is 16.81 seconds, and 39.62 seconds in the 100+ category (you read this right, this category exists).
Every year when I go with my father to the Dutch Masters Championship to cheer him on, I see fanatical people over 70 or even 80 years old running around the track. In the Netherlands there are still about twenty athletes over 70. Fanatic sports at an advanced age does not always go without a struggle. More than once I have seen an elderly athlete stop his race prematurely because of a torn muscle or a sprained ankle.
'Regular intensive exercise has a positive effect on the constitution of the elderly, but with fanatic sports the risk of injuries is significantly higher,' says Marieke van Heuvelen, assistant professor of Human Movement Sciences at the University Medical Center Groningen. 'The muscle strength decreases and muscles, tendons and joints become stiffer as you get older, which means that you tear something off more quickly.' So you have to be blessed with a strong constitution, if you want to be able to sport so fanatically at a later age.
What is striking is that many top athletes in the 70+ or ​​80+ category only started playing top sport at a later age. 'Top sport is often accompanied by injuries, overload and psychological stress', says Van Heuvelen. 'When you start intensive top sports at a young age, you can suffer from it later in life.'
The enthusiasm to pursue a top sports career with the masters is therefore not that great among this group. Athletes who start over 50 can build up their muscle strength and endurance. 'You don't have to be a former top athlete for this. That way they can still achieve a world level. '
What is it like to be part of the world at an older age? Three Dutch 70+ athletes, who still win medals every year at national, European or even world level, say.
Rietje Dijkman (81)
Athletics Club: GAC Hilversum
Components: long jump, triple jump, high jump, 100, 200 and 400 meters
Prices: She has lost count, but she has already won eighty medals at the European and World Masters Championships. In 2019 she was named European Master of the Year.
'I can decorate three walls with the European and world records that I have set. You get diplomas for that. Even at the world championships I am always well ahead. When I started, at the age of 45, my family thought it was special when I won a medal. The first time that happened, they had another party. They are still very proud now, but a party per medal is no longer possible.
'If I had started younger, Fanny Blankers-Koen (four-time Olympic running champion in 1948, ed.) had a tough job on me. But I don't regret starting so late. Otherwise I might not have walked that well at this age and my body would not have been able to take it anymore.
'Next year I will participate in the World Cup in Portugal, and then, if all goes well, I will have just become great-grandmother. I am very grateful to be able to experience that. How many great-grandmothers can say they have entered a world championship? "
Gillis Bosman (81)
Athletics Club: AV Thor (Roosendaal)
Components: all distances between 800 meters and the half marathon
Prices: 10 gold, 7 silver and 7 bronze medals at the Dutch Championship, 2 silver and 2 bronze medals at the European Championship.
'Last year I ran a half marathon, on my 80th birthday. People sometimes say about me: he's like a fairground attraction. Throw in a dime and it keeps walking. I started athletics at the age of 50. Then I ran marathons, but I don't anymore. Then I break my knees. I know myself: once I walk, I go all the way to the hole.
'I often train alone, I love that freedom. I don't want a trainer telling me what to do. Fatigue? I do not know that. It is now getting a bit heavier, I sometimes notice. Sometimes I have groin problems or my hamstrings. But I have my legs massaged every week. The masseur then rubs all contaminants out.
'During a Dutch Championship in 2015 I ran four distances: the 800 meters, the 1500 meters, the 5 kilometers and the 10 kilometers, and I won a gold medal on all of them. I was really broken then, my young, young. The next morning I barely got out of my chair. But two days later I ran another race, and I ran a Dutch record in the 2,000 meters. '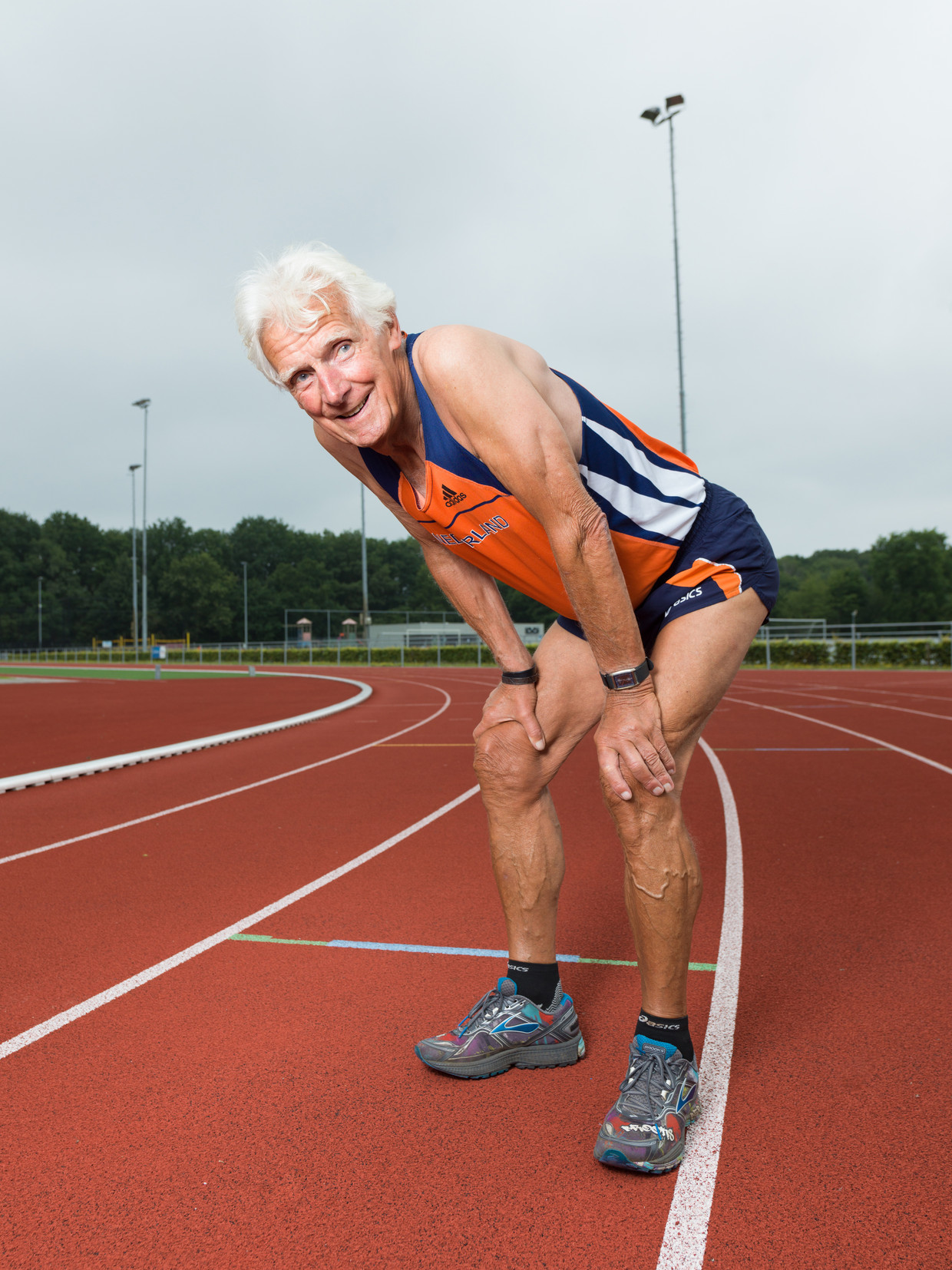 Jan Ties (72)
Athletics Club: Groningen Athletics (Groningen)
Components: 100 meters and 200 meters
Prices: 28 gold, 17 silver and 2 bronze medals at the Dutch Championship, 1 bronze medal at the European Championship.
'I don't really have competitors in the Netherlands anymore, because everyone has injuries. I never really suffer from anything, not even muscle pain. I think that's because I mix a lot of different sports.
'I exercise every day. I train twice a week on the athletics track, and do strength training once a week so that my muscles can still absorb the blows. I also play badminton and mountain biking. When I sit still, I also end up behind the walker. I have to keep busy.
'In the sprint group I always run around me with ten or twenty young people. I participate in everything, only my balance is less. I can no longer keep up with those fast guys, but I can still measure up to some women. My old trainer also called me 'rocket with a smile.
'I want to hurdle in the future, because I have long legs. But I am afraid that I will get injuries. So if I'm going to train that, I have to be very careful. Take it easy over the hurdles, and don't make any crazy movements. '