Overconfident actions and pit stop blunders: Pérez seizes first Formula 1 victory in chaotic race in Bahrain
Scolding about the on-board radio. A firm kick against the guardrail. Nobody had to guess at Max Verstappen's mood after his GP of Sakhir, which finished after just over half a minute for him on Sunday. Crowds in the opening phase forced him against the guardrail. Just in that one race in which he once did not have to deal with his biggest bully: the champion Lewis Hamilton infected with the corona virus.
Before the race, the pecking order in Formula 1 had already been turned upside down. An hour and a half later, Verstappen's grumpiness turned out to be justified, because he had not played a significant role in one of the most unpredictable races of the season. Racing Point driver Sergio Pérez (30) won his first F1 race after 190 GPs, helped by pit stop blunders from the normally unapproachable Mercedes.
Missed opportunities

For Verstappen it was mainly a weekend of missed opportunities. On Saturday, he missed out on the first place on the ultra-short and ultra-fast track that F1 had chosen for the second GP in Bahrain in a week. The final difference in the lap of less than a minute between the pole position time of Mercedes driver Bottas and the third time of Verstappen was 56 thousandths of a second.
It turned out to be very expensive thousandths. Verstappen started behind Bottas and was faster from his place than both Mercedes. But mainly because Bottas did not start well, the Dutchman was in jeopardy. He had to get off the gas, after which the drivers behind him saw opportunities.
First he saw Pérez's pink Racing Point next to him. Then suddenly the red of Charles Leclerc's Ferrari appeared in his mirrors. "The cars around me were super aggressive, so I tried to stay out of trouble," he later explained to the Ziggo Sport camera.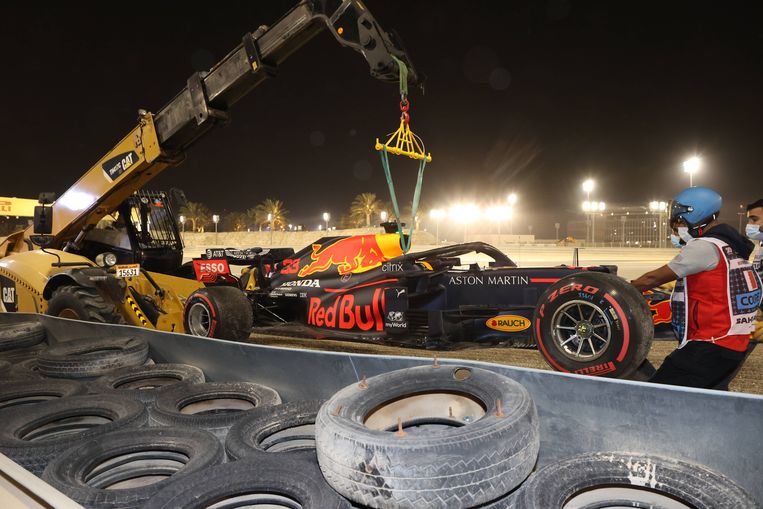 Les
It's a lesson he learned through harm and shame, back when he regularly wasted World Cup points by defending his position at all costs when there was little to be won. It was now only Verstappen's caution that cost him his race.
Leclerc attempted to pass both Verstappen and Pérez with an overconfident action. But the Monegask braked and tapped Pérez, who spun. As a result, Verstappen had to evade and could no longer avoid the guardrail, making his fifth out of the season a fact. Leclerc also dropped out and Pérez fell back into the backfield.
After that, the race seemed to be a prey to Hamilton's replacement George Russell. The 22-year-old Briton drove the supreme Mercedes from the first meter as if he had already won dozens of Formula 1 races. He led the race until the safety car came onto the track with a third of the race to go; the front wing of Formula 1 debutant Aitken was still on the asphalt after a crash.
Double pit stop

Mercedes decided to take advantage of the situation by bringing both cars in for a so-called double pit stop. That just went horribly wrong. First, a Bottas tire was screwed under Russell's car. As a result, Bottas' stop also failed and Russell had to stop again one lap later for the right tires.
When the smoke cleared, Pérez, who was still thrown off the track by Leclerc in the opening phase, was in the lead. The Mexican had fought his way through the field in the shadows. At the end of the race, Russell drove back to second place. To fall back again due to a flat tire.
After the finish, he collapsed into the grass. At the same time, Pérez listened to the Mexican national anthem onstage with tears in his eyes; Half a century ago, the last time a Mexican won a Formula 1 race.
Good business

Although Russell was the schlemiel in Bahrain and Pérez the winner, both drivers did good business with their impressive performances when it comes to their F1 future. Russell showed in his first race for Mercedes that he was anything but inferior to Bottas, who has been driving for the German top racing stable since 2017. This means that Bottas' future at Mercedes after 2021 is suddenly quite uncertain.
Pérez's long-term contract with Racing Point was torn apart earlier this year, as the team chose to sign four-time world champion Sebastian Vettel. He seemed to be leaving the sport. But in recent weeks, Pérez has been increasingly mentioned as Max Verstappen's new teammate at Red Bull from next season.
The team has been looking for a strong adjutant next to Verstappen for some time. For the time being, his current teammate Alexander Albon is not. On Sunday, the British Thai finished in an inglorious position in sixth place. With his victory, Pérez may have filled the decisive hole in his resume.