Orange is a fun, open-minded, leaderless group of friends. Virgil van Dijk is missed
That one pass to Robin van Persie changed Daley Blind's life. The pass from the left, just over the center line, long, deep and precise, followed by Van Persie's space dive, concluded with his brilliant, intuitive header: 1-1, on June 13, 2014, the first group match of the World Cup in Brazil. That one goal, so visual that it has eternal value, snapped the world champions. Whoever has such a goal is capable of much more. Netherlands – Spain 5-1.
Yes, there was endless training for this, in the 5-3-2 playing style of national coach Louis van Gaal, in which Blind was the leftmost defender at the time. The amazing thing was that it succeeded at the ultimate moment, in Salvador, in the field of vision of the emotional father Danny Blind, Van Gaal's assistant. Daley Blind, drawing on his memory: "All the world was watching. I took a wonderful step to Manchester United after the World Cup. Not necessarily just because of that one match, but it did have a major impact on my life.'
Striker Memphis Depay, about the influence of a country tournament: 'You can put yourself in the spotlight, but it is mainly about the experience. Players are always talking about final tournaments. Memories they take with them for the rest of their lives. That goes much further than that one moment. And the whole of the Netherlands sympathizes.'
On Sunday in Amsterdam, exactly seven years after the Netherlands – Spain, the Orange squad kicks off for the European Championship against Ukraine. The players say they are free in their head, but that is also tough on the outside. Try to think for yourself about the pressure they feel. Playing football for millions of people who harbor a fragile belief in success, while streets are decorated and a fervent desire to party lives in the tail end of the pandemic. The thanks for good football will be worship. Bad play will lead to damnation. Then national coach Frank de Boer is a no-brainer and the players are pickpockets, in the polarized fair of opinions.
Netherlands outsider

De Boer said during the training camp: 'We tried to plant the seed in the brain. Hopefully it will grow and come to fruition.' The Netherlands can set up a team that, according to Van Gaal, can compete for the title, because of defenders and midfielders from the top segment and one attacker who is chasing the world top, Memphis Depay. Although the world, confirmed by all kinds of calculations, sees the Netherlands as an outsider at most. Defender Matthijs de Ligt: 'Fortunately, football is played on the field, not on a data agency. But it's also nice to be the underdog sometimes, like we did with Ajax two years ago in the Champions League.'
Can you tell how that seed of De Boer has grown under the sunshine, the rain and the shadows over Oranje? That's difficult. Mainstay De Ligt is injured in the groin and it remains to be seen whether he can participate on Sunday. The first keeper, Jasper Cillessen, stayed at home because of corona. His replacement, almost certainly Maarten Stekelenburg, is a 38-year-old man who only made a comeback in the last six months, because Onana has been suspended at Ajax.
The much-discussed system is 5-3-2, just like in 2014, because the Orange simply don't have that many good attackers. De Boer strengthens the defence, builds in security and speculates on saving forces. It went moderate to bad, in exhibition games with Scotland and Georgia. It seemed as if players were out of touch. Hear central defender Stefan de Vrij, experience expert at Inter, with a talk about boarding, about two years of grinding, about details. The system works best for the central defenders. De Vrij and companion Ron Vlaar grew as relatively anonymous players in 2014 to excel at the World Cup, partly because the coordination in the back was good.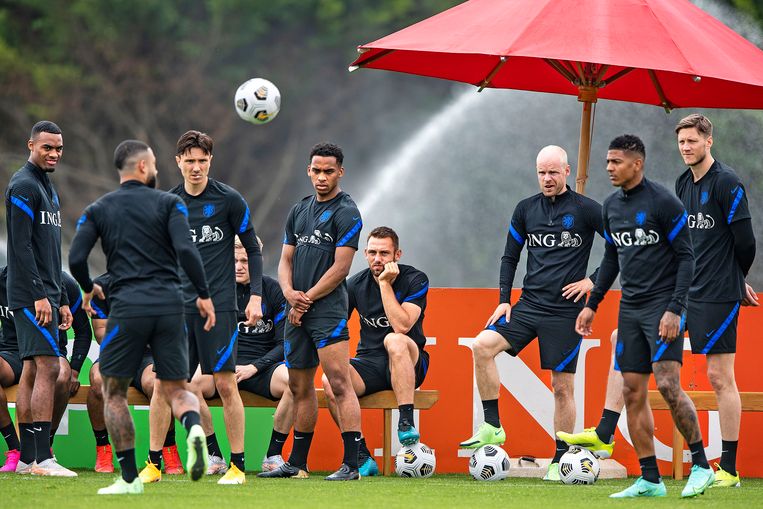 Defenders are not attackers

The wing backs Denzel Dumfries and Owen Wijndal, they are suddenly called wingbacks, talked about what they find difficult and what not. That they have never actually played at their club, PSV and AZ, that they no longer have a direct opponent and can join the attack. What they didn't say is that attacking is not their greatest specialty, otherwise they would have become attackers.
Midfielder Marten de Roon bit off, because he is told by the media every time that he does not belong in Orange and disrupts his own team instead of the opponent. "I wouldn't have been called up just because of my nice character or appearance." He is a model for the call for more football in the team: Ryan Gravenberch, Donyell Malen, Jurriën Timber, Steven Berghuis. Other midfielders than: Frenkie de Jong. He is also getting used to it, with three central defenders instead of two behind him. Captain Georginio Wijnaldum wants to join the attack, score and run.
There are two attackers in the front. One, Memphis Depay, is the free, creative mind with turbo thighs and long range. He is the best international of recent years and yearns to take responsibility. The other is probably called Wout Weghorst, folk hero in the making, who shows that playing football in Orange need not be an illusion. Just work hard and do more than anyone else. Hundreds of Wouten Weghorst will light the barbecue on Sunday and prepare for the match in their own way.
The farmer is not Van Gaal

All in all, the game looks uncomfortable, however little that says after a few practice matches. Orange has also lost its leader, Virgil van Dijk. It is now a nice, open-minded, diverse group of friends without a real boss, although Wijnaldum and Depay profile themselves. The Netherlands will thereby lose its traditional dominance on the field and will soon be interchangeable with numerous countries that avoid risks. For Puritans, that's a sin anyway.
And De Boer is no Van Gaal, the teacher of the crash course 5-3-2 in 2014. It is going too far to say that the bass guitarist suddenly plays the solos and the drummer is vocalist, but the rhythm section is indeed disturbed. It's different for the backs. Different for the central defenders. Different for Frenkie de Jong. Different for the striker, who has no permanent wingers next to him. Orange is a new car, a diesel, with hopefully a good airbag. Safety first, hoping to survive the first blow.
Frank de Boer often dropped one word. Focus. In 2010, when the Orange squad lost the World Cup final, De Boer was assistant to national coach Bert van Marwijk: 'In 2010 we said: final. That should have been: canals.' Although the Netherlands sailed through the Amsterdam canals, as number two, that was a surrogate. 'If you win, you're in the canals. That should be the end goal. We go for the highest, but it is not the case that we just win the final. And it's about realizing that we've done everything.'
Football is a mind game

He spoke about the team process, about sport as a mind game. 'Players can win matches, teams win prizes.' After sowing, everything did not go well, but that is part of a tournament and the time of magnification in the media. There was the vaccination discussion. transfer talk. There's been a fuss with Quincy Promes, a stabbing suspect. Still, focus is required.
De Boer was at his best in the sun in Portugal when he spoke about his own career last week: 'I played 90 percent of the games at Barcelona in 4.5 season. And then I think: what did I show there? Was it the Frank de Boer of Ajax? It wasn't bad, certainly not. But why was I there? I've soaked up a new culture. But there were a thousand flights a day, for 60 euros. When someone came, I went to show them where the nice beach bar was. You have to know when to pay attention to friends, while you have to shut down from two days before the match. Later you think: maybe it was my maximum, maybe not. And that's the trouble with top sport. That you continuously try to perform at your highest level.'
Psalm 126, verse 3.

Blind, Depay and a bunch of others know how a nation tournament can change lives. Depay was one of the standout youngsters in 2014. He then stayed at PSV for another year, like Wijnaldum, to finally make the club champion again. Blind often thinks about that one pass.
Sunday will show whether De Boer's seed germinates, with his 5-3-2, whereby he wants to be able to switch quickly to 3-4-3 or 4-3-3. Getting the ball to the creative guys as quickly as possible, with De Jong or Depay, knowing that Ukraine is a smart, good opponent, with Malinovsky, Zinchenko or the graying, naturalized Brazilian Marlos, all three blessed with a wonderful left leg.
Depay says he can live with the pressure. He is focused. He listens to music leading up to a match and then gets into the vibe. He does a good warm-up and never forgets to have fun. He also says that to others: enjoy. "It just might be your last time."
Later he reveals the real theme of Orange: the germinating seed, about which De Boer spoke so often. On Thursday, Depay posted a short message on Twitter: psalm 126, verse 3. In summary, the Bible text reads: "Those who sow with tears shall reap with joy."