Newspaper overview: 'Frank de Boer's Orange hurts the eyes' | NOW
The Dutch newspapers agreed on Monday that the new national coach Frank de Boer is anything but convincing at Orange for the time being. After the exhibition defeat against Mexico (0-1), a very disappointing 0-0 draw against Bosnia and Herzegovina in the Nations League followed on Sunday.
"The Dutch national team must show in the coming duels in the Nations League that the final place of last year and the reasonably smooth placement for the European Championship have not been positive outliers", is the conclusion of The Telegraph.
"In the Bilino Polje stadium, the game of the team of national coach Frank de Boer – except for the last fifteen minutes – hurt the eyes and the Orange was just as gray as before the arrival of Ronald Koeman in February 2018."
Also the AD concludes that Orange was absolutely not convinced in Bosnia. "You barely saw that this Orange has been working as a team for 2.5 years. At Bosnia, it was logical last night that players regularly did not understand each other. Their national coach had put together a team that had never entered this composition before", according to the newspaper, which does have a comment.
"This 0-0 in Bosnia hardly differed from the 0-0 against Northern Ireland in the last away game under Koeman. Or the match before that in Belarus, when the Orange almost lost a 2-0 lead in a bad second half. There has been no upward trend for some time now. "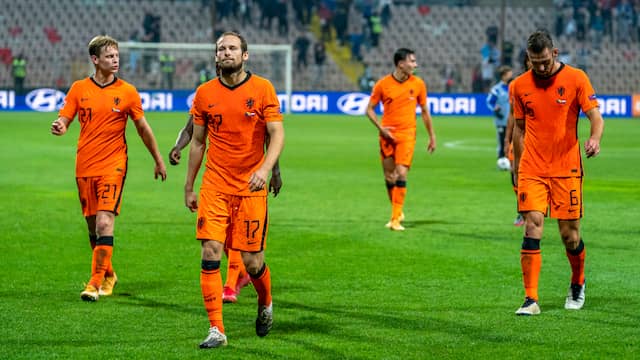 The players of the Dutch national team drip after the disappointing 0-0 draw in Bosnia and Herzegovina. (Photo: Pro Shots)
'Frank de Boer's knitting is back'
According to de Volkskrant De Boer lived up to his dubious reputation as a coach. "It was a battle of attrition, the Sunday evening game of Orange. To watch, that is. The Dutch national team stumbled in Zenica to a performance of fifteen minutes of hideousness and fifteen minutes of consolation," the newspaper writes.
"The viscousness, the powerlessness, the loss of the ball, the lack of pace, the lack of an individual action. Frank de Boer's knitting is back. It's just not a neat little work that is created, but a mess of constantly falling stitches."
Faithful writes about De Boer: "Apparently he has not (yet) hit the right chord to ignite fire among these players for such a match. Duels were entered into too lazily and each other again lacked the corrective capacity that De Boer wanted to promote. . "
"Phlegmatic, the Dutch national team continued to plow along predictable lines, with a lot of breadth and very little depth in the game, which evoked memories of Ajax's risk-free football at the time under De Boer."
View the results, the standings and the program in the Nations League
.