Newcomers in the labor market hit harder by working from home than older colleagues
This is shown by research by Kilian Wawoe, scientist and human resources specialist at the Free University. 'Young workers still have to learn the trade, build up a work routine,' says Wawoe. Normally, novice employees in the office can copy the art of more experienced colleagues. 'The small talk at the meeting or the coffee machine is very important for young people', Wawoe discovered. 'Now discussions are going through zoom or mail, and they have become much more to the point. People have the idea that this makes them work more efficiently, but the direct transfer of knowledge disappears.'
Wawoe interviewed 350 workers for his research and surveyed another 7,000 workers. On Wednesday he will hand over his findings to Finance Minister Wopke Hoekstra. According to Wawoe, the more experienced employees have the upper hand in the discussion about whether or not to continue working from home in the future. 'I also want to let young people have their say, otherwise they will be forgotten.'
The researcher finds the empathy of his contemporaries – Wawoe is 48 – rather limited. 'The people who make policy and talk about it on talk shows are almost all people my age. Who, like me, often own a house with their own office and already know how everything works. They have been able to build up a routine for years and continue it at home.
Calling in the bathroom

"Young people still have to figure all that out. And yes, they are sometimes in the bathroom making calls so that roommates can't listen in, or they work all day in a very small room. I saw some of my students becoming more and more dull. They have been doing research at an organization for a year and have no idea what kind of company it actually is.'
Communication is a lot more difficult digitally, Wawoe sees. Don't use exclamation marks or smileys, just end a long story with 'ok' or 'fine' – someone over 45 probably won't see a problem, someone 25 thinks you're angry. In addition, young employees often still have short, simple questions that they do not dare to call for, or do not even know who to send a message.
In addition, young employees are less likely to say anything if they are bothered by certain work processes, such as the colleague who always sends emails at ten o'clock in the evening because the children are in bed then. Apparently that's part of it, they think, and they also have the feeling that they have to react immediately. "Sometimes you don't know what you don't know," Wawoe says. 'Young people are less likely to revolt because they don't know what the situation was like before, or what options there are. They just adapt.'
Wawoe therefore advocates that companies do not allow employees to choose whether they come to the office. 'I'm charging now, but my generation will stay at home then. Then young people are still alone. Of course we no longer have to stand in traffic every day to show up at the office at nine o'clock, but there are plenty of solutions to come up with to meet each other in person.'
Better position

Tanja van der Lippe, professor of sociology at Utrecht University and not involved in the research, endorses Wawoe's findings. 'A lot of research has also been done on working from home before corona. The expectation was that young people would rather work from home and older people would rather go to the office, but it is the other way around. Older employees are often in a better position, who know how things work. We call that social and professional isolation.' Younger employees do not get to know their colleagues and their achievements are not seen.
'There is a reason that we have been meeting each other in the office all this time,' says Van der Lippe. 'My own research shows that working from home is only more productive if most colleagues are at work. Then you can isolate yourself one day to complete that specific task, and you have your personal contact at work the rest of the time.'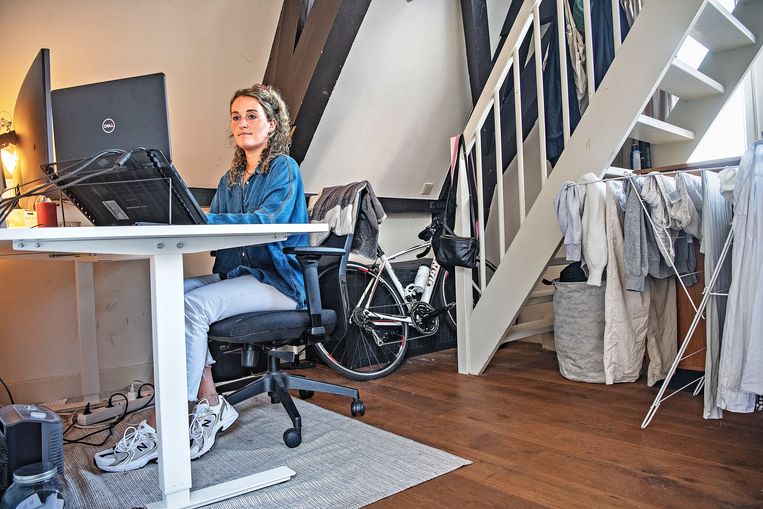 Sophie Deneef (29), works as a sales account manager at Dell in Amsterdam
"I got a new job at Dell almost three months ago, with new colleagues. You can ask questions via Teams, but you will not get a response as quickly, so you often have to figure things out yourself. Sometimes I think I should ring the bell a little earlier. We agreed to go to the office on Tuesday with a few colleagues of my age, so that we could still see each other a bit. Dell is very strict about working from home. I think there are about 200 workplaces here, of which ten to fifteen are occupied. I miss my colleagues very much. It is decisive for how much I enjoy my work.'
Amy Cornelissen (26), works as a claims handler at Achmea in Tilburg
'At first I liked it, working from home. I live in Breda, so it saves me two hours of traveling a day. In the autumn I went to the office once because I was going crazy here. No one was there, so I went again. Colleagues have come and gone that I have never seen. When I was trained 3.5 years ago, I spent six months in the office five days a week. I really liked that, you get a better feeling for the company and better explanation. It would be nice if everyone is there one day a week anyway, so that you can still see all your colleagues.'