Nervous fight between Verstappen and Hamilton in opening race, most exciting F1 season in years beckons
He would rather have been pulled from the top step on the podium with a penalty than finish second "this way." Max Verstappen (23) started a Formula 1 season in Bahrain better than ever on Sunday. It just couldn't be read from his face. There was hardly a smile at the podium ceremony. He was mainly busy with the spectacle in the final rounds.
In it, Verstappen hunted for fresher tires and a faster car like a predator on race leader Lewis Hamilton's Mercedes. He lurked and prodded, to ultimately place the decisive overtaking action ahead of the victory. First, the seven-time world champion parried Verstappen, after which he immediately surprised Hamilton by passing him outside.
Verstappen seemed to become the first Dutchman ever to lead the Formula 1 championship for about half a minute. Until he was ordered over his team's radio to return control to Hamilton. He had fallen out of bounds in his overtaking and would most likely have been punished if he had kept his position.
In the last laps he was unable to overtake Hamilton again. He once again expressed his frustration towards his team at the finish. 'Why didn't you let me go? I could have easily run away from him for five seconds, "he grumbled over the on-board radio, referring to the five-second time penalty he might have received. "We received an order from the race management," said team boss Horner.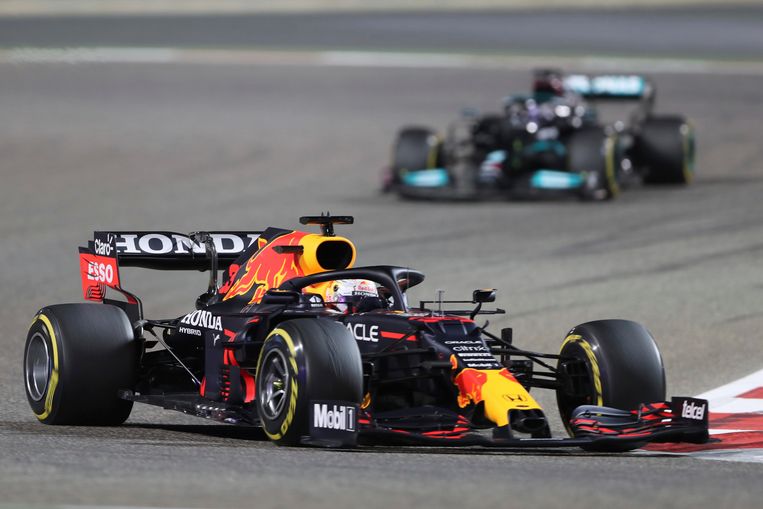 Annoyance

Verstappen's annoyance was understandable. The optimism that hung around him since the test days turned out not to be hot air last weekend. The Dutchman was the fastest in all practices and drove sovereignly in qualifying on Saturday. In the fastest lap of the weekend, he was more than four tenths of a second faster than Hamilton. For the first time since 2014, there was therefore no Mercedes in pole position at the start of the Formula 1 season.
Sometimes a victory just takes more than sheer speed. For a long time, the race on Sunday was a tactical jousting match full of pit stops, with Mercedes having an early advantage. Verstappen's new teammate Sergio Pérez fell silent in the warm-up wound and started the race from the pit lane. As a result, Verstappen had to take on the two Mercedes behind him without backing from the Mexican.
Reigning champion Hamilton benefited from this. He quit early. Verstappen could not do that, because then Hamilton's teammate Bottas would take over the initiative. Once Verstappen made his pit stop, Hamilton had already made up so much time on new, faster tires to still take the lead.
The race then built up like a Hollywood film towards that one confrontation for the race win between Hamilton and Verstappen. With Verstappen ultimately losing the first battle of the many who will most likely follow.
Immersive

The captivating closing stages of the race, where the difference between the two laps was less than a second, was a foretaste of what could be one of the most thrilling title fights in Formula 1 in years. Hamilton and Verstappen had already been labeled title favorites by the bookmakers. Those who bet on Verstappen even got slightly less money back than with a bet on the statistically best Formula 1 driver ever.
Red Bull showed that it hit every point in the test this year. A lot of time was successfully invested in making the rear of his car more stable in the winter. At the same time, engine supplier Honda highlighted all planned improvements, with the result that the power source is at least equivalent to that of Mercedes.
Mercedes, the champion since 2014, looks less infallible than in other years due to an aerodynamic rule change. Hamilton said on Sunday that he had driven one of his 'toughest races in ages'. In fact, he did not even count on victory in the last laps, with Verstappen in his mirror. Red Bull simply has the better car at the moment, he noted. According to him, impatience cost Verstappen the victory. "He didn't have to attack me at the time, because he had fresher tires," he said at Ziggo Sport.
Verstappen said on Saturday after qualifying that he had never had such a good car at the start of the season in seven F1 seasons. "That is why it is good that we are now so disappointed," he analyzed after his second place in front of the camera of Ziggo Sport. 'We would have been very happy with this last year.' But this season everything is different. With a first GP that was up to the last second as a prelude to a season that can remain nerve-racking until race number 23.