Mountains of gold disappear: the Chinese Super League is on the verge of collapse
Jiangsu FC captured the first league title in club history less than four months ago, but the investors of the Suning Group (also major shareholder at Italian leader Inter) are leaving. EIt was later announced that Tianjin Tigers almost a year behind with the payment of salaries, Hebei FC is looking for new owners, and cup holder Shandong Luneng – who had former Feyenoord player Graziano Pellè as one of the big stars – was kicked out of the Asian Champions League due to persistent defaults.
The economic consequences of the corona pandemic are hitting Chinese football hard. The Chinese football bubble seems to have burst. Remarkable, because the revolution of the Chinese money in top football seemed unstoppable until last year. Leader Xi Jinping wanted to make China a 'world power in football', and have won their first World Cup title before 2050. China had to become a protagonist in and around the sport.
Xi himself gave the starting shot: in 2015, a Chinese consortium, including a state investment company, bought a 13 percent share in the English top club Manchester City. With large investments in the sport, extremely wealthy fellow countrymen were now able to gain a white foot with football fan Xi.
Golden mountains

In the own Chinese Super League, a run on foreign football talent followed. The clubs were allowed to have four foreign players on the field, one of which was from another Asian league. As of 2015, at least 15 million euros was paid no less than 24 times for the arrival of a foreign player. For Brazilian stars such as Oscar (60 million euros), Hulk (56), Alex Teixeira (50) and Paulinho (42), the bigger clubs had fortunes left.
The CSL became a haven for (fallen) top football players who wanted to cash in one more time. Salaries were astronomical. Game maker Oscar was a big earner last year with an annual income of more than 23 million euros. But also former league players such as Pellè (15 million per season), Arnautovic (12) and Mousa Dembélé (8) were among the highest earning club players in the world due to the sky-high wages in China.
Salary ceiling
But barely five years after this explosion in football salaries in China, the CSL is now backtracking considerably. In order to create a 'more sustainable' competition – and after the lack of success of the Chinese country team – the CSL announced a salary cap in December. From now on, foreign players are not allowed to earn more than 3 million euros in China. If clubs circumvent these salary rules, which happened quite often in the past, no less than 24 points will be deducted.
The measure leads to an exodus of talent. The Brazilian Alex Teixeira, star player of champion Jiangsu, refused to renew his contract and has been transfer-free since January 1. His fellow countryman Hulk returned to Brazil, with Atlético Mineiro. Other big earners, such as the Italian Pellè (Parma), took refuge in Europe during the January transfer window.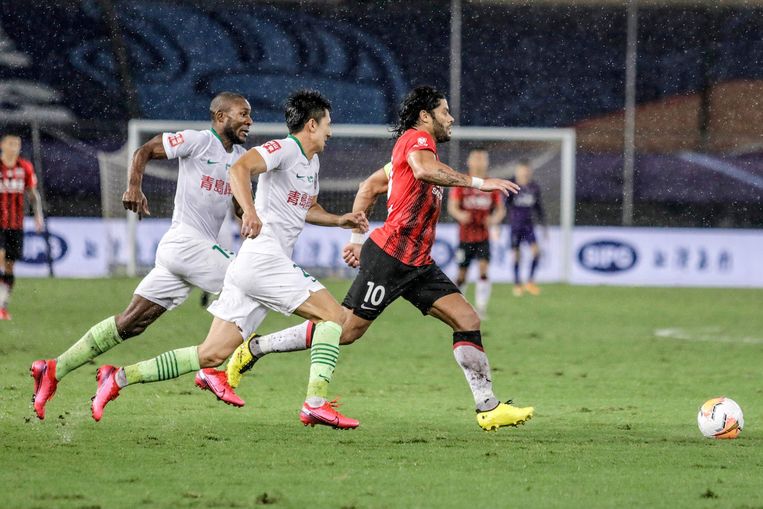 As money flows evaporate due to the corona pandemic, the football clubs are less interesting as prestigious luxury toys. A measure from December seems to be preparing for this. The names of companies may no longer be incorporated in the club names. A drastic rule, since until recently the three largest clubs were named after giants in the electronics (Jiangsu Suning), construction (Guangzhou Evergrande) and port sector (Shanghai SIPG).
England

European top football will also notice the withdrawal of Chinese money. The English Premier League, the world's richest and most popular club competition, was forced to cancel a Chinese TV deal worth € 609 million in September 2020. This after streaming service PPTV, also part of retail giant Suning, failed to make a payment of 185 million euros.
PPTV thought the big deal was no longer worth it, now that the English stadiums were empty due to the corona measures and the playing schedule was confused. Whether Wolverhampton Wanderers, Southampton and West Bromwich Albion, the three Premier League clubs mostly owned by Chinese investors, now also have to look for new owners is still unclear.