More than a hundred arrests in riots after death in Brussels | NOW
A protest by hundreds of Belgians against the sudden death of an arrested 23-year-old fellow townsman resulted in disturbances on Wednesday evening. At least six were injured and the police made at least 112 arrests, the French-speaking broadcaster reports RTBF.
King Philippe's car unexpectedly ended up in skirmishes between demonstrators and police. The monarch was on his way from his palace in the center to his residence. According to some Belgian media, the car was pelted with stones, but that is contradicted by other media. The car had to turn around.
About 500 people had previously expressed anger at the death of 23-year-old Ibrahima Barrie, a Belgian from Sierra Leone, after a police chase. They marched to the North Brussels police station and initially demonstrated calmly. However, the atmosphere changed later in the evening. Protesters called the police murderers, pelted officers and set fire to, among other things, a neighboring police post. The riot police intervened.
King Filip was accidentally involved in the riots and had to be secured by the riot police (Photo: ANP)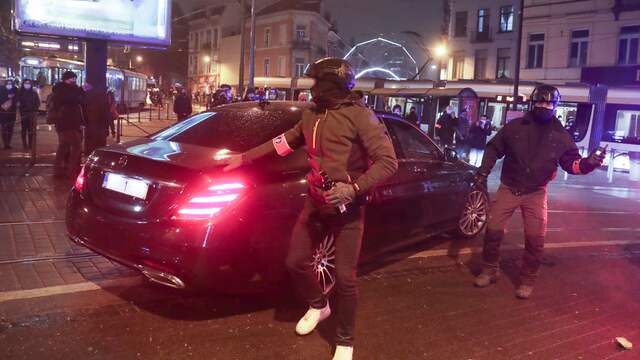 Research into the working methods of agents
A special team is investigating whether the police have crossed the line in the arrest of Barrie. The police's dealings with his family, who would not have been informed until hours after Barrie's death and who were left with more new questions than answers, is also being examined.
The police have had a difficult relationship with the residents of, among other things, the neighborhood around Brussels North Station for some time. In recent times, police chases or arrests have been fatal on several occasions, which has invariably resulted in riots.
.