Master strategist Hannah Schmitz is crucial in the race for the F1 world title
After the prestigious Monaco Grand Prix, which was won by a Red Bull driver for the third time in four years at the end of May, Helmut Marko barely spoke about his drivers. For just about every camera, the CEO of Max Verstappen's Formula 1 team mentioned the name of Hannah Schmitz.
During a difficult race full of rain and disruptive situations, she was the one who "keep calm and made the right decision at the right time," said Marko, beaming. Verstappen therefore finished ahead of his faster Ferrari rival Charles Leclerc. It shows Schmitz's share in Verstappen's considerable lead in the World Cup position (63 points) that he has already built up before the Formula 1 summer break, which starts in Hungary after the race next Sunday.
It was not the first time that Schmitz was mentioned. In 2019, after a victory in Brazil, the British was already allowed to take the podium with Verstappen. A spontaneous decision by the team, because Schmitz dared to pit Verstappen as race leader in the final phase of that race. He temporarily gave up the lead, but this step turned out to be crucial for the victory.
Decisive in adversity and chaos

These are the competitions in which Schmitz can distinguish himself. She comes into the picture in the face of adversity or when things get chaotic, and at those moments decides about things like overcut (winning a position by stopping later than another), undercut (position gain due to an extra early pit stop) and pit stop window (the best time to change tire type).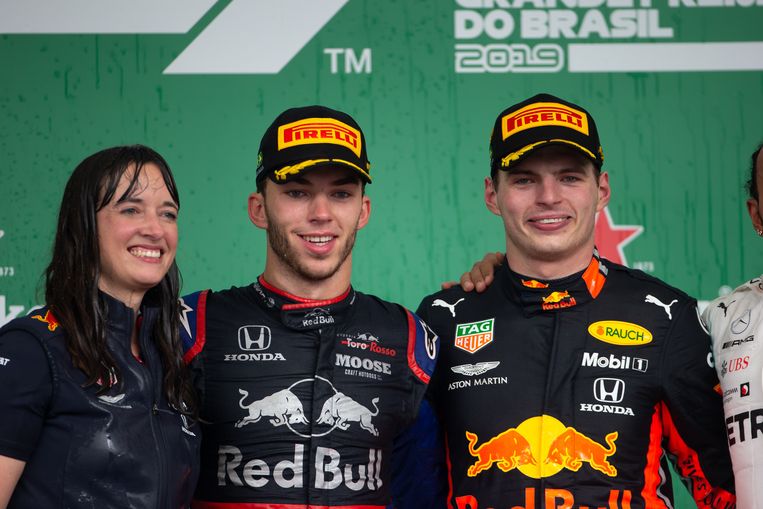 Schmitz gets help from dozens of colleagues in the Red Bull factory in Milton Keynes, England, who watch the race live in a room that resembles the space in which NASA oversees missions.
They constantly make calculations, simulate the race course with complex software and keep an eye on the 150 sensors in Verstappen's car. They also watch and listen live with the other drivers. They bombard Schmitz, who is sitting on a stool next to team boss Christian Horner at the pit wall, with an almost endless stream of information.
Palms flat on the desk

Schmitz regularly has to improvise. For example, if it turns out that Verstappen's tires wear faster than simulated, the competition is faster than expected or the race is disrupted by rain or a crash. She hardly has time to think; decisions must be made within seconds, otherwise the potential advantage is already gone.
On Red Bull's site last month, Schmitz said that during those moments she puts her palms flat on the desk on the pit wall. "Someone once tipped me that you come across as clearer and more compelling when you say something." It takes an average of twenty seconds before she knows whether she has made the right decision. "That seems very short, but in a race it sometimes feels like an eternity."
As a little girl, the British already had a predilection for cars and technology. She obtained her master's degree in mechanical engineering from the prestigious University of Cambridge before joining Red Bull in 2009 as an intern.
Male stronghold

She slowly climbed the pecking order. As a woman, that wasn't always easy, she says. "I think there are a lot of people who don't think you're right for this job at first. As a strategist, you have to tell a lot of people what to do and they have to listen to you too, so it's about building trust. Unfortunately that was more difficult as a woman.'
Formula 1 has traditionally been a male stronghold. Lella Lombardi was the last woman to drive a Formula 1 race in 1976 and male mechanics, technicians and team bosses still dominate the stables.
The American ESPN conducted a survey last year into the number of women in Formula 1. It was telling that only five out of ten teams wanted to disclose information. Mercedes reported that it employs 117 women out of a workforce of about a thousand people. Most of them worked in the factory; there were four women in the permanent, 65-person team that travels to circuits. McLaren and Haas submitted similar figures.
Example

Women in crucial positions, like Schmitz at Red Bull, are even rarer. Schmitz – a mother of two children – therefore hopes to set an example for others. 'Because I have earned the respect by now and I hope that young women who want to work in this sport see that it is possible.'
One of those women is aspiring racing strategist and data scientist Claudia Sulsters (27). She wrote a thesis on racing strategies in Formula 1 and did an internship as a data analyst at Van Amersfoort Racing, the team for which Verstappen drove a season in Formula 3. She is currently working on projects in the port of Amsterdam, but wants to one day work in the royal class.
She admires Hannah Schmitz for her attacking style, apart from her being a woman in sports. She therefore thinks it is going too far to call her a role model for that reason. 'We really have different backgrounds. I come from applied mathematics and I was not already involved with cars as a little girl. I will first have to gain more experience in motorsport in lower racing classes, where it is slightly less complex.'
She walks her own path to Formula 1, which is smoothed out a little more for her with each strategic masterstroke by Schmitz.
Three times Hannah Schmitz

– Schmitz had just returned from maternity leave when she helped Max Verstappen to victory in Brazil in 2019 with a strategic masterstroke. Team principal Christian Horner said: "She went straight back to work full-time and is a great role model for working mothers."
Alfa Romeo is the only other Formula 1 team to also employ a female top strategist. Ruth Buscombe started in 2012 in the premier class as a strategy expert at Ferrari. Like Schmitz, Buscombe studied mechanical engineering at Cambridge.
– Schmitz's decisions are based on a stream of data. During a weekend, the sensors in Max Verstappen's car send about 400 gigabytes of data to the team factory. Furthermore, state-of-the-art simulation software helps her to calculate countless racing strategies and scenarios.