Lionel Messi's new employer is powerful, busy, secretive and controversial
He is in countless photos these days, picturing alongside Lionel Messi, the most famous football player in the world. Who is that elegantly dressed man with dark hair, unknown to many, who knows Messi so well after one day that he constantly called him 'Leo' during the presentation at Paris Saint-Germain (PSG)?
That man is called Nasser Al-Khelaifi (47), born in Doha, chairman and director of Messi's new club. In France, they count him among the most powerful men in football. Sometimes, when his club fails again in the competition he must win, the Champions League, the magazine portrays France Football him off in a funny cartoon, looking humbly up to the emir of Qatar, the real boss of the club, with whom he gets along just as easily as France's president Macron. Al-Khelaifi is also president of the tennis federation in his country, has been president of the European Club Association (ECA) for a few months, board member of UEFA and board president of BeIn Sports, a global network of sports channels.
He's a businessman with countless tentacles, not an oil sheik. Always busy. He is extremely rich, although he mainly spends money from others, namely the royal family of Qatar. Oh yes, he is also on the organizing committee of the World Cup in Qatar, as director of Qatar Sports Investments. He is also sometimes controversial and suspicious, for example when buying World Cup broadcasting rights, when they thought he had bribed Fifa secretary Valcke (not proven).
takeover

PSG, he said after the arrival of Messi, wants the entire French football to benefit from the spectacular transfer. Abdel Afiri, journalist from BeIn Sports, remembers Slovan Bratislava away in the Europa League, PSG's first game after the takeover of the club by Qatar Sports Investments in 2011. "I was there, in Bratislava. From the studio they asked me how many fans of Paris were there. I answered truthfully: three. A year later came Zlatan Ibrahimovic. So many supporters as then reported to the stadium, unbelievable scenes.' Al-Khelaifi likes to talk about this development, as if it were a process.
Scenes repeated, to a far greater degree, with the arrival of Messi, presented to the press on Wednesday, seated next to Al-Khelaifi, the man who made the takeover in 2011. The Qatari hastened to say that everything is aligned with financial fair play from the Uefa, that no one should fear that PSG will not have the money to pay Messi. With a joke: 'Fortunately, Messi does not ask too much salary.' The merchant spirit is in any case strong this summer. Messi was transfer-free, as were other newcomers Ramos, Wijnaldum and Donnarumma. At the club shop on the Champs-Élysées, a line of hundreds of meters formed on Wednesday for a shirt from Messi.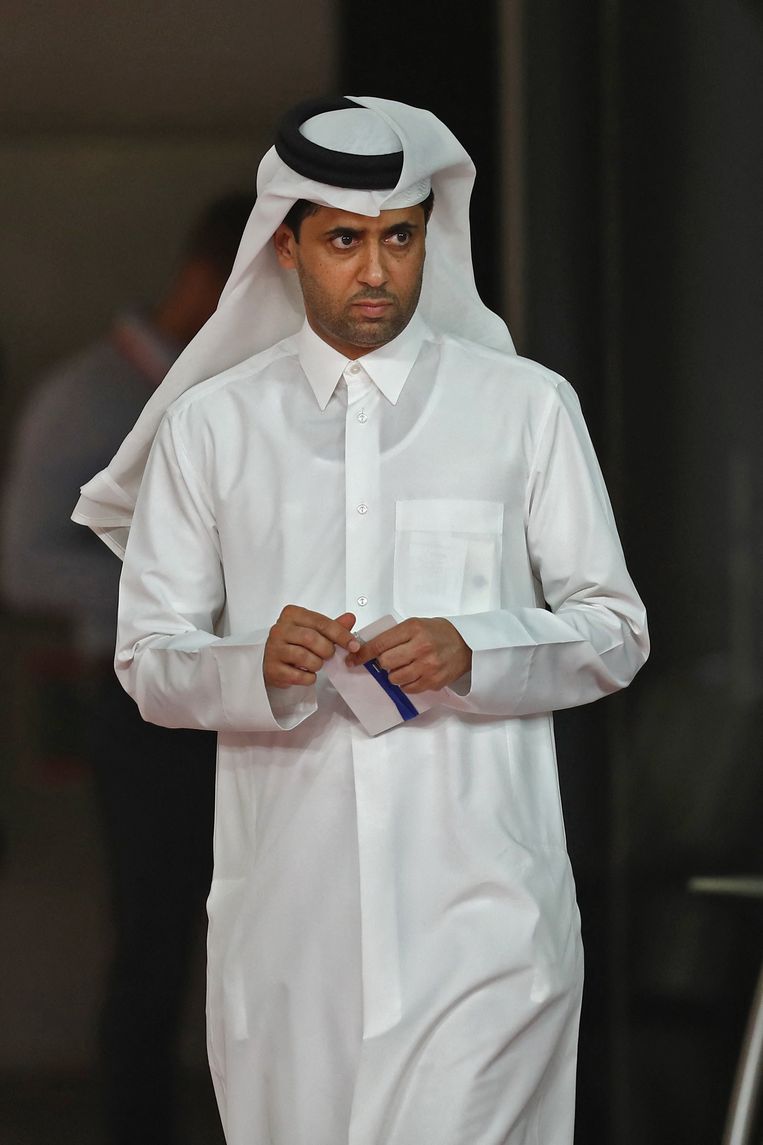 simple descent

Al-Khelaifi is of humble origin. Son of a pearl fisherman, from the days when Qatar was still a landlocked Bedouin desert country, before the massive exploitation of oil. As a result, the country got a different face and Doha grew into a modern city. He was fond of tennis as a youngster and played a few times in the ATP professional tour, and for the Davis Cup Nations Cup. During that time he got to know the emir's family, the Al-Thanis.
He also worked his way up to the international news channel Al Jazeera. He later became the director of BeIn Sports, its own sports channel. It was also about acquiring broadcasting rights. Adel Afiri: 'I remember that in 2003, as manager of the law department, he won the TV rights of La Liga (the Spanish league, red.) bought. He also became director of the station's Madrid office. Later he moved to the headquarters in Paris, located in the same building where Paris SG is located. At some point the thought of buying a club, Paris SG, grew.' That didn't happen with his own money. Qatar Sports Investments is the investment fund of the royal family. Danny Hoekman, former trainer in Qatar, met him a few times in a group. "He is very influential, as a director of Sports Investments."
Mysterious

Former UEFA board member Michael van Praag calls him a mysterious man. Al-Khelaifi is also a board member of the European Union. "He always shuffled a bit between us. We board members always ate together, or had a sandwich while standing at lunch. He was never actually there. Always came late, shortly before the meeting. Apparently he's very busy. He always politely shook hands with everyone, before meetings.'
Three times Al-Khelaifi in short

Nasser Al-Khelaifi was a professional tennis player, although little can be found about him in the books. He lost once to Thomas Muster in the ATP tournament in Sankt Pölten and reached 995th place in the world ranking.
Al-Khelaifi is a model for the oil money that rules football. PSG and Manchester City have won many league titles after takeovers, but are still on the hunt for the one prize they really want: the Champions League. City, owned by Sheikh Mansour of the Emirates, lost this year's final to Chelsea. That happened to PSG last year, against Bayern.
Al-Khelaifi opposed the coup of major clubs to start a Super League. The uprising cost Juventus's Andrea Agnelli his position as president of the European club forum ECA. Al-Khelaifi succeeded him.