Korpershoek (374 games in Telstar 1) was a doubt fifteen years ago
Frank Korpershoek cannot leave Telstar alone for four minutes or it will go wrong. Shortly after the almost 36-year-old captain was injured, TOP Oss made it 1-1 on a cold, wet Saturday evening in the 93rd minute. Elsewhere in the Telstar stadium, Telstar chairman Pieter de Waard patiently remarks that 'the equalizer with our own Franz Beckenbauer had not been achieved'. Korpershoek shakes his head. 'Nonsense.'
Korpershoek speaks at the edge of the field after playing his first home game since taking over Fred Bischot's club record (372 games). He is now going through life as Mister Telstar. A bit timid: 'Quite special these days, yes. That many Mister titles are no longer awarded. '
Korpershoek, a youth coach at Ajax for two years, is struggling due to an ankle injury. Still, he shows up, although he prefers to leave the spotlight to others. But the native of Heemsteden, speaking in perfect sentences, is dutiful.
What's called: he is in his fifteenth season in a row at Telstar. Not the career he dreamed of in his boy's room, he agrees. Or those his parents, he suspects, had expected, eager to learn and adventurous as their son is. But precisely because of that long consecutive series at a professional club that in recent decades usually ended at the bottom of the first division, regularly fell over and plays in a stadium where the feeling is always blowing, Korpershoek has become a special feature.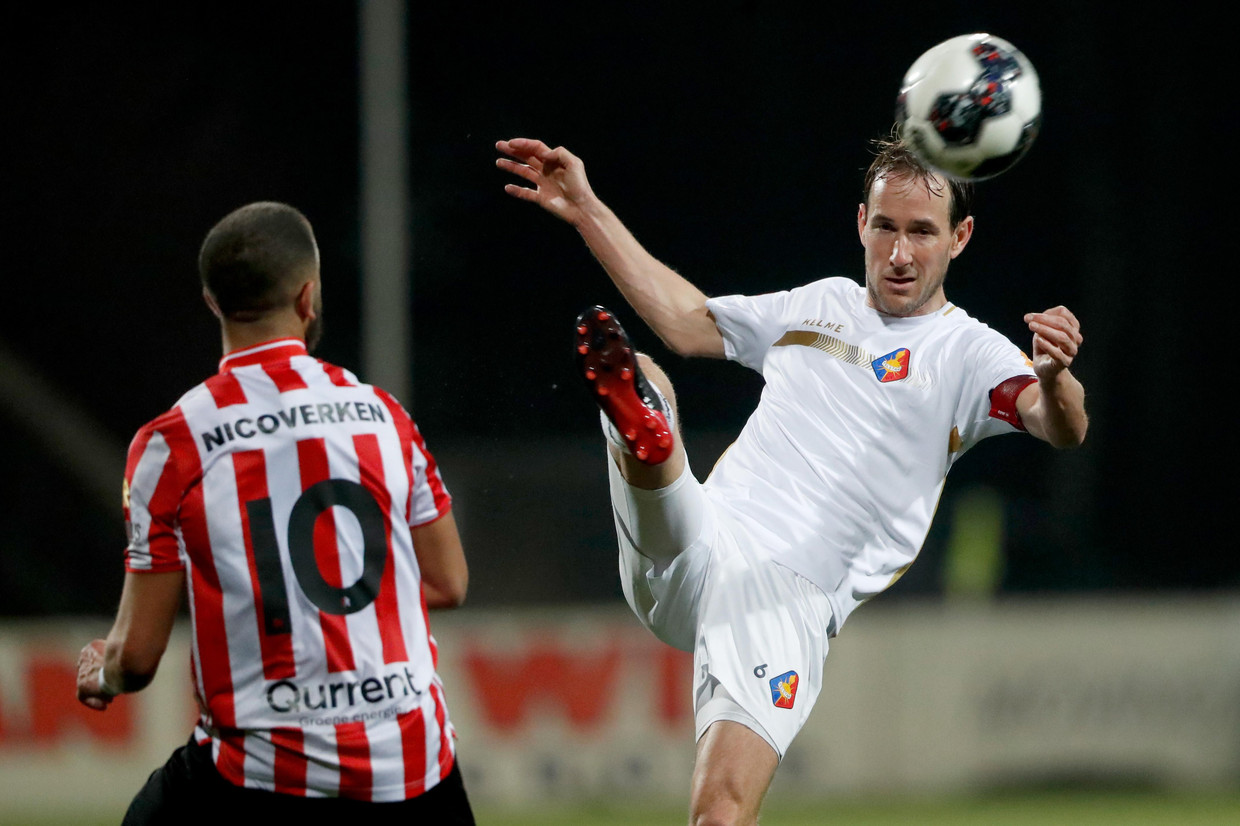 Little patience
Player turnover is high in the first division, even greater than in the premier division. Nowadays, players lack patience, Korpershoek has already analyzed. The mere thought that financial or sporting gain can be achieved elsewhere makes players jump on another train. "Everyone gets thrown something at some point." Also Korpershoek. But he stayed. 'I got seriously injured a few times when there was interest. And sometimes the options weren't such that I wanted or dared to. '
He never regretted. "Although I have always dreamed of playing in the premier division, of playing in a full stadium with a second ring." Grinning: "But … I'm not done yet, am I."
Telstar is playing football tonight in a special home shirt with an illustration of Korpershoek making a bicycle kick. Korpershoek scored in this way against FC Den Bosch a few years ago. It was a rare artistic highlight for the industrious hole poet. His girlfriend and some other close friends had the drawing made by artist Piro, Telstar stuck it on the competition shirt. Korpershoek: 'A great appreciation.'
The shirt is part of his extensive shirt collection. Those are just Telstar shirts. "I don't really care about shirts from others." Although over the years he still played against later internationals such as Dumfries, De Ligt, De Jong and Bergwijn. Droog: 'No, they don't know that anymore. I still do. '
"But hey, Frankie has his own perfume," says Telstar chairman De Waard. Franky number 6. The rock-solid Korpershoek is perhaps the last football player to whom sports marketers will pair a breath of fresh air. Korpershoek itself: 'We have had many initiatives here with a big wink. I've always had a bit of trouble with that, but it brought in a lot of money for the club, a lot of goodwill too. So I took part. '
Ticket of 1.63 euros
The best action, according to Korpershoek, is the visitor record for matches without an audience that was established against TOP. Telstar fan and football commentator Leo Driessen came up with a few others to offer people who say that they 'never want to go to Telstar' the opportunity to buy a ticket for 1.63 euros (1963 is the founding year) and still not have to go, as spectators are currently not allowed due to corona.
The proceeds go to the seriously ill father of press secretary Dennis Bliek so that he can do some nice things with his (foster) children. No fewer than 7,436 tickets were sold.
Korpershoek slightly emotional: 'That is an incredible thing. Goosebumps. Everyone is struggling with that crisis. But this is being set up for someone who is struggling even more. That is what the club draws, the people around it. They call Telstar a warm blanket, but it is more like an electric blanket. '
Korpershoek also thinks that he owes a lot to Telstar. He was in doubt when he came over from the amateurs at the age of 21. Korpershoek: 'Now I am heading towards the 400 professional races. I would not have thought that then. Many amateur footballers dream of that. Well, maybe not at Telstar. Everyone wants to move up, you have to want that too. Or well, you have to want to get the best out of yourself. '
He has always had that in mind. He points to old photos in the stadium where he has a rounded head. 'We had a great cook who made delicious steaks. But also in the first division, everything has become faster, more physical, more professional, I agreed. I immerse myself in nutrition, physical and mental training. I think that's why I can still keep up. '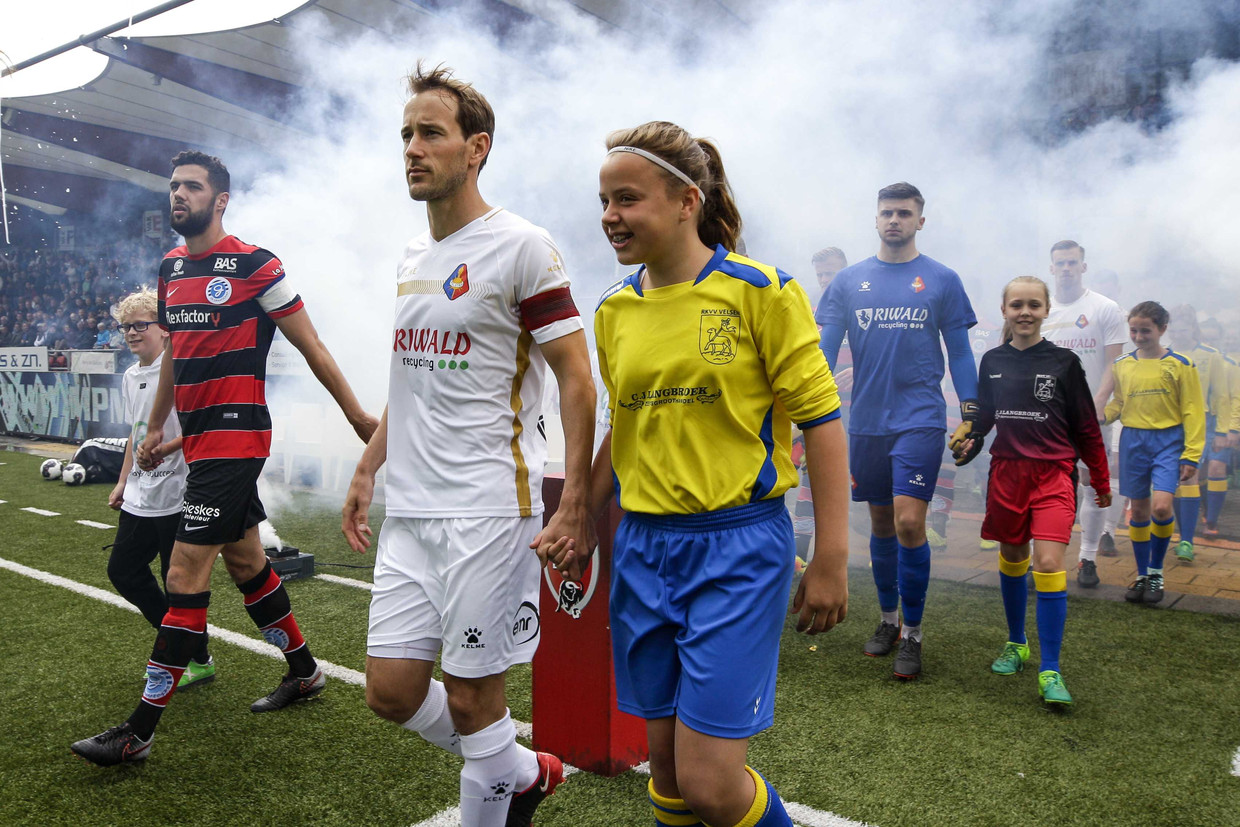 Edge of the cliff
He also learned a lot from the times when Telstar once again 'hung with a few fingers on the edge of the abyss'. 'There were years when we started the preparation with five men and then you just had to hope that AZ, with which there was a partnership, would give some players and a trainer. Hard times. That shapes you as a person. But above all I am happy that the club still exists. '
Korpershoek was given plenty of time at De Witte Leeuwen to follow higher professional education (including applied psychology) and to obtain trainer's diplomas, leading to an appointment as a youth coach at Ajax from 2018. 'Very proud. If the training schedules overlap, Telstar will still think along. '
And then Telstar is also the club where he met his girlfriend. She was behind the counter. His agent is former teammate Ronny van Es, one of his best friends is assistant coach Anthony Correia.
Yet it will not be a lifetime Velsen-Zuid. Korpershoek, who prefers to travel the world on spec during holidays, has big plans as a trainer. 'I have three goals: experience European football once with a youth team, go to the Olympics and work abroad.'
Internationally refined
At Ajax he draws on the experience of former internationals such as Ronald de Boer, John Heitinga, Steven Pienaar and Gerald Vanenburg. At Telstar he trains under the internationally refined Andries Jonker. Sometimes Edgar Davids Jonker comes to assist. Korpershoek: 'He then posts an old video on Instagram that he fought with Del Piero and Zidane for a free kick. Then you listen. I feel very privileged to be able to work with all these top players. '
Plenty of plans, ambitions and congratulations, but on this water-cold evening, Korpershoek is mainly sick of TOP Oss's late equalizer. Nevertheless, he will still watch the game in its entirety at night. He has never lacked motivation. Although promotion or relegation was rarely a serious option for Telstar. Even if you're dangling at the bottom, you can still grab a period title that will allow you to make it to the play-offs for promotion. So three quarters of the season you always play for something. '
Only in 2009 and 2018 were those play-offs actually achieved. Korpershoek is grateful for it. Radiant: 'An indescribably beautiful experience.'
At 35 he cherishes every game. Selections have shrunk considerably due to the corona crisis, he knows many good players without a club. 'It is a difficult time to be a footballer. So I consider myself lucky that I still am. I have had fantastic moments here. I might just have liked to win a little more. Well, yes. '