Klaassen is back and he scores immediately: Ajax – Heerenveen ends in 5-1
With Klaassen (27) Ajax has a compass again, a runner, a man who can open and slam doors. He is also determined, because Antony is already ready with the ball, to take the penalty for 4-1. Then Klaassen reminds the Brazilian of the list, of the agreements. Dusan Tadic has already been changed, then it's his turn. Already, on his first day of competition. He puts the ball down and bam, hard, untenable. "Yes, it was nice."
He is not a Hakim Ziyech, not a man on the outside of his foot, of passes like hyperbolas over 50 meters or of a sly ball between the legs. He already looks a bit more like Donny van de Beek, although it is even more elegant. Klaassen is balding and walks a bit jerkily. It's not spectacular how he moves across the field. He is a soccer chameleon who adapts to the situation. He can be used in all positions in midfield, especially after his time at Werder Bremen, where the emphasis was much more on defense.
"It sucks if there are no supporters," he looks back, although he already experienced that for a long time in Germany, where they completed the previous competition. He is happy but critical: 'We were good at the ball. It wasn't always great without the ball. Heerenveen played a little too easily through that. That was possible today, but it is absolutely not possible on Wednesday. ' On Wednesday Ajax will open its adventure in the Champions League against Liverpool.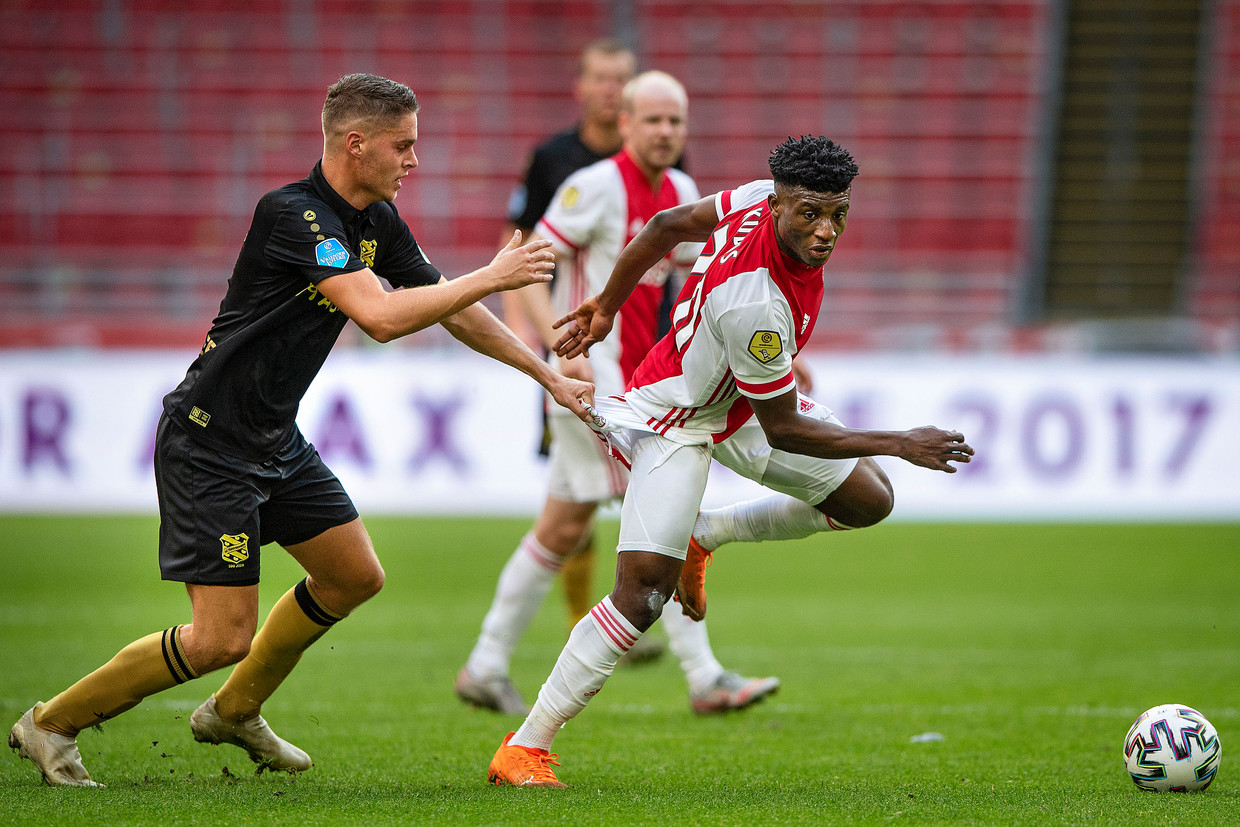 Yes, there was skepticism among many a supporter upon his return, after three years abroad. He is not a dribbler, not a man of heels. He's not doing anything crazy. He usually walks in the right place. That is an art in itself in football. He can score. To defend. To attack. With him, the midfield collapses like a puzzle, at least on Sunday. That is no guarantee for the future, not even for the near future. Football is a constant matter of solving puzzles.
On Sunday he will play football in control, usually as a right half. Mohammed Kudus, the most attacking midfielder on paper, plus Ryan Gravenberch, are the other midfielders. Even the teenager Gravenberch apparently benefits from the presence of Klaassen, although trainer Erik ten Hag points out that Gravenberch was particularly good in the preparation, and Klaassen was not there yet. Promes and Alvarez are sitting on the couch on Sunday.
'His game was good', Ten Hag says about Klaassen. 'He is also good for the bond in the team and his communication. Apart from his individual qualities. ' Football is a constant search for a better team, for the ideal line-up. Not all has been found now, because Ajax does not have a top striker, for example. Zakaria Labyad has just become a father. He is missing. He wouldn't have played otherwise either.
It is tempting to put Tadic in the forefront, but Ten Hag does not. Lassina Traoré is mid-front, a sturdy guy from Burkina Faso, fast and strong, but hardly ever convincing. Tadic remains left winger. With the 1-0 he gets the ball in the left corner of the penalty area. He cuts and hits with the right. At the 2-0 he crosses from the left, after which Floranus makes hands, not immediately seen by referee Kuipers, but by the VAR. And the 3-0 belongs to Kudus, the delightful midfielder, physically made of concrete and velvet with his touches. The Ghanaian's 5-1 depth pass alone is a highlight, deep in the second half on substitute Antony, whose finish is glorious.
The difference is immense between the surprising Heerenveen, which even appears with one point more at the kick-off than Ajax. Ajax lost its previous match in Groningen. Ten Hag: 'The mentality was wrong at Groningen. Today it was good. And you see it everywhere. Real Madrid lose, Barcelona lose. Why wouldn't Ajax even lose? But it has everything to do with mentality. ' Heerenveen tries with the same tactics as Groningen, with five defenders, but the quick 1-0 spoils that tactic immediately.
Only after the 3-0 does Heerenveen score, from a lightning-fast counter, completed by Henk Veerman of course. Then there is another penalty after intervention by the VAR, due to a foul by Kongolo. And that is for Klaassen.