How Annemiek van Vleuten shaped the Tour to her will | De Volkskrant
She still looks for the outside of the very steep last corner of La Planche des Belles Filles (24 percent). For a moment, Annemiek van Vleuten (39) suggests that she cannot handle everything after all.
Of course appearances are deceiving. She steers back again, straight up to the finish. She wins the eighth and last stage of the Tour de France Femmes and thus comfortably secures the overall victory. After Leontien van Moorsel in 1993, there is once again a Dutch winner in France – although the competition has languished for decades on end. Behind her, Demi Vollering (25) concedes 30 seconds on Sunday, with which she remains second in the final ranking, at 3.48. Third is the Polish Katarzyna Niewiadoma, at 6.35.
In fact, the cards had already been shuffled on Saturday. In a tough ride of 127 kilometers over three first category cols, Van Vleuten attacked early. With a solo of more than sixty kilometers, when she left Vollering behind, the last rider who could have caught on, she already put her opponents behind by minutes.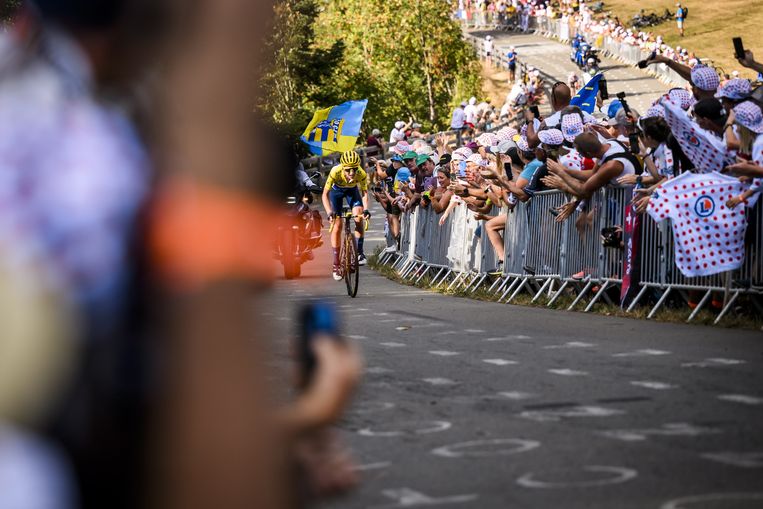 The two mountain stages formed the final part of a week that Van Vleuten describes as 'a rollercoaster'. Four stages were decisive in her victory.
Stage 2: Limit Damage
She's as limp as a dishcloth. She can't even pack her suitcase before leaving the hotel. A stomach infection is playing tricks on her. During the ride from Meaux to Provins, teammates regularly push her forward to avoid having to release the role. She has to throw up. An emergency sanitary stop on the verge is necessary – a Tom Dumoulin version, she calls it the next day in Épernay. There she first mentions the inconvenience. On steep climbs she has to give up some ground every time. To what extent the upset entrails will still bother her is still a mystery. It will get better, she assures me.
The competition does not realize how hard it is in that second stage. Sports director Anna van der Breggen of SD Worx, former formidable competitor of Van Vleuten: 'We did see that she released a few times. We didn't find that so strange. That terrain suits her just a little less.' It was only a hair away, Van Vleuten says later, if she had given up. She is 18th, at 50 seconds.
Stage 4: Scare free
It is just as alarm phase 1 as Van Vleuten in the ride between Troyes and Bar-sur-Aube with 13 kilometers chemins blancs gets a flat tire at the end of the last gravel lane. Behind her is teammate Emma Norsgaard from Denmark. She immediately gives up her bicycle. When she starts chasing other favorites, she feels the powers are largely back. She quickly reconnects.
SD Worx, with Vollering still above Van Vleuten in the standings, and more teams with classification riders, are criticized afterwards. Why didn't they drive? Anna van der Breggen still supports that choice. At the front, the Swiss Marlen Reusser of her team was on her way to the stage victory. "We could have gone full on, but then we would have closed the gap to Marlen and we might not have had anything." Sports director Sanz of Movistar is relieved. He calls Van Vleuten an iconic rider, of the caliber Jeannie Longo, Marianne Vos and Anna van der Breggen. "We got her as the reference rider. The others on the team cling to her.'
Van Vleuten does follow her own path. She chooses the place for altitude training herself, she prefers to be in Livigno or take a trip to Colombia. She regularly trains with men. With her neighbor in Wageningen, track cyclist Jan-Willem van Schip, she makes trips of up to 400 kilometers.
Sanz of Movistar: 'We tell her teammates not to take her as an example in that regard. They can't handle what Annemiek can handle.' She herself says about it: 'It has been a process of years. Getting better and better every year. I owe my big engine to that.' She is eighth, at 1.14.
Stage 7: the pulverization
Maybe, just maybe, there had been other riders who quietly hoped that they could at least give Van Vleuten a match in the Vosges. She may have lost some strength after all.
At the finish in the winter sports village of Le Markstein, she kicked out the glimmer of expectations with relentless pedal strokes. After exploring the course, she knows: this is made for me. With 85 kilometers to go, on the poisonous Petit Ballon, it becomes clear that the inconvenience has been temporary. Together with Vollering, Van Vleuten drives away from a leading group of riders who also have classification ambitions. On the second col, the irregular Platzerwasel, her fellow escapee goes overboard.
The manner in which typifies her almost introverted style. She stands on the pedals, almost infinitely long. Not once is there a look back. Like she doesn't even want to know. It's her adage: she only focuses on what she can control.
Even before Van Vleuten finishes in Le Markstein, seven kilometers after the passage of the last climb, the Grand Ballon, the laugh breaks through. She enjoys the crowd behind the billboards at the top, she lets out an intense cheer after the finish. The introversion is gone. She's first.
Stage 8: the confirmation
She waits until 6 kilometers from the finish on the La Planche des Belles Filles. Then she leaves a steadily thinning group, again long dancing on the pedals. In no time she rushes past a handful of escapees. Only Vollering has something of an answer.
Previously, Van Vleuten has only attracted attention with bicycle switches. She gets a flat tire and has to chase a teammate on a bicycle that is too small. That at that moment there are favorites for her speed, leads to annoyance. After the finish: 'That wouldn't be my style.' The ease with which she returns uphill is astonishing.
On top of La Planche des Belles Filles, there are hugs with the entourage of her team and her boyfriend. "I really wanted to win here in yellow. I felt great. This is so fantastic.'
Is it certain that after this display of power she will end her career after next season? The answer leaves no room for doubt. "Yes, I'm stopping."