Groenewegen will race again after horror crash: 'The main thing is that Fabio is back on the bike'
It was mainly the blow that followed him for a long time, the thunderous roar with which Fabio Jakobsen behind him shot through the gates in the Tour of Poland and crashed into the finish arch. Dylan Groenewegen is sometimes frightened when a door slams shut in his neighborhood. He did not dare to look back at the images of the horror crash for some time. Nowadays that works better.
The 27-year-old top sprinter employed by Jumbo-Visma took a seat on Tuesday afternoon in his normal clothes behind a table in a room of a hotel on the A2 near Breukelen. He lives not far from it. With a dozen journalists, he looks back on the events in Katowice, August 5 last year, where Jakobsen was seriously injured and had to convalesce for months. No restrictions, his team emphasizes. He has to go through this. Groenewegen: "I know that I will always carry this with me."
Looking forward

At the same time, it is looking ahead: a few hours earlier, Jumbo-Visma announced that he will make his return on the day after the end of his nine-month suspension, in the Giro d'Italia, which starts on May 8. That is sooner than anticipated. He would not start cycling again until halfway through next month, in the lee of the Tour of Hungary. But the team fears that the ongoing corona infections will lead to cancellations of smaller games. Groenewegen is happy with it. 'Training is going well. I'm physically ready. '
Mentally, he turns out to be a bit less sure. 'How am I going to react to the pack? How does the peloton react to me? ' The rider takes negative reactions into account. Jakobsens teammate at Deceuninck-Quick-Step Remco Evenepoel said earlier that his team will not exchange a word with him. Groenewegen acquiesces. 'Perhaps some people have a problem with me starting again. I will have to accept those emotions. ' Statements of support, he says, have been just as good.
He draws strength from a recent conversation with Jakobsen in a room in Amsterdam before his departure for the Tour of Turkey earlier this month. In that race the rider from Heukelum made his comeback. What exactly they have discussed, Groenewegen leaves in the middle. "We could look each other in the eye again, we both got to vent."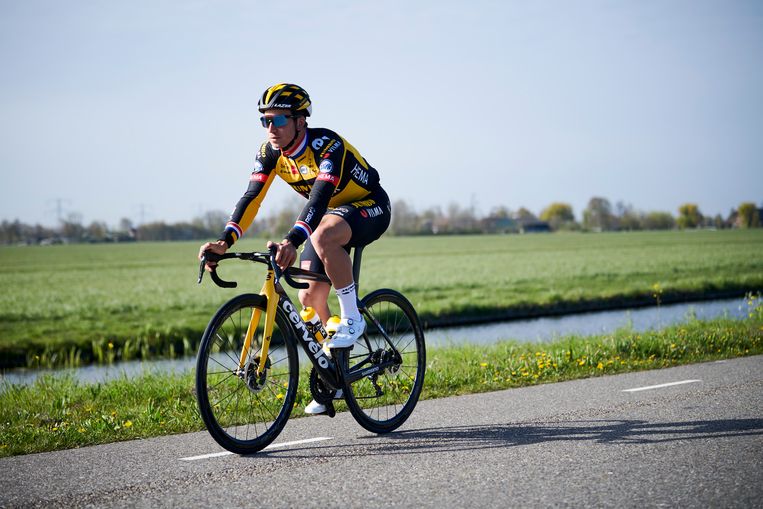 Stirred

A few weeks after the crash, he had already sent a message to Jakobsen's father. 'He responded very positively to that. I was very grateful for that. ' When a few days after the meeting in Amsterdam Jakobsen in Turkey appeared on the screen, waving at the camera, he was moved. 'That was a great moment. The main thing is that Fabio is back on the bike, on top of it. I am very happy with that. Now we can move forward as sportsmen. '
He himself also had to come a long way. With almost bated breath, he sums up what happened to him and his family. He called in police surveillance after a series of threats, including a rope at the post, tied in the shape of a noose, intended for their son; his girlfriend was pregnant at the time. He has reported it.
The delivery was difficult, his girlfriend had to go to the hospital, the baby arrived too early. In March, little Mayson had to be hospitalized urgently after an inexplicable fainting. His grandfather passed away two weeks ago.
He considered giving up cycling. The trap was constantly in the head. He was unable to look at a course. The racing bike remained untouched for weeks. Gradually he found the passion again. A ride on an ordinary bicycle was the timid start. Tinkering again in his father's business in Amsterdam.
Psychologist

Staying behind the scooter. Only when he went to training camp with the 'men' did he feel like a rider again. "They were all bumps that I had to overcome." With the help of a psychologist, support from the team and relatives, he managed to 'step by step to be Dylan again'.
Shortly after the fall in Katowice, he says, it took effort to look in the mirror to clinically evaluate his maneuvers that prevented Jakobsen from passing him: deviate twice from his line and stick out his elbow. A confession of guilt is no longer difficult for him.
'Obviously, I am getting off my line. That was not good. It was certainly not a deliberate act to bring someone down. It went so fast, at 85 kilometers per hour you can no longer rectify anything. Your responsiveness and agility on the bike will decrease. Then you don't do much anymore. '
Balance

He attributes the use of the elbow to an attempt to maintain balance. "It is a movement that you make automatically when you are about to fall."
That manager Patrick Lefevere of Deceuninck-Quick-Step still speaks of an assassination attempt is 'not nice to hear'. 'But everyone is allowed to respond from an emotion.' As far as is known, the legal consequences have been limited to negotiations between insurers about a claim for damages.
Will Groenewegen succeed in racing just as fearlessly as before, the sprinter who made 'podium or iodine' his motto? 'That is still a question mark for me. There are risks in a sprint, fortunately it almost always goes well. But such a slogan is no longer appropriate. You won't hear me say anything like that again. '
One question is whether he will dare to cheer again, maybe soon in the Giro. 'I don't know. I hope to experience it again. It will be an emotional moment. '