For the third time in a row, Barca bow with Koeman on the bench for Real
Ronald Koeman may be the first Barcelona player to score the winning goal in a European Cup I final in 1992, he is also only the second Barcelona coach to lose his first three Clásicos. The classic encounter with arch-enemy Real Madrid ended in 1-2 on Sunday afternoon. Two Real players who, like Koeman in 1992, were drafted as defenders, David Alaba and Lucas Vázquez, scored from phenomenal counterattacks.
Confidence has recently been expressed in Koeman by the Barcelona board. But the Dutchman also knows not to lose too often, and certainly not to Real, no matter how much deeper that club's pockets may be these days.
Everyone had to come to Camp Nou on Sunday afternoon from Barcelona president Laporta, because Barcelona was going to win, he said in advance. Well, the Catalan chest has to move forward, money crisis or not, idleness or not, a load of bad buy and injuries or not. Who wants to come and see a team in transition? Where the youth is still too young, the veterans too old and the newcomers of considerably less quality?
Well, the socios came. Partly due to corona, the impressive primal stadium was only fully full for the first time since Koeman took office in the summer of 2020. But for the first time in 16 years, Lionel Messi was missing from the Barcelona payroll. Messi has scored 26 goals in 45 encounters with Real.
His compatriot and contemporary Sergio Aguëro took the honors in his first classic with his first goal for Barcelona, ​​but it only fell shortly before the final signal. In the 96 minutes before, Koeman's team only fired one shot on target.
Yes, there was a huge opportunity for Sergiño Dest, but he shot hopelessly over just before goal. Back Dest started as a right winger, that says a lot about the personnel problems. Speed ​​is sorely missed in the front, and Dest is fast, but was actually needed more to stop the fast Real dribbler Vinicius. And so he moved back after rest. Nevertheless, the American born in Almere gave the assist to Agüero in the final phase.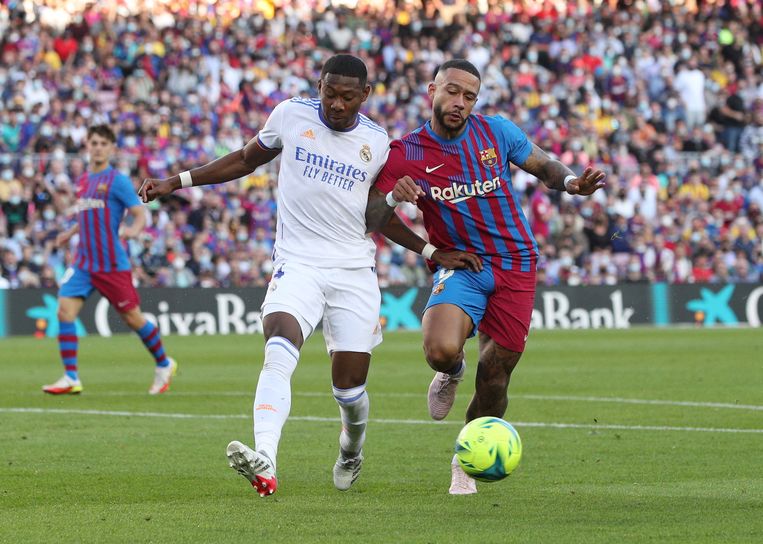 How good the whole and half Dutch are is also reflected on Koeman. He got them or made them important. Frenkie de Jong was not very noticeable and was substituted. Luuk de Jong heard his own fans whistle at his entrance in the 85th minute. Memphis Depay first offered Dest and then Coutinho great opportunities, but his loss of possession, deep in Real's half, led to Alaba's 0-1, and that is heavily blamed on him by the Spanish press.
Barcelona tried to attack, especially after that 0-1 in the 32nd minute, but cohesion, ingenuity and decisiveness were lacking, also in defensive terms.
In return for Ziggo Sports Koeman said smiling beforehand that he 'may have doubted' to exchange the national coach of the Netherlands for Barcelona if he had known in advance what awaited him in his favorite city. He is forced to rejuvenate, there is also top talent in stock, but Fati (18), Gavi (17) and Pedri (18) are still very young and the most refined of them, Pedri, is injured. With Ronaldinho, Henry and Eto'o around him, the young Messi is a player who, according to Koeman, will never be equaled.
Griezmann, Dembélé and Coutinho should now be the veteran stars, especially given their peppery price tag, but have been loaned, injured and flopped respectively. Substitute Coutinho missed the ball in injury time in a promising position, after which Real flew out and made 0-2 via Vázquez.
Koeman tried to stay positive afterwards, stating that his team deserved more, but already knew what will follow in the coming days: 'thunderstorm'. He already got a taste of that when he left Camp Nou. Several dozen supporters crowded around his car and banged on the hood. In a short statement, the club said moments later that it condemned "the violent and contemptuous acts experienced by our trainer when leaving the Camp Nou".