Exasperated, skaters Nuis and Schouten continue to chase victories
Maybe it wasn't so neat, thought Kjeld Nuis herself, but the gesture came from very deep. When it was clear that his young competitors Jordan Stolz and Zhongyan Ning could not match his time in the 1,500 meters, the 33-year-old sprinter looked straight at the camera and put his finger to his lips.
"Then you see those red numbers and then you think: hoppakee, I have both of you," he explained after the ride. His time of 1.43.64 was not enough for the win, the Canadian Connor Howe went down with 1.43.38, but the Olympic champion still succeeded in his goal.
"I couldn't measure up to anything yet," said Nuis, who had started the season injured. His last match was almost a month ago, he saw the previous World Cup in Stavanger on television and he could only participate in the match in Heerenveen because he had been assigned a place based on his past results. 'Just go and do it, that's what I felt today: I was done and it was better than what they had done, luckily.'
No saturation yet

Nuis has pulled himself up throughout his career and mirrored his biggest competitors. It used to be Denis Joeskov, Shani Davis and Stefan Groothuis, in recent years it has been a change of heart with Thomas Krol – who now finished third in 1.43.83. It brought Nuis three gold Olympic medals, but the saturation is still far to be found. He especially wanted to beat Jordan Stolz, who won the 1,500 meters in a track record in Stavanger. 'He won big last week, I'll put that on it.'
It was two seconds for Irene Schouten. She said it a few times, and there was a hint of horror in her voice as she spoke. Where Nuis gets motivation from strong opponents, Schouten gets it from her own performance. A bad performance in this case, because she lost in Stavanger on the 3,000 meters to Ragne Wiklund. The first loss in a long time, but especially the difference of two seconds bothered her.
"I'm being driven in two seconds," she said, explaining why things were going well now. She insisted on winning and did so by breaking her own track record: 3:54.04. "Two seconds is just a lot to me." It had motivated her to ride well now. "Actually, thanks to Wiklund, I drove this track record."
Schouten won gold three times in Beijing, her big goal this year is the World Cup distances, she should be in top form in March. No one tells her to win. Her coaches allow her to see the World Cups as training competitions. If it had been up to her coach Jillert Anema, she would also have run a marathon this weekend, but Schouten did not want that. She had trained hard for those 3,000 meters, something had to be put right. Whose? "Yes, it was purely for myself."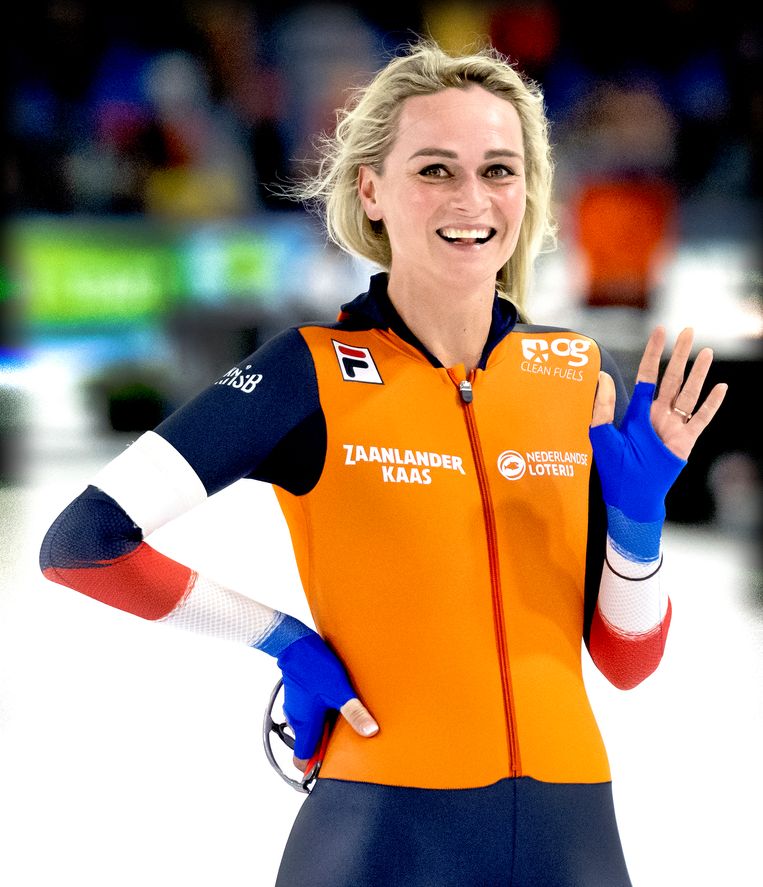 Skating a bit without obligation, slowly building up the season, it's not for Schouten. Of course she is working towards the World Cup, then she has to be even better, but slacking off is not an option for her even after Olympic successes.
Placed in the mouth

In the run-up to the World Cup in Heerenveen, Nuis had been excited about an interview with Stolz, in which the NOS, according to him, had put it in the mouth of the American that he wanted to attack Nuis' track record on Thialf (1.43.00). Stolz said he gave himself a 10 percent chance, the headline of the article said he was aiming for that record.
'Fucking fat bullshit', thought Nuis. 'I don't like that, that boy just has to develop nicely, he's very good, but he also doesn't know what he has in the tank at all.'
A protective arm around the 18-year-old's shoulder, but he uses it in a move to counter the talent. 'I thought here: I'm back, don't worry,' said the veteran over his little finger. 'That really annoys me. That really irritates me.'
'Hunting is so much easier than defending', says Nuis about the upcoming competition. 'If you haven't won anything yet, you just always drive with the knife between your teeth. It's super crazy if you lose that feeling.' Schouten's tip to prevent that: 'I just really want to win, that's also a bit of hunting.'