Energy prices skyrocket, jeopardizing economic recovery, IMF warns
The price of the most important European gas contract, the Dutch TTF Gas Futures, was eight times higher on Tuesday afternoon than a year ago. Meanwhile, Dutch electricity prices rose to 184 euros per megawatt hour, almost doubling compared to early September.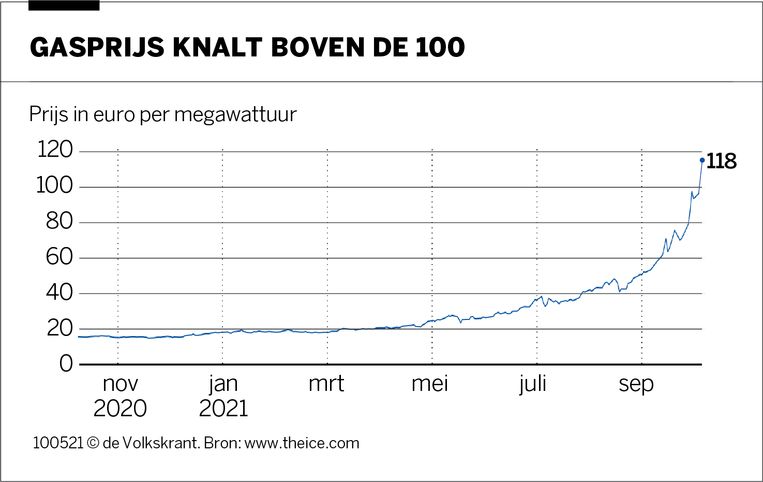 The sharp rise in gas and food prices is putting a damper on the economic recovery, said top woman Kristalina Georgieva of the International Monetary Fund (IMF) on Tuesday. Food prices have risen 30 percent in the past year, Georgieva said. 'Together with the increased energy prices, this puts further pressure on poorer families.'
European government leaders discussed exorbitant gas prices during an informal dinner in Slovenia's Brdo pri Kranju on Tuesday evening. On Wednesday, both the European Parliament and the 27 environment ministers of the European Union will discuss the gas crisis.
Competitiveness

"The situation is getting dire," Czech Prime Minister Babiš wrote to his European colleagues. 'High prices threaten both the competitiveness of the European economy and the financial resources of households.' The Spanish government is calling for EU countries to jointly purchase gas, news agency reported Reuters Tuesday, while the governments of France, Poland, Greece, the Czech Republic and Luxembourg also proposed a range of measures.
Several countries have already announced steps at national level. France decided last Thursday to freeze gas prices and lower the tax on electricity. The Spanish government has already come up with a 'shock plan' to skim off the large profits of energy companies. The United Kingdom (cheap loans for ailing companies), Greece (money support for families) and Italy (reduction of energy taxes) also introduced measures.
The Dutch cabinet is 'keeping its finger on the pulse', as Minister Blok of Economic Affairs put it a few weeks ago. It is not yet clear whether any measures will follow, or what they will be, a spokesperson for the ministry said.
Groningen gas production

There are many reasons for the sky-high energy prices. For example, Asian companies are prepared to dig deeper for natural gas than their European competitors. The supply is already less due to the phasing out of gas production in Groningen and the major maintenance that Norway, Europe's second largest natural gas supplier, has carried out on two gas fields in recent months.
In addition, there is a major shortage of natural gas from Russia, the world's largest natural gas supplier. The US government and the European Parliament have accused the Russian government of manipulating gas prices in recent weeks, something Moscow itself denies. The International Energy Agency recently ordered Russia to open the gas tap to Europe further.
'I am jealous of France', says Eric Wildschut, financial director of aluminum smelter Damco Aldel from Farmsum. When the electricity price was still 160 euros per megawatt hour, Wildschut's company already had no margin left, let alone now that the price is 184 euros and on Wednesday, it is expected, even 225 euros. "Thanks to the gas price freeze, French smelters can continue to run at full production, while we are now in danger of having to stop making aluminum."