Corona obstructs Operation Sulawesi: 4 Red Cross volunteers already infected | NOW
Exactly a week ago, an earthquake with a magnitude of 6.2 struck on the Indonesian island of Sulawesi. More than eighteen thousand people became homeless and have been living on the street ever since. Due to the corona pandemic, the rescue operation by volunteers is also a lot more difficult than in previous earthquakes, Jan Gelfand, coordination head of the Red Cross in Indonesia, told NU.nl on Friday. Four of his volunteers have already been infected.
The official death toll stands at 91 and more than a thousand people were injured. The search and rescue operation has since become a recovery operation. There may still be people under the rubble, but it is unclear how many. According to Gelfand, one person is still missing on Friday.
The earthquake, whose epicenter was near the western town of Majene, damaged hundreds of houses and collapsed many hospitals. As a result, COVID-19 patients have to be cared for in parking lots in some places.
Tens of thousands of people lost a roof over their heads amid the height of the corona pandemic in Indonesia. As Gelfand describes it: a bad situation has become a "very bad" situation due to the corona virus. "It's like salt is being thrown into wounds. It makes the whole operation incredibly complex."
Many people spend all day on the street because they lost their homes. The Red Cross tries to provide support with disinfection stations, mouth masks and corona information and the basic resources (water, medical aid, tarpaulins). Yet the pandemic poses challenges that the organization did not have to deal with in previous natural disasters.
"You can't build barracks or tents very close together right now, which you would normally do. It's about protecting people. But how are you going to do that when there is a need to eat? Twenty thousand people who are hungry and anxious, that is. is a task, you cannot put it together at one table, "Gelfand outlines the challenges of the rescue operation.
At the same time, the pandemic also creates a dilemma: people want to be close to each other, despite the fact that they actually have to keep their distance. "People are social and you are more comfortable with each other. The top priority of the Red Cross is to keep people healthy, but that is difficult. Of our 200 volunteers, four people have already been infected."
People are retrieving a victim from under the rubble in the city of Mamuju.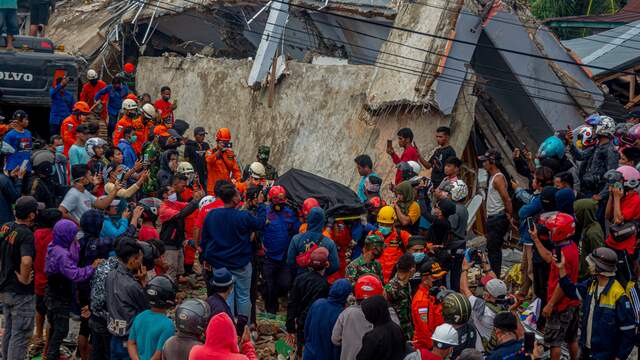 Indonesia faces disaster after disaster
2021 did not start calmly for the Red Cross in Indonesia, Gelfand explains. In addition to a plane disaster and the earthquake in Sulawesi, there are also several floods and the country is simultaneously trying to get the corona virus under control. The latter does not work yet: last week the country set a daily record (14,224). "Sometimes it feels like the disaster movie The Perfect Storm: what else could go wrong. Indonesia is just 'on' at the moment. There are five Red Cross operations underway at the moment, "said Gelfand.
The corona virus, the natural disasters, the limited resources: the Red Cross coordinator can hardly come up with a scenario, which can make the situation even more complex for the Indonesians. Nevertheless, the inhabitants of inhabitants keep their spirits up. "You will be surprised how resilient the people are", he tells NU.nl from the Indonesian capital Jakarta. "People in Sulawesi have to deal with trauma and setbacks all the time, but they are still recovering."
"We are now working on setting up local markets, to give them back something of normal life. But going back to normal isn't going to happen for the time being. And that's not easy."
With several hospitals collapsing or damaged, doctors have to improvise and treat victims in set up tents.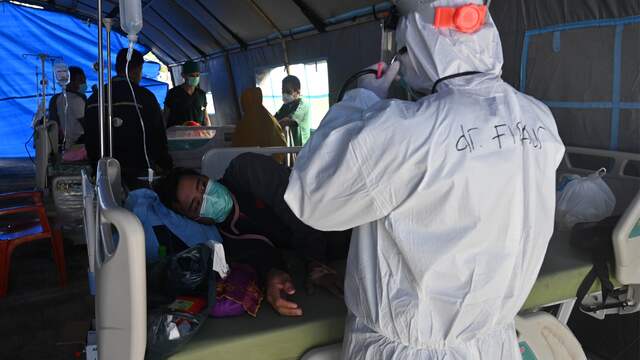 .