Children's Ombudsman: Vulnerable children are further behind due to closed schools | NOW
The closing of primary schools is widening the gap between vulnerable children and children from better-off families. That says Children's Ombudsman Margrite Kalverboer in conversation with NU.nl.
"Children who have a hard time or don't like it at home often cannot be helped by their parents," says Kalverboer. According to her, they also become more socially isolated because they see their friends less and regularly have to deal with arguments at home.
But it is also about practical things, she says. "After the first lockdown, teachers noticed that they did not know many things about children, for example that so many children did not have a laptop or internet at home."
Especially for these children, according to Kalverboer, it is essential that the school doors open again quickly. Not only because otherwise they would be "seriously disadvantaged", but also because these vulnerable families would be "very much thrown back to themselves".
Lessons learned from first lockdown
The above examples are all lessons learned from the school closure in the spring, says Kalverboer. In a report (pdf) published in November, she asked children about the impact of the corona measures on their lives.
The research results showed, according to Kalverboer, that vulnerable children in particular suffered from staying at home. These included children who experienced problems at home due to a divorce from their parents, children from a poor family situation or children dealing with a mentally ill parent. Other problems arose, for example, from arguments, violence or assault.
On the other hand, she says there is a group of children who also benefit from homeschooling. "They are happy to see their parents more often, they are helped by their parents and they still have nice online contacts," she says.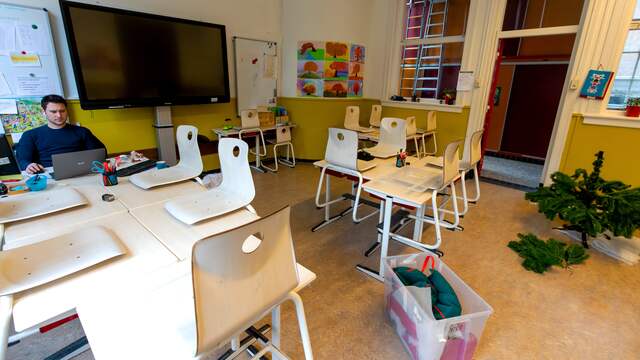 A teacher from the Rotterdam Montessori School teaches his class via the Zoom video call service. (Photo: ANP)
'Children don't talk about abuse at home out of shame'
The cabinet announced on Monday that all schools will close until January 18 due to the number of infections. Partly after a call from the Ombudsman for Children, an exception has been made for children in a vulnerable position. For example, pupils who do not have a secure base at home or who cannot receive sufficient guidance at home may still come to school in the coming period.
Although Kalverboer is happy with the exception, she is also concerned about its implementation. "I know from conversations over the years that children who are abused at home, experience extreme quarrels or other unpleasant things, often do not dare to reveal this.
This happens out of fear of being removed from home, but also because children feel ashamed or guilty about the home situation, she explains.
'Afraid that many vulnerable children will not be reached'
"Studies show that an estimated 120,000 to 130,000 children are abused. Only a fraction of this is in the picture at organizations such as the Child Care and Protection Board or Safe Home," she says. Because of that statistic alone, according to Kalverboer, it is "so difficult to find out" who these children are. "I am afraid that many vulnerable children will not be reached now either.
Kalverboer says this in his own words after advancing insight. "You can say that they are allowed to come, but on the basis of research and conversations I now also know that children sometimes do everything they can to not show their school how difficult their home situation is."
A solution for schools, she says, would be to say to children: "Anyone who thinks or feels it is necessary can come to school". And it would help by "staying away" in terms of abuse, arguments, and violence. "Make sure you keep it as accessible as possible", says the Ombudsman for Children.
.