Breeze wants to make dating 'human' again with algorithms
There is slight tension on Philippe's jaws (23). It is not that he has never met a girl via an app before, but this date is very 'blind'. There was no endless swiping beforehand, no endless chatting. Based on a handful of photos and a few keywords, an algorithm matched him with Annemieke (23). The app set a walking date in Rotterdam for them. All he knows: she loves to read, just like he does.
Breeze is one of the youngest players on the dating market. The app, developed by a group of former Delft students, aims to make dating 'human' again with smart technology. Unlike competitors like Tinder, it's not about swiping online as much as possible, but about offline dating as much as possible. An algorithm presents users with no more than four profiles every evening. Is there a match? Then a date picker immediately appears on the screen. The app chooses the location at one of the 25 affiliated catering establishments in eight cities.
The foundation of Breeze is not preceded by a calibrated marketing story about a 'golden idea in the shower'. Founders Marsha Goei (24) and Joris van Doorninck (26) tell it as sobering as it was in their Delft office: they wanted to start their own company with five other technical students. They were 'done with what they learned in the study' and wanted to know how the practice worked. Brainstorms were organized to get ideas, a new dating app was one that 'stuck'.
Smalltalk

Because at TU Delft, where you still have to look for women with a light (or an app), the founders all knew the suffering of online dating. 'That frustration that things just don't get along, that you are chatting for days and it just doesn't come from dating,' explains Van Doorninck. And then that small talk, Goei adds, terribly. 'You don't know anything about each other and you don't see each other, so you can't pick up on anything. Then you start talking about hobbies. ' Another clincher: someone who just doesn't respond at all, ghosting. Van Doorninck: 'There is absolutely no commitment because you don't know the other person anyway.'
From research of de Volkskrant previously showed that an average of 38 hours of swiping and chatting precedes one physical date. And that is in the favorable case that someone is actually looking for love. According to Goei, this is not always the case. 'A lot of people use such an app just to check their market position or out of boredom. Sometimes there are entire groups of friends who are swiping on one phone and really see it as a game. '
The problem, according to the twenties, lies in the revenue model of the apps. Because they work with advertisements, they would benefit from keeping users online for as long as possible. They compare it to a slot machine: "After twenty bad profiles, you get one candy, so you keep swiping and they can show more ads." Rather than meeting each other offline, many users get stuck online. Doorninck: 'Technology is used to replace human contact, we want to use it to stimulate human contact.'
Suppose, they thought, that we remove the chat, would people still go on dates with each other? To test this, they went around the faculty with a stack of A4 sheets with the printed profiles of some friends. And as it turned out: even without the 'filter' of a chat, students dared to do the best. The A4 pages became Google forms, a website was created and eventually the app with a real self-learning algorithm.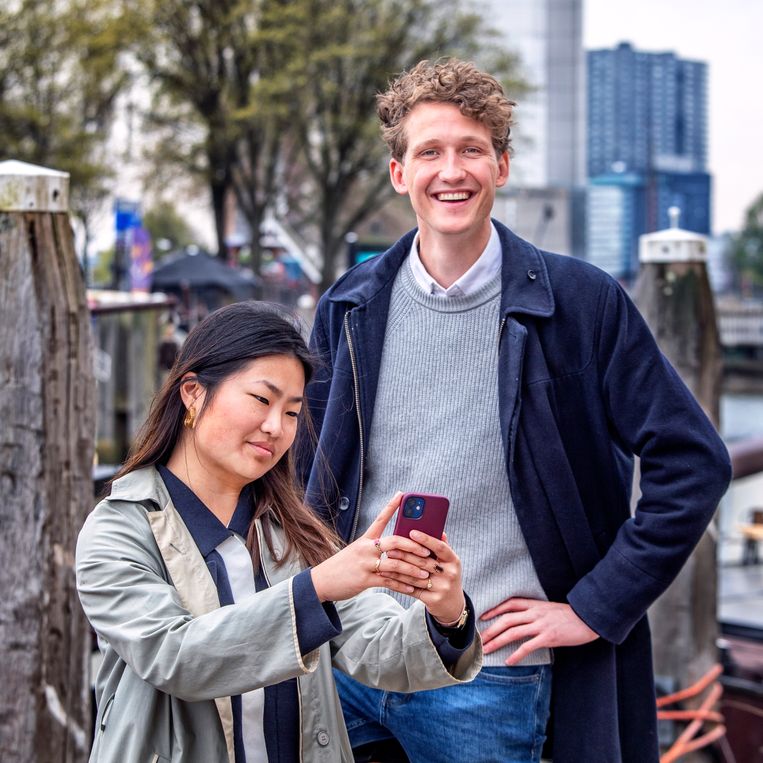 Walking dates

That works roughly the same as the Netflix algorithm, explains Van Doorninck. 'It looks at who you like and with which other people the users who also liked that person had a match.' It is therefore important that the user says 'yes' once, otherwise the algorithm will learn nothing and must rely on a profile. Incidentally, women appear to be much more picky about swiping than men.
The requirements for the profiles are strict: no photos may be used with sunglasses on, without a shirt or only group photos. Anyone who says 'yes' to a match three times but does not go on a date will be thrown off the platform. Singles can add keywords to their profile and join a matching pool, for example that of 'plant lovers' or' gaymers': 'for men who love men and play games.
The cash register at Breeze will ring when users actually meet up. They pay 7 euros 50 per person in advance, including the first drink. Breeze receives that consumption for free from the relevant catering establishment because the platform supplies customers. It is not really a fat pot yet. The seven founders have only been paying themselves salary since October, the first year they worked free of charge.
It did not help that a pandemic broke out three months after the launch, which meant that offline meetings were not at all possible. Where other dating apps thrived, Breeze lost 60 percent of its users in those first months of corona. With walking dates, the platform was able to reduce that number to eight thousand in recent months, which should be 25 thousand next year. Not impossible now that the catering industry is open again, Goei thinks. 'You notice that everyone is eager to parade on the terrace again. This will be the summer of love. '
In Rotterdam, the summer may seem a bit far away, but that does not hinder Philippe and Annemieke's date. 'The first impression is positive. She looks exactly like her profile, "says Philippe. 'And he is also doing the same study as I am,' says Annemieke. Whether they also like the same books? Smiling: "We are now going to find out."
Company: Breeze
Where: Delft
Since: 2020
Number of employees: 1 (and 7 founders)
Annual turnover 2020: 40,000 euros