BMX rider Kimmann rides sovereignly to gold on painkillers and adrenaline
An orange squadron on small bicycles is preparing for a rich medal harvest in the Ariake Urban Sports Park on Friday morning. No fewer than six of the 32 BMX riders in the final battle come from the Netherlands. They qualified the day before with almost playful ease. It doesn't bother them that half an hour before the start a downpour breaks over the bumpy track. They know what to do with wetness.
But already in the semi-finals, the delegation threatens to capsize dramatically if the sport for daredevils shows its grim side again. At first it's a bit innocent. Reigning world champion Twan van Gendt comes into contact with compatriot Joris Harmsen in the first run in the first corner. His own fault, he would say later. His steering wheel is tilted. If he wants to go straight, his bike twists him to the left. But in the third run he slides down in the midst of four riders. With a torn shirt he bolts inside at a snail's pace. Road final.
Stretcher

In the women's race, two-time world champion Laura Smulders tumbles, even in the first run and in the first corner, when the Frenchwoman Axelle Étienne sends up. She crosses the finish line at a walking pace with a sore ankle. Her sister Merel threatens to miss the final after two mediocre laps. An early debacle is emerging. Reputations don't count here anyway. In the same crash as Van Gendt, Olympic champion Connor Fields from the United States is seriously injured. Medical personnel rushed to insert a tube into his windpipe. He disappears from the battlefield on a stretcher.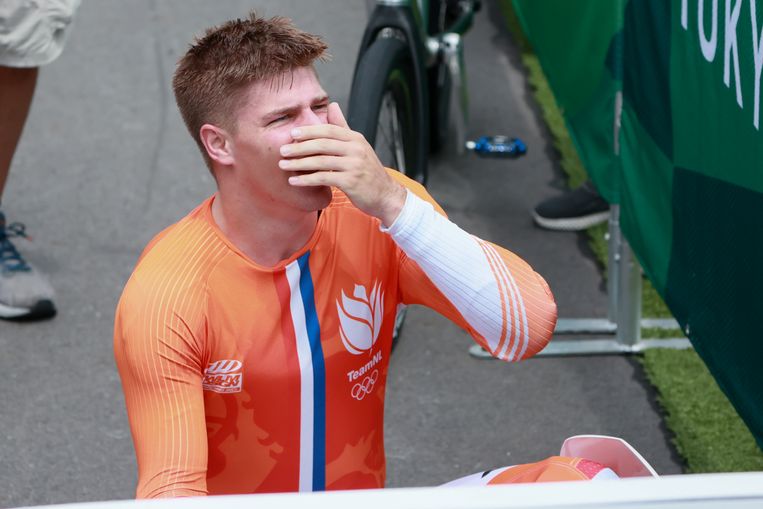 It is Niek Kimmann (25) from Lutten, Overijssel, world champion in 2015 and seventh in Rio de Janeiro in the time trial in 2016, who keeps a cool head. He is unapproachable in the three runs of the semi-final, he is sovereign in the final battle. Soon after the start from the eight meter high hill he drives to the head. He swings high through the bends. He jumps ahead of the competition with an extra jerk in full flight at the wheel. He lands on the rear wheel in time to accelerate once more. It's enough for gold.
It doesn't stop there. Merel Smulders is chagrined about what happened to her four-year-older sister to the bronze. She narrowly reached the final after two opponents fell. The sisters' results lead to varying emotional scenes between the fences after the finish. First Merel tries to comfort Laura, who cries heartbreakingly over her bicycle. Less than an hour later it is Laura who screams and stumbles on her painful ankle to Merel for a passionate hug, with which they celebrate the third place.
Torn kneecap

He did not expect Kimmann to become champion here either. On Monday, during a training session, he had hit an official who entered the track. An ultrasound revealed a tear in his kneecap. 'As I lay there on the table, I thought: it's ready. The doctor said I could drive it as long as you don't fall on it.'
He just started sprinting. It felt uncomfortable, it didn't hinge well. But these are the Games, then your adversity will be a little more difficult. Contact with his brother, also active in the sport, in the past few days had been important. "He said, if you're 90 percent, you can still win." It can also be noted among other BMX riders: Niek pedals just a little more wattage. His leg pace is just a little higher. He lands just a little further.
He cheered himself up on the starting hill. "Here are seven bars next to me and now I'm just going to try to win, like I've been doing since I was seven. Take a deep breath, take good turns, don't make hasty decisions, just get through the laps. If the gate falls, we'll go.' He says he manages on painkillers and adrenaline. "I still don't quite believe it."
This result counts. Kimmann won series of world cups, but he felt he missed too much at European and World Championships. Seven months ago he decided to leave Papendal – 'everyone thought I was crazy, so close to the Games' – and move to Switzerland. There began a collaboration with British coach Liam Phillips. They trained in difficult starting positions, they tried a heavier resistance with a view to the somewhat longer track in Tokyo. The result: 'I was prepared for anything. I felt better than ever.'
The foundations for the victory have already been laid. With his friend Jelle van Gorkom, good for silver in Rio, Kimmann made an agreement that they would both go for gold in Tokyo, the precious metal that was still missing from the trophy cabinet of the Dutch BMX riders. They wanted to take each other to the next level. That trajectory came to a cruel end when Van Gorkom was seriously injured in January 2018, when he hit a chain from the starting tower at Papendal that still hung across the slope. After every ride he received an app. "You ride strong, you ride strong." He warned him about competitors, he pointed out the lines to be driven. Kimmann: 'This has been our goal.'
The Bronze Sisters

For the Smulders sisters, who share a house in Wijchen and are part of a commercial team whose father Frank is the manager, Tokyo represents a repeat of history. At the Games in London, Laura also made her debut with a third place. 'Merel is just doing a fucking good round here', she concludes. On her face, the traces of sadness have given way to joy. Merel: 'When I saw Laura fall, it occurred to me. Not my sister after all! I wanted it so badly for her. But I was able to flip the switch. Seeing her so sad just made me angry. That did help me. Fortunately, I was also able to remain calm.' Laura: 'From now on we are not just the Smulders sisters, but also the bronze sisters.'
Is cycling with a tear in your knee possible?
Jacco Zijl, orthopedic surgeon at St. Antonius Hospital, watched Kimmann's performance with enthusiasm. "The blow with that official was serious, it's fantastic that he still put this down." Zijl specializes in knee injuries and sports injuries. He does not know the details of Kimmann's injury, but with a tear in the kneecap it is generally still possible to exercise, according to Zijl. 'Normally, an athlete can remain active by gradually building up again with a training schedule.'
The kneecap is a guide bone, Zijl explains. 'It gives the thigh muscles more strength, without the kneecap you have much less muscle strength. But if the function of the kneecap remains intact, the muscles can continue to do their job,' says Zijl. Since the Olympic athletes train for five years towards the Games and the muscles are in top condition, only the pain in the knee must be relieved.
'I know the cyclists as stenic types, who have to lie half dead on the ground before they stop,' says Zijl, who has treated several cyclists. It is difficult for Zijl to say whether driving with a tear in the kneecap was wise for Kimmann's recovery. "That really depends on the degree of the injury, the professionals in Tokyo will have made a thorough analysis of that. Ultimately, it is the athlete who makes the decision and knows how his knee feels.'
The fact that Kimmann was cheering on his knees after the finish is a good sign for Zijl. "That shows that his knee hasn't bothered him insanely. Otherwise you really won't. Although the adrenaline also makes a lot of difference.'
Dylan van Bekkum