Belarus police crack down on ninth weekend of demonstrations | NOW
Belarusian riot police again reacted violently to demonstrations against the government on Sunday. Thousands of protesters took to the streets for the ninth weekend in a row in anger over the August 9 election results.
It is estimated that dozens of people were arrested during the demonstrations. Local media cite protesters as referring to at least 50 demonstrators. Human rights organizations are talking about at least 150 arrests, including dozens of journalists.
Video footage shows police officers wearing black balaclavas dragging demonstrators to vans. Officers also beat around themselves with batons and a water cannon was used against the thousands of protesters.
In the Eastern European country, this weekend for the ninth week in a row, mass demonstrations are taking place by citizens who want to get rid of President Alexander Lukashenko.
Protesters are angry about the results of the August 9 elections. The incumbent President Lukashenko won it with more than 80 percent of the vote. Svetlana Tikhanovskaya, the most popular opposition candidate, got just over 10 percent. Demonstrators speak of election fraud.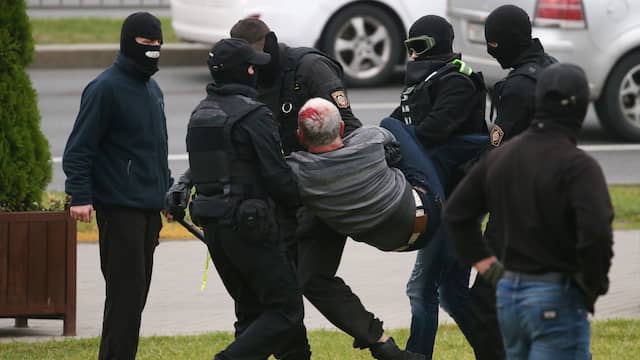 Riot police officers arrested dozens of protesters. (Photo: ANP)
March of Pride through the center of Minsk
The opposition had called on the supporters to take part in the March of Pride on Sunday afternoon. On Sunday morning, prior to the protest, soldiers and police appeared in the streets of the capital Minsk and roads were closed by the security forces.
Lukashenko unexpectedly spoke to opposition leaders he had previously arrested in a prison in Minsk. It's unclear exactly what was discussed, but some activists suspect the president may be willing to make concessions. State press office Belta reported after the meeting that the president "wants to hear all opinions".
Information coming from Belarus is getting scarce now that the government has expelled foreign journalists. The authorities did this in revenge for the introduced European sanctions, which target those in high places around the president.
.