Bad luck again for Kelderman: cyclist breaks cervical vertebra in collision
It is difficult to identify a Dutch top cyclist who has suffered more setbacks during his career than 29-year-old Wilco Kelderman. It was wrong again last Saturday when he and some of his new teammates from Bora-Hansgrohe decided to complete the six hours of the final stage of their training camp near Lake Garda.
The team was driving about 40 kilometers per hour when a motorist crashed into the riders. Three had to go to hospital after the blow, including the intended leader of the team in the Tour de France, Kelderman. He broke a neck vertebra and suffered a concussion.
Of course, Wilco was there again, was the sentiment that accompanied the get well wishes on social media. It is certainly not the first time that Kelderman breaks something and, with a view to a big round, a rehabilitation process awaits him. His ability to bounce back from any setback is almost as legendary as the falls he's been throwing together since 2014.
Usually there was a camera nearby: it almost hurts the eyes to see the accidents all in succession. Kelderman often drives at high speed at the moment of his fall. As a result, not only the impact on the road surface leads to a bruise or bone fracture, but also the impact on the fence or crash barrier that brings it to a stop.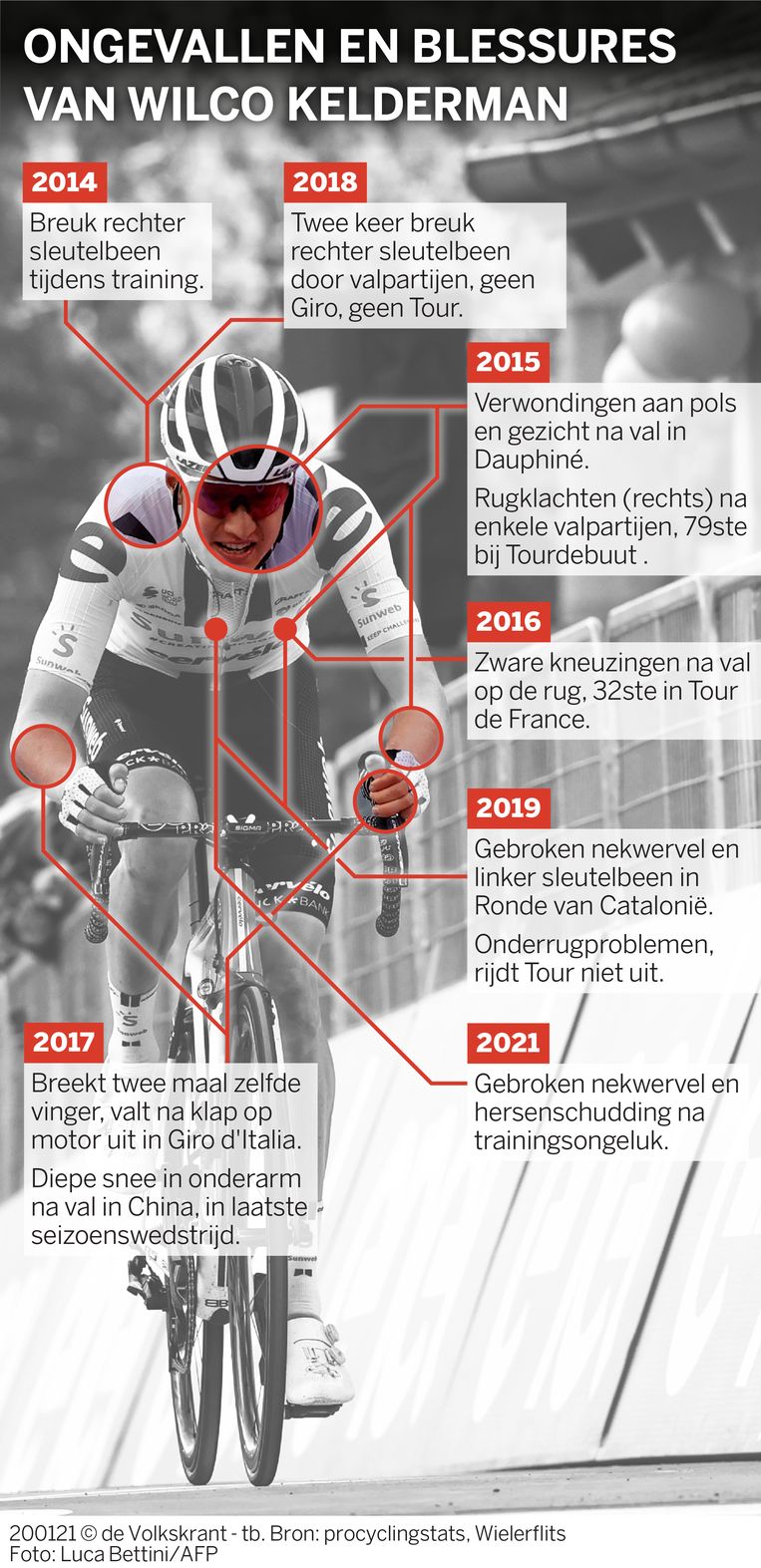 Fast-forward platoon

His fall in the 2017 Tour of Italy also happened at high speed. A racing platoon drove past a stationary engine on a flat, straight road. "Tom managed to get around it," said Kelderman, "but I got stuck with my handlebars."
'Tom' is Tom Dumoulin who won the Giro that year. Kelderman took half the Sky team into his fall. The Sky riders who were able to get up made reproachful arm gestures at Kelderman, who broke the same finger for the second time in a short time and left the Tour.
Is that bad luck or ignorance that Dumoulin swerves where Kelderman falls for the umpteenth time? 'Of course there is nothing Wilco can do about that collision last Saturday,' says Oscar Saiz, 'but if you fall seven to ten times in a year, I no longer call it bad luck. Then you have to follow a bicycle treatment training. '
Saiz, a former downhillchampion of mountain bikers, gives such training to many professionals. For example, he taught cyclo-cross rider Lars van der Haar to jump over 40 centimeter high beams on his bicycle, instead of walking.
The 47-year-old Spaniard is best known for his downhill training: anxious riders learn to descend faster with confidence and yet use the same amount of energy. 'In long mountain stages, this demonstrably determines the difference between winning and losing.'
Saiz regularly held sessions with Wilco Kelderman. At the latter, in February last year, the rider for whom the biggest success would come eight months later said he was confident on the bike for the first time. "Until then," said Wilco, something kept stopping me from going all out, "says Saiz. "He had struggled, especially with his descent."
One with the bike

Saiz says he knows what to do with such riders. "I can make them win up to 10 seconds per kilometer." First, Saiz tries to let the rider become one with the bike. Then he observes them as they tear down a mountain in their sometimes expensive sports car. 'When do you brake, when do you accelerate, how do you look through a bend.'
During a descent, the speed can be above 100 kilometers per hour. 'No time to think, so you have to intuitively make a plan in less than a second how you are going to take every corner. To get to that intuition self-confidence is needed and you have to practice a lot. '
For the first time in six years, no significant fall followed for Kelderman last year. "He finally got the final confirmation of his talent with that third place in the Giro," says Saiz. A Tour of Italy, Kelderman said later in it AD, which he could have won if the team management had followed a different tactic.
In order to fall in the least harmful way on intuition, some professional teams practice with judo coaches. Saiz does something similar: "I teach them how to slide a bicycle to limit the damage when a fall is inevitable, for example because a car suddenly hits the road."
Kelderman was not allowed to put that lesson into practice last Saturday. However, he did not promise his fans for the first time, "I will fight back and come back strong."