Back to Max Verstappen's first tire tracks
Kart track Home of Champions, Genk

On soaked asphalt, in the wake of angrily crackling karts, gossamer-fine fans of droplets scatter, which mix with clouds of exhaust fumes. Daredevils, sitting a few centimeters above the road surface, intentionally drift the carts with a few short jerks on the steering wheel, before diving into the corners. If you are more careful, slow down for a while.
If Paul Lemmens (74), owner of the go-kart track in Genk, Home of Champions, seeing scenes like this from the paddock, thinks back to the Brazilian Grand Prix on November 13, 2016, when Max Verstappen advanced from 16th to 3rd place on a soaked Autódromo José Carlos Pace in an unlikely race. He knows: he succeeded thanks to the infinite number of kilometers he covered on this 1,360 meter long circuit, between pine forest and a four-lane road.
The seemingly impossible passing action on the outside in the lightning-fast Blanchimont bend, with which he passed Felipe Nasr at Francorchamps in 2015? Passed due to the hours on this job, together with father Jos. "They were here almost every day, in all kinds of weather, for ten years. After four, when Max got home from school, until dusk.'
A baby kart

That's how it started. Max is 4.5 when he is standing along the track in Genk with mother Sophie, a karter herself. He sees a boy driving and asks how old he is. Which turns out to be 3. Max is disappointed. "I'm already 4 and I'm not allowed yet." His father wants to wait until he is 6. Sophie calls Jos who is preparing for a Formula 1 race. Next to her is a sobbing Max. He wants now. They give in. He gets a baby kart, a Puffo: 60 cc, top speed 60 kilometers per hour.
Just twenty years later, this weekend in Saudi Arabia, he is on the threshold of the Formula 1 world championship. Lemmens: 'We are very proud of that. Especially in the way: compete against the mighty Mercedes.' He is not entirely sure of a happy ending. Max will sell his skin dearly. But what can you do if the other person is 5 to 6 kilometers faster on the straight?'
The forty-year-old circuit in the Kempen can rightly present itself as the home of champions. Decor of European Championships and World Cups. Later Formula 1 world champions drove here: Michael Schumacher, Sebastian Vettel, Kimi Räikkönen, Lewis Hamilton. Fernando Alonso became European junior champion. Jenson Button lived at Lemmen's house.
One with his kart

The owner knows why they like coming so much. It's the track, designed by himself. It has seven braking points. That means spectacle. 'Everyone can drive full throttle on straights. It's about other things: driving the right lines, timing, choosing position.' According to him, there is no better school than karting. "Everyone who now drives in Formula 1 was in the kart. That's not easy. Where else do you see fifteen drivers driving within hundredths of a second?'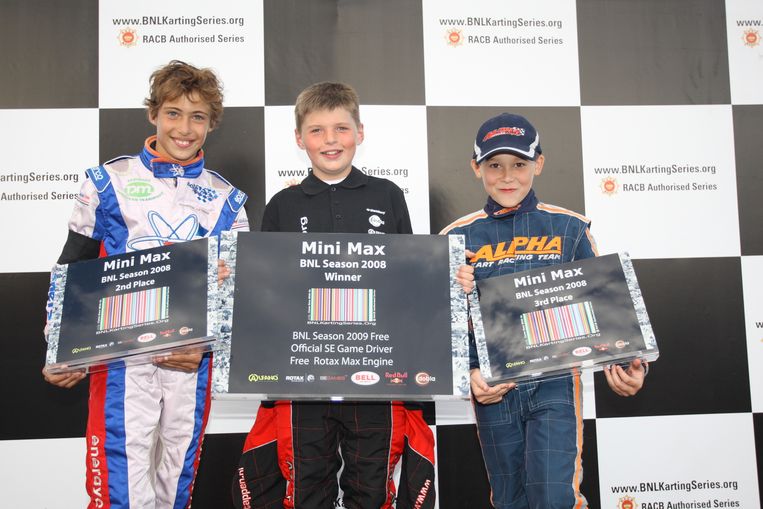 He remembers little of the first meters of the 4-year-old Verstappen. "Just that the helmet was bigger than the guy." The talent only really reveals itself when he starts racing and always pushes through to faster classes with great force majeure. 'You invariably saw it: after one or two laps at most, he was at least twenty meters ahead of the rest. That's a lot in this sport. He cut the corners just a little tighter. Where others needed six meters to brake, he made it with five, without blocking. He doses perfectly. He is one with his kart, he senses what is possible and what is not. One hundred percent control.'
His theory: top talents use 70 percent of their brain capacity to drive fast, the remaining 30 are used for analysis: anticipating, making choices, understanding the track and vehicle.
According to Lemmens, a factor that should not be neglected, if not a decisive factor, was the guidance of his father. 'Jos drove in my kart team before he went to motorsport. Max couldn't have wished for a better teacher.' He urged him on when he didn't feel like it. He continuously tinkered with the adjustment of the kart. During training sessions, he casually stood on the track to force him to choose other lines. Lemmens: 'Talent is needed to become a top athlete. But you won't get there without a lot of effort. It is Jos who taught him that.'
In his office hangs a photo of Max Verstappen who crosses the finish line in Genk in a KZ kart, 125 cc with six gears, cheering. It was his last race on the track. Lemmens can no longer remember the exact date. "It must have been sometime in 2013." What he does remember: the lap record is still in his name: 51.8 seconds, 97 kilometers per hour on average.
Shed, Maasbracht

This morning it happened again: mail for the Pex Racing Team, for the attention of Jos Verstappen. The address has been incorrect for more than three years. Today, Natural Energy, supplier of solar panels, is located here.
In and around the corrugated iron shed on a business park in Maasbracht, located in an armpit formed by the A2 and the Maas, there is indeed racing history. As a child, Max Verstappen imitated a circuit with cones and other attributes, which he completed on both a pedal go-kart and the Puffo and, later, with heavier karts. Meanwhile, his father peed in from behind his workbench from shiny engine blocks some extra horsepower.
The shed was in possession of Pex roof coverings. The company has had its own kart team for twenty years, formed by director Richard Pex and his sons Jorrit, Stan and Yard. European and world titles were won. After his racing career, Jos Verstappen offered his services. He was welcome. Max often accompanied me. There he met the Pex brothers, the two eldest of whom were already driving a kart.
It was hardly more playful than on the track in Genk. Sometimes they flooded the concrete floor to aggravate the conditions. Pex would like to tell more about it, but not without permission from Verstappen's management. He's not coming.
In 2015, Pex described the fanaticism of the trio in De Limburger. There was always competition, they were always next to the marked track with the stopwatch ready, whether they were riding the kart, the go-kart, the bicycle or the minibike. According to Pex, Max mainly wanted to measure his strength with Jorrit, who is four years older. Fathers and sons regularly went on holiday together to Italy, provided there was a go-kart track nearby. Sure, they went to the beach sometimes, but it never lasted long. Quickly back to the campsite, into the van, on to the track.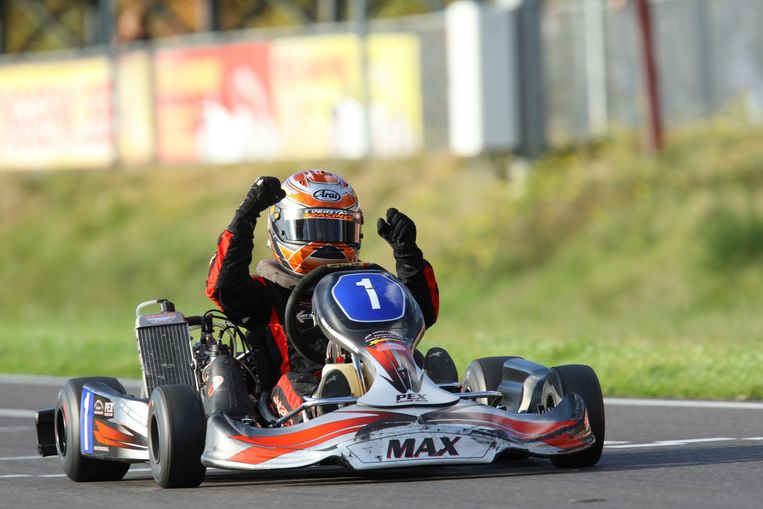 Natural Energy has been on the Lijnpad for more than a year. Director Ron Smeets shows the now empty workshop. "Here the karts were side by side. Only Max's had a sign with his name on it.' Gray carpet on the floor has been removed. "It stank of gasoline." Racing has not completely disappeared from the shed. In a niche are two fast Hondas: engines from Smeets.
Pex Roofing is now located on a business park in Echt, six kilometers to the south. Verstappen and the brothers are still friends.
Kart track All in Echt, Echt

Marketing employee Stefano Castagna of the Entertrain Group, an event organization in Limburg, walked over it countless times without seeing it, but recently someone pointed out the pattern of stones in front of the entrance to the All in Echt go-kart track. You have to look closely, but there are indeed the letters J and V. In January 1997 the indoor kart center Jos Verstappen opened its doors. Max was yet to be born.
Stubborn misunderstanding according to Castagna: Verstappen was not the owner, he had given his name to the hall as a sign. If he appeared on the track for promotion in the following years, Max was regularly there. So he drove a few laps. In 2008 this led to some commotion. Jos came into a fight with an employee who took his son off his minibike when he had entered the track without a wristband.
The property was taken over in 2009. The Entertrain Group found only a go-kart track too narrow a base and added activities to it: bowling, paintball, laser tag, glow-in-the-dark golf. The go-kart track shrank by a third, in the restaurant the white markings from then are still visible on the floor. A bridge of 145 meters somewhat compensates for the lost length.
Verstappen's entourage is still watching, says Castagna behind a table in the Evel Knievelcafé. When All in Echt announces an event under the banner 'Do you drive faster than Max?' Verstappen's management in an e-mail admonishes the organization to choose a different title: this is an infringement of the brand. Nothing could be done against 'Racing to the max'.
Verstappen's success has fueled interest in karting. Last August, Echt recorded a record: 7,000 heats in one month. The audience has become increasingly broader in composition. Castagna sees many fathers and sons appear. Only if the latter are longer than 1.40 meters are they allowed to drive independently. Otherwise, duo karts are available. Due to the recent corona measures, some things have come to a head. Planned company outings and children's parties are cancelled.
But this afternoon, Giel, Thijs, Ilyo, Ebe, Seth and Arnout are eager to enter the maze of white and red concrete blocks, shielded with hundreds of car tires. Their boyfriend Mathiz turned 11 years old. They follow every Max match on TV, one of them was in Zandvoort, Ilyo even has a cap with signature. Right now they only want one thing: 'Win!! Just like Max.'