At the resurrected FC Emmen they are averse to hassle with dismissal
Continuing to act unusually normal is a kind of motto of FC Emmen. The club seemed irretrievably lost in the premier league, refused to fire the trainer and achieved the sensational turnaround. It is Ajax out on Sunday.
The voice of 77-year-old TV commentator Evert ten Napel from Klazienaveen changes into the voice of the cheering boy Evert. Michael de Leeuw, striker of FC Emmen, has accepted Miguel Araújo's pass on a sunny Sunday, by gracefully picking the ball from the air with his instep. Then he put two Heraclids on the wrong foot with a movement of the body and chased the ball into the roof of the goal for 2-1.
'Wow young, that darn Michael de Leeuw', Ten Napel raises his voice. When it is 3-1 moments later, he speaks of 'the Wonder of De Oude Meerdijk', after eighteen points from eight duels. FC Emmen almost drowned in the premier league, but grabbed the lifeline. While the club was talking about the new main sponsor Easytoys (sex toys) for a long time, football is now exciting again.
Three days after the 3-1 against Heracles, De Leeuw modestly undergoes the comparison with Dennis Bergkamp's goal against Argentina during the 1998 World Cup. Bergkamp was his idol. He mainly sees differences, the diagonal pass of Frank de Boer for example, or the almost delayed grace of Bergkamp.
The fact is that Emmen has established itself for Sunday's match at Ajax, the possible championship duel for the leader. But however it ends: at numbers 15 (Willem II), 17 (VVV) and 18 (ADO), the trainer has been fired. Only not with the number 16, who was 18th for a long time. Trainer Dick Lukkien stayed. De Leeuw: 'It says something about the level-headedness of this club, about how much faith they have in this trainer and what he has done for the club. I also thought he was not to blame. If you're going to do crazy things with tactics that players don't support, it's different. That didn't happen. '
Chairman Ronald Lubbers asked De Leeuw, among others, whether the club could continue with Lukkien. Yes, the striker answered wholeheartedly. 'It never felt like the trainer no longer knew, that he was out of control. Only the plan did not materialize, because we missed puzzle pieces. Draft. '
Boiling with anger

The additions to the selection in the winter break had to get used to. It started to walk slowly. Supporter Willem Everts, who was involved with the club for many years with his sports shop: 'People in Emmen are also shouting: get out of here with that trainer. Football is opportunistic. We win, they lose. The great thing is that they have pursued their plan together. ' De Leeuw: 'We never won the first 22 games. I felt like a bruise now and then. Why is it not working? Winning is the most important thing in football. ' And: 'We made very amateurish mistakes before the winter break.' That already started in the first game. At home 3-0 against VVV, result 3-5, within thirty minutes. 'We stood on the field like children. I sat in the stands boiling with anger. '
Initially, it didn't work out with De Leeuw either. 'I was often alone in the penalty area. Then it is easy to defend. Now we come with more in the sixteen. The wingers provide relief, they reach the goal line, they hold the ball. And playmaker Pena can lose his balls again. They have to keep an eye on me, Adzic, Frei, Pena. " He also praises newcomer Jari Vlak, a quiet engine. 'Such a great player, box to box.'
Sand droppings and peat droppings

Peat, gin and suspicion, they sometimes say about Drenthe. At the edge of the field, it is about 'sand droppings', which are a bit upright, and 'peat droppings', hard workers. Everything comes together in the only club from Drenthe in professional football, where geniality and normal behavior are typical. Well, normal. The selection includes football players from Peru, Serbia and Sweden. They conform to Drenthe mores.
Freddy Donker does press affairs and arranges housing for players. He talks about fifteen houses he manages. A number of players live in the new Delftlanden district. He tries to make them feel at home. He remembers that the Peruvians Araújo and Pena rented a van, filled them with presents and celebrated Sinterklaas at Feyenoorder Tapia in Rotterdam, also from Peru. Of course they want guys from Dwingeloo, Beilen or Schoonebeek in the team at FC Emmen, but the area is sparsely populated and not every village has an Arjen Robben or Bas Dost.
The people enjoy the club. Emmen suffers from competitions without an audience. It was nice, those open corners in the stadium, where in times of corona there are always people who try to catch a glimpse of the game from outside. Anneke Landsman from Hillegom and her partner Leo van Veen happened to visit a match during her holiday in the neighborhood, in 2018, and they have been in love with FC Emmen ever since. 'Emmen has touched our heart because of the solidarity, the simplicity, the festive atmosphere and the expectation that can be felt at every home match. Everyone is happy and hospitable, the traffic wardens, the ladies of the kiosk with souvenirs, the vendors of program books, the people who sell coffee, beer, chips and meatballs. It's about the human scale. The club is there for the supporters and not the other way around. '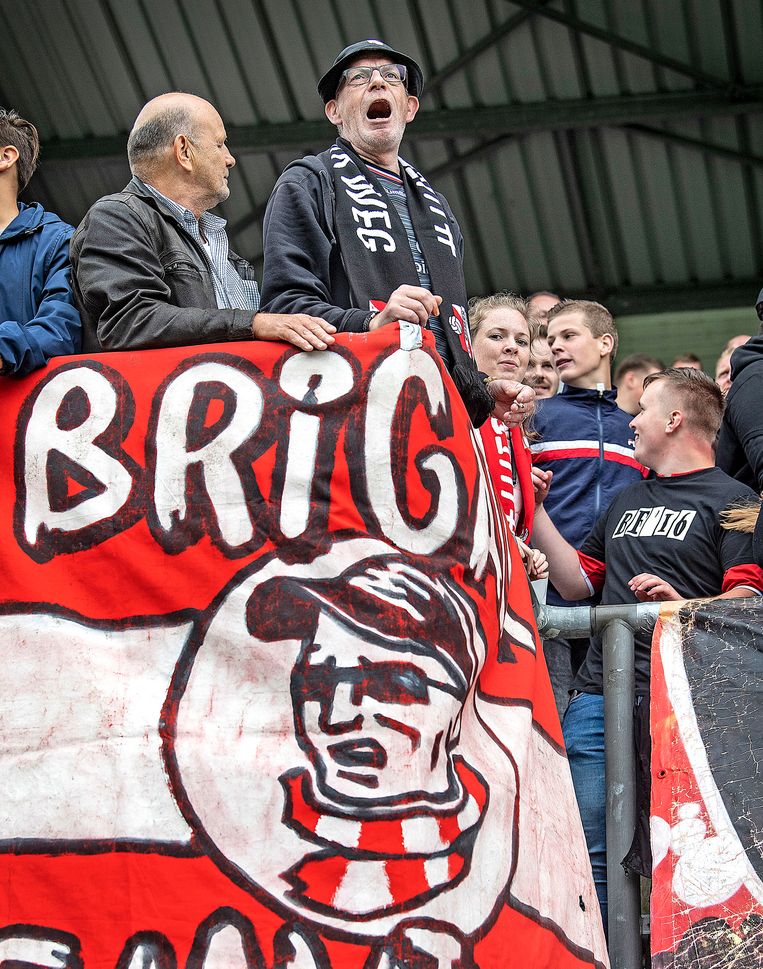 In the tiny museum, without virtual experiences, hangs a photo of Lionel Messi, active as a teenager in Emmen during the youth World Cup. Well, that's it, in terms of global image. In his office, chairman and technical manager Ronald Lubbers points to the horizon. Somewhere there will be the new stadium. 'The fact that top football is played here extends beyond football. I was visiting the King's Commissioner, Jetta Klijnsma. It was briefly about football and then about the attractiveness of FC Emmen for schools or the province. About the trust people get from this club. I already said in 2018, after the promotion: this could change the DNA of the people of Drenthe. FC Emmen gives a feeling of pride. '
On February 12, after the defeat at RKC by a Sunday shot in the last minute, Lubbers sat down for a while. "I had a hard time then." He filled in an Excel sheet for himself, with the schedule of the bottom five, six clubs, to get a picture of the chances of survival. Yes, it was a therapeutic session. Everything was done. Players were taken, the trainer trusted. 'We have a very good relationship and we tell each other the truth. Dick Lukkien has also had his difficult moments, also in conversations. But then he was buzzing with energy again. '
Lubbers unfolds a wisdom of life. Something shouldn't just be in your heart, but in your stomach. He feels his stomach. 'Whether it's a love or a happy ending. And that feeling in the stomach was good. Dick was able to convince me. You have to have the total feeling. I want to see emotion in people. I remember catching up on the player's bus for the promotion at Sparta in 2018, before the game. Tears ran down my cheeks. I want to feel that experience. The relationship that Dick and I have together, both with our qualities, with our disadvantages, was a reason to continue together. Without hassle about dismissal. The feeling was simply: no, we will not do that. ' He hits the table three times.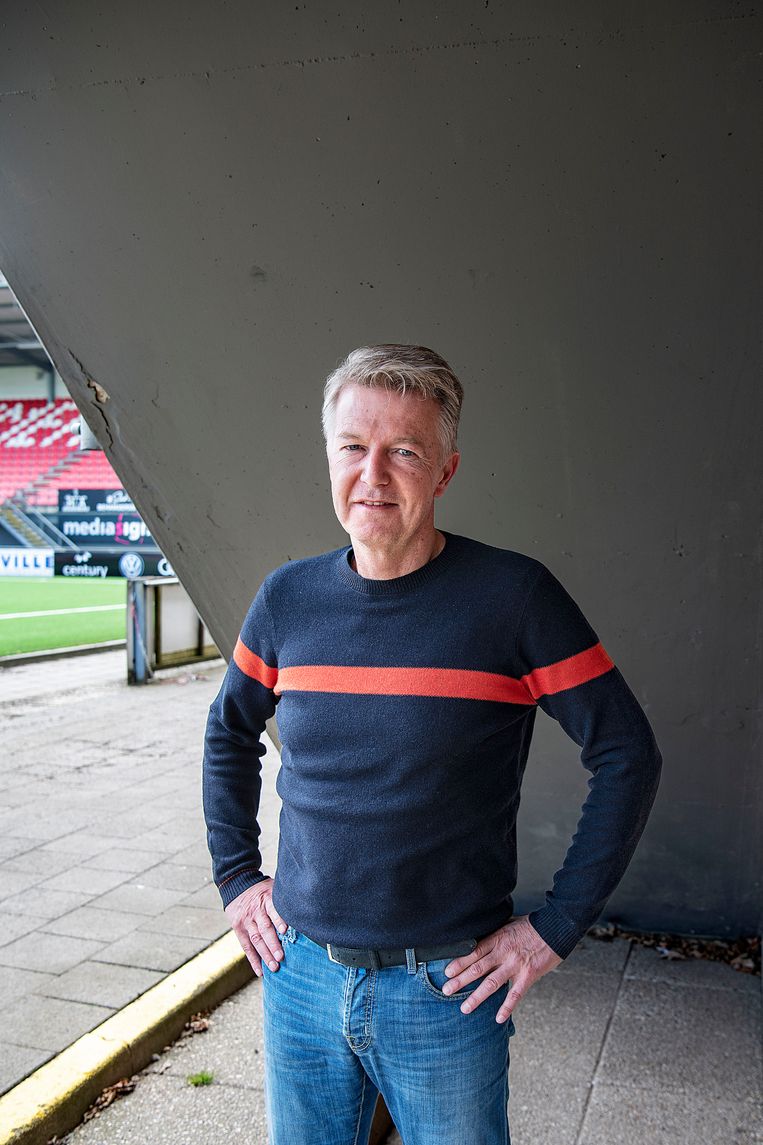 They have no secrets from each other. Dick knew I was talking to players. He agreed, because Dick also wanted the leak. If you communicate openly and just act normal, that's the way to go. You have to communicate and get better with each other. One can do this better, the other that. Just be normal with each other. '
The turnaround

What caused the turnaround? The repairs in the squad, with a different goalkeeper, a motor in the midfield and forwards on the wings. He still remembers that first victory against Zwolle, with 'hang and bump.' But no matter how well things are now, Lubbers keeps thinking: 'Stay sober, stay sober. We don't have anything yet. ' First Ajax: 'Make sure that we don't get a dent there in terms of morality.' He laughs: 'A salon draw would be nice of course, but you have to be realistic. You shouldn't get away with a tap. That they come with a gala performance and that we are on the slaughter. But then it will be three finals, with the last match at VVV on my birthday. That's a good omen. '
Lubbers doesn't like the word miracle when it comes to football. 'Here internally we always said: the series will start from Easter. Easter stands for resurrection. But it is not a miracle. The quality was there. It was only locked. Whether it is due to the winter purchases or the departure of Anco Jansen, everything plays a role. ' Anco Jansen was Emmen's star. He left for NAC. 'Anco is a golden guy, who says everything he thinks, even when that's not convenient. If he has an important role, he is totally indispensable in a group. But if he doesn't have an important role, that's different. Foreign boys then think: who are you then? Ah, it was the sum. But the sum is not quite finished yet. '
Ajax can celebrate, but has to do it alone

In an empty Johan Cruijff Arena, Ajax has enough on Sunday against Emmen for the 35th national title. Ajax is then officially inaccessible for the only remaining 'competitor' PSV in the last three rounds of play. PSV will play at home against Heerenveen later in the afternoon. Ajax is 12 points ahead and has a goal difference of +33 against PSV.
Ajax, like other clubs, had hoped that, just like last week against AZ, a part of the public would be admitted, especially because the Fieldlabs organization had advised the government to allow football with spectators. However, the cabinet has issued a ban. Mayor Halsema of Amsterdam has indicated that a champion party is prohibited in the city. She is aiming for a digital celebration.