As one crisis follows another, this tech company makes clever inventions
The headquarters of technology company Demcon is located a stone's throw from De Grolsch Veste in Enschede, the home stadium of football club FC Twente. The screaming football fans (more than 30,000 at a full stadium) can be heard on the grounds with the laboratories, production halls and offices where Demcon develops brand new products and technologies. They are quite different in terms of activities, but they are closely related in their Twentsness. You can already hear that in the accent of almost everyone who works at Demcon, from receptionist to director.
Demcon calls itself a 'mechatronic design agency'. In normal Dutch this is called an inventor's company, admits director Dennis Schipper. He is not very enthusiastic about the stamp: 'It sounds like we are confused or abstract, but we also make really new products.'
A selection from the large and surprising repertoire: a machine that fills vaccine syringes so that more injections can be obtained from one jar; optical sensors in greenhouses to see when the harvest is ripe; a device that keeps eye pressure constant during eye surgery.
Is there really no line to discover? No, says Schipper, and that is the intention. 'Someone who has been working with us for six months on carbon capture technology can get to work with culture organs in the next six months.' It keeps the employees sharp and happy, he believes.
That Eternal Monkey

Founders Dennis Schipper and Peter Rutgers got to know each other at the University of Twente (UT) in 1992, where Schipper was doing his PhD at that time, and Rutgers obtained his master's degree. They start their business in a small room at the university. They are going to build robots, is the idea. Immediately after the foundation, they are approached with a special request: artist Aernout Mik has devised an artificial monkey that should keep hospital patients company and play tic-tac-toe with them. Or Demcon can supply it.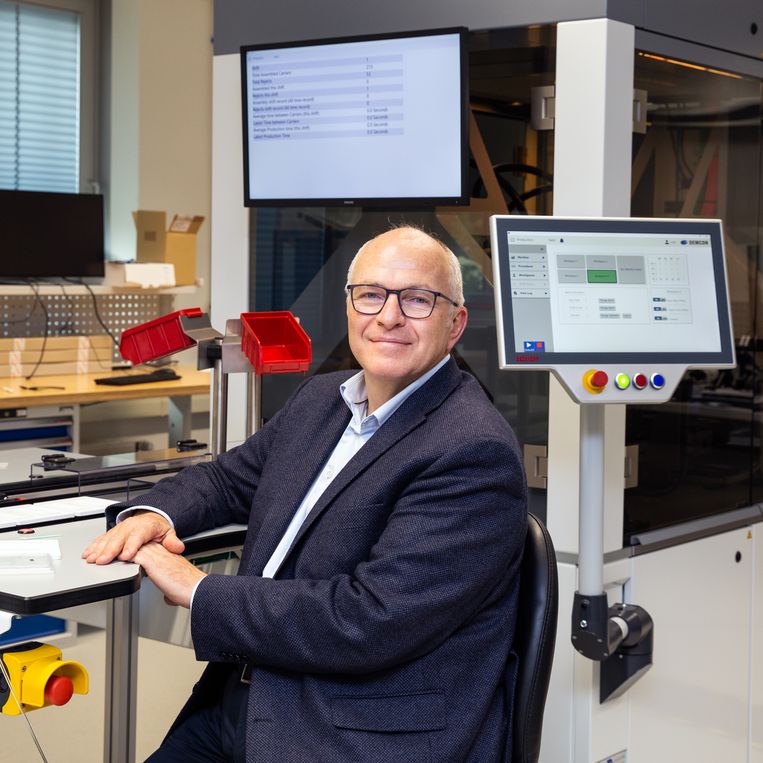 Skipper and Rutgers build a mechatronic orangutan. A major achievement at the time, which generated media attention and lives in the public memory. 'Everyone always asks about that eternal monkey', Schipper sighs. Nowadays Schipper and Rutgers are working a bit more seriously. Since 1998, Demcon has counted chip giant ASML as a regular customer and in 2002 it starts taking over smaller design companies, which leads to a diversity of expertise.
The fact that Demcon is not a playful monkey designer becomes all the more clear during the corona crisis. The company was producing the core modules of ventilators before March 2020, about 2,000 a year. When the coronavirus starts to spread, the demand explodes, and calls from all over the world come in at Demcon. Minister Hugo de Jonge is given priority. Demcon can supply ventilation modules to the government. Dozens, then hundreds a month.
But just the core module is not enough. De Jonge wants complete ventilators. Difficult, because the standard models are complicated: in addition to adults, children must also be able to be given a ventilator. Broad employability is not a priority while the elderly occupy the ICs, so Demcon quickly sets up a simplified model, which the company produces together with Dutch partners. Ultimately, the company supplies five hundred of the important systems to the Netherlands. 'In that respect, these were special times', says Schipper.
One crisis is quickly followed by the next, when Russia invades Ukraine in February. Until then, Demcon had been reluctant to cooperate with Defense on principle, but that sentiment is changing rapidly among management and employees. Demcon is investigating how it can contribute. Under certain conditions.
No missiles or bullets

Schipper: 'We don't make rockets or bullets. The only thing we design is supportive.' Such as the e-lighter, a type of thermos flask with which soldiers in the field can generate their own energy by burning diesel, so that they do not have to carry heavy batteries with them. 'That's useful for commands. They have to operate independently in small groups, without large batteries. In the meantime, they do need all kinds of communication equipment.' The e-lighters will be delivered in 2024.
The war also affects Demcon's other activities, says Schipper. 'We have stopped supplying respirators to Russia. That was not a pleasant choice. Putin does not use those devices himself. But sector-wide, exports to Russia were cut off, so we're going along.'
Brainport Eindhoven

This sector, almost synonymous with the technology region Brainport Eindhoven, is certainly not within walking distance of the Twente head office. That distance has its advantages. 'We are actually a typical Brainport company. Still, we didn't want to become part of the ASML and Philips supply chain', says Schipper. As a result, risk can be spread over all kinds of sectors, and the labor market is less tight because Demcon does not only recruit from Eindhoven's overfished pond of engineers.
That is why there are also locations in Groningen and Delft, where the Brainport does not absorb all the engineering talent. In addition, Demcon has spread its wings to Germany, Singapore and Tokyo. And of course they are also located in Eindhoven. The company cannot and will not completely escape the tech food chain in the Netherlands. But Schipper would rather see his own Brainport Enschede. This is beginning to emerge now that other companies, often indirectly affiliated with the University of Twente, are establishing themselves here.
'Together with other private and public players in the area, we have achieved the construction of a road that increases the accessibility of Twente. In this way we strengthen the ecosystem of companies here, and we attract new people.'
That the heart of Demcon is purely Twente, becomes clear when FC Twente, where Schipper is chairman of the supervisory board, is discussed. 'That club is beautiful, isn't it? Every home game we play with 30,000 fans.'
It turns out that for Schipper Brainport is not the great Eindhoven rival, but a completely different institution: 'I don't know how many fans PSV gets in their stadium (35 thousand, red.), but they can't be more than with us.'
Company: Demcon
Where: Enschede
Since: 1993
Number of employees: 1,000
Annual turnover: 125 million euros