American Sunisa Lee best gymnast in the world after a year of misery
Sunisa Lee battled through the corona crisis, biting the pain of an ankle injury and showing himself to be a leader when Simone Biles dropped out due to doubts in the head. On Thursday, Lee made sure that the best all-around athlete in the world still comes from America.
The 18-year-old debutante won her first Olympic all-around final in Tokyo. After Biles withdrew from the final due to mental problems, the way was open for a new Olympic champion. Lee won after four sets with a point total of 57,433.
With that, she was just better than the Brazilian Rebeca Andrade, who lost her chance at gold by stepping outside the mat twice on the final floor section. Andrade snagged at 57,298 points. Russian Angelina Melnikova finished third with a score of 57,199. Lieke Wevers finished 24th (51,098) on behalf of the Netherlands. She was awarded a spot in the final after Canadian gymnast Ellie Black was canceled.
Sunisa Lee's gold keeps the title for best Olympic all-around gymnast in the world in the hands of America, which has been held by an American gymnast since Carly Patterson in Athens in 2004.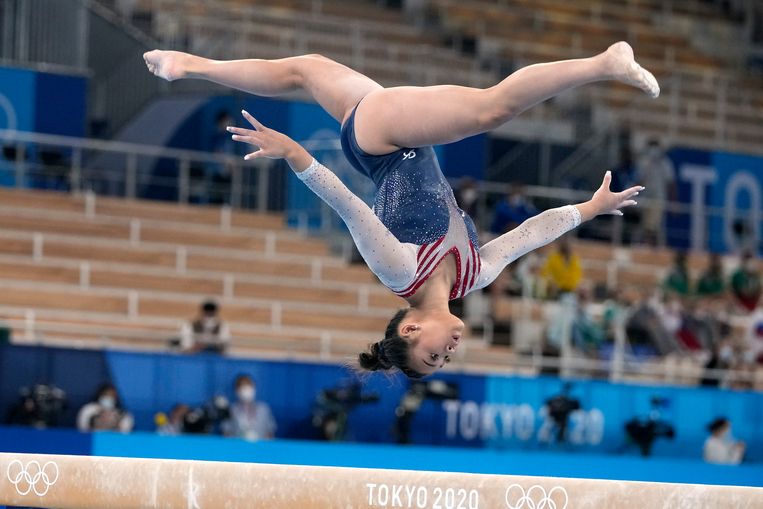 Biles as a spectator

Simone Biles was the obvious favorite beforehand. She wanted to win six golds in Tokyo, but withdrew after she had performed one part in the country finals. After a misstep on the jump, she gave up. The pressure that the four-time Olympic champion felt was so high that she was unable and unwilling to perform. It is unclear if she is still in action. Biles also qualified for all apparatus finals.
The 24-year-old gymnast watched from the stands how her friend Lee took action on Thursday with nerves of steel in the Olympic Ariake gymnastics hall. She again set a monster score of 15,300 on her best bridge section, having the toughest practice on the field. She won praise on the beam with a triple screw dismount, came through unscathed and her floor exercise looked graceful again.
From a deep valley

But it would have been close if Lee hadn't been there at all in Tokyo. Like Biles, Lee has struggled with several issues in recent years. When the Games were postponed for a year, she could not find any motivation to continue training properly. The fun only returned just before Tokyo, after a difficult period full of setbacks. It started with her father's fall from a ladder in 2019, which left him partially paralyzed.
A year later, she had to say goodbye to her aunt and uncle due to corona. They died within two weeks of each other. Lee lived with the fear that she would infect her father. Because of his paralysis, an infection with the virus could be fatal. When the gymnast woke up one day in the summer of 2020 with a high fever, she feared she would lose him too. It turned out to be a false alarm.
Just before the Games, Lee limped at the American Olympic qualifiers due to a persistent ankle injury. Despite the injury, she still conquered a place in the team.
Her family watched the proceedings on the couch in front of the Minnesota television wearing fan shirts. Loud cheers on every landing. Biles saw it up close. She sat in the stands in Tokyo and watched with a mouth cap as she lost her Olympic title. But it was good. If she had given it to anyone, it was her teammate Lee.