Akwasi is considering role at Omroep ZWART after demand to delete EO interview | NOW
Akwasi is considering his role within Omroep ZWART, let the rapper and poet know via Instagram on Saturday. It was announced on Friday that he had run away from a December radio interview and demanded that the conversation not be broadcast.
"My reaction after the missed interview with the EO is unjustifiable," said Akwasi. "I am going to ask myself how this could have happened and what my role within Omroep ZWART will be." The rapper and poet announced that he would remain silent for the time being.
Akwasi walked away angry at the end of December during an interview with the Radio 1 program This is the Day. The rapper and poet also took laptops from the crew and forced EO presenter Hans van der Steeg to delete recordings with him.
According to Akwasi, there would have been questions for too long about statements he had made about Zwarte Piet during a Black Lives Matter demonstration on Dam Square.
Because the program had a backup, the interview was eventually broadcast.
Akwasi responds to what he says "went wrong" interview with EO. (Photo: Instagram / Akwasi)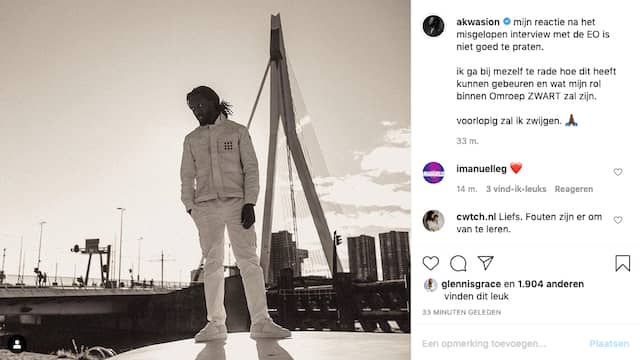 .